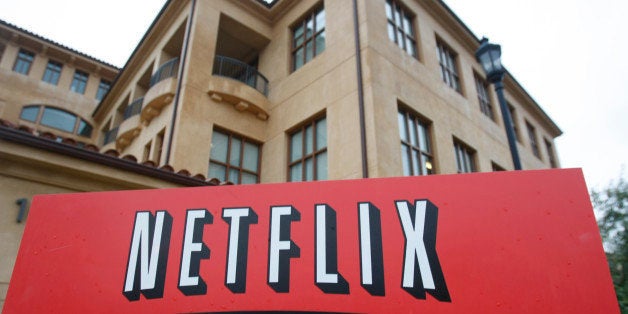 Netflix is a train that can't be stopped, and it's starting to flatten cable.
Forty percent of all U.S. households with TV and/or broadband Internet use a subscription video on-demand service like Netflix, Amazon Prime or Hulu Plus, according to new data released by Nielsen on Wednesday. This is up from 36 percent of households that reported having on-demand subscription video over the same period of time in 2013. Among the households subscribing to these services, 36 percent have Netflix, 13 percent have Amazon Prime and 6.5 percent have Hulu Plus, Nielsen reports.
As the number of homes with streaming video subscriptions rises, an increasing number of American homes are Internet-only, subscribing to broadband Internet and not TV.
The number of U.S. households that have broadband Internet but don't subscribe to TV grew to more than 10.5 million in the third quarter of 2014, up 16 percent over the same period in 2012, research firm SNL Kagan told The Huffington Post earlier this year.
By comparison, there are 95.2 million people in the U.S. who subscribe to the top 13 pay-TV providers, according to Leichtman Research Group. The number of video subscriptions to the top nine cable companies fell around 1.2 million over the course of 2014.
TV ratings are also falling as streaming subscriptions climb, and there's probably a connection.
Around 40 percent of the decline in TV ratings during the third and fourth quarters of 2014 is due to people are spending more time watching streaming TV online, sources who attended a talk by the Cabletelevision Advertising Bureau last week told the Wall Street Journal. The "biggest contributor to the drop is SVOD [streaming video on demand]," Jon Steinlauf, president of national ad sales and marketing for media company Scripps, told WSJ.
Since streaming is potentially eating into TV viewership, TV networks are getting into the streaming game. CBS has a streaming service for a subscription of $5.99 a month; NBC is working on one; Showtime will release a streaming service "in the not-too-distant future," CBS CEO Les Moonves said at the Deutsche Bank Securities 2015 Media, Internet & Telecom Conference on Wednesday.
HBO's new streaming service, HBO Now, premieres on Apple devices in April. This will be the first time HBO will be available for those without a cable subscription.
Related