Cable companies, you've been put on notice.
In fact, some young adults may never even pay for cable TV in their lifetimes.
The number of cord-cutters, which Experian considers people with high-speed Internet who've either never subscribed to or stopped subscribing to cable or satellite, has risen from 5.1 million homes to 7.6 million homes, or 44 percent, in just three years.
In 2013, 6.5 percent of households in the U.S. had cut the cord, Experian found, up from 4.5 percent in 2010.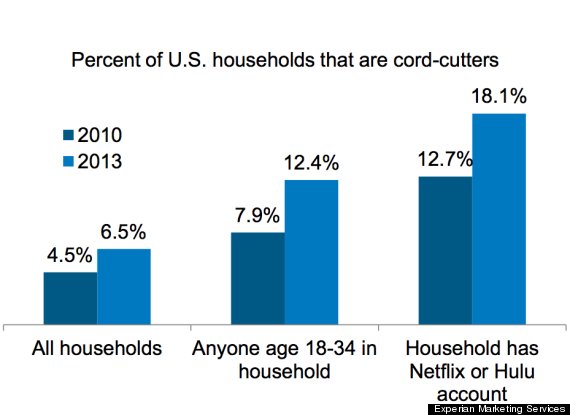 What's more interesting, though, is that number goes way up for households that use Netflix or Hulu, the subscription services that stream movies and TV shows online. Nearly a fifth of Americans who use Netflix or Hulu don't subscribe to cable TV.
And that number gets even higher if you look at a younger segment of the population. Almost a quarter of young adults between 18 and 34 who subscribe to Netflix or Hulu don't pay for TV, Experian found.
That could spell trouble for cable companies like Comcast and Charter down the line.
"The young millennials who are just getting started on their own may never pay for television," said John Fetto, a senior analyst at Experian Marketing Services. "Pay TV is definitely declining."
Fetto said that cable companies, which of course are often also the gatekeepers to the Internet, will have to get more creative with their billing to make up for the revenue lost by people who are cutting the cord.
We may also see more tiered pricing models, which would charge more to people who stream more, Fetto said.
This post has been updated with additional figures from the Experian report.
Related
Popular in the Community