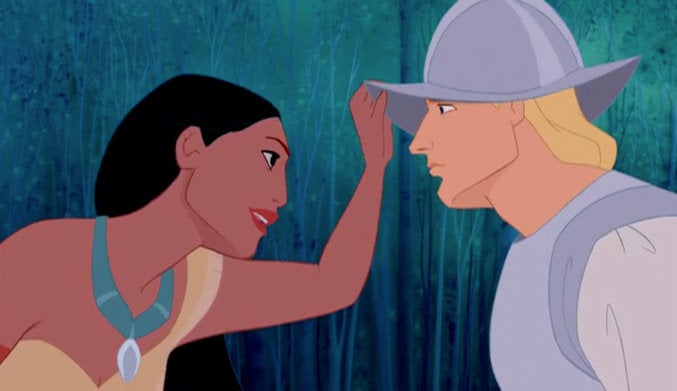 Netflix's description of Disney's 1995 "Pocahontas" was only one line, but it immediately rubbed Adrienne Keene, author of the Native issues blog Native Appropriations, the wrong way earlier this month. The summary read:
An American Indian woman is supposed to marry the village's best warrior, but she yearns for something more -- and soon meets Capt. John Smith. 
Which might be a little odd if you consider how much of the movie was devoted to preventing an all-out war between settlers and natives. Keene tweeted her disapproval.
Of course, Disney's animated classics almost always featured a love story of some kind, and it may seem nit-picky to go after one teeny sentence. But when Keene looked up similar descriptions on the streaming site, the one for "Pocahontas" still stuck out to her. 
In a post on her blog, and later Pacific Standard, she pointed out how Netflix's summaries of movies with white, male protagonists all failed to mention their love interests, although they all had one: 
Inspired by Victor Hugo's novel, this Disney film follows a gentle, crippled bell ringer as he faces prejudice and tries to save the city he loves. --"The Hunchback of Notre Dame"
After being shipwrecked off the African coast, a lone child grows up in the wild and is destined to become lord of the jungle. --"Tarzan"
The heavenly Hercules is stripped of his immortality and raised on earth instead of Olympus, where he's forced to take on Hades and assorted monsters. --"Hercules"
A week later, Netflix actually responded. In addition to notifying Keene in an email that the company had chosen to change the summary, a company official admitted fault, saying Keene was "right to point out that we could do better."
Now, anyone who wants to stream the movie on Netflix will see this description:
A young American Indian girl tries to follow her heart and protect her tribe when settlers arrive and threaten the land she loves.
And people say social media is a waste of time.
PHOTO GALLERY
Celebrity BFFs
For a constant stream of entertainment news and discussion, follow HuffPost Entertainment on Viber.
Calling all HuffPost superfans!
Sign up for membership to become a founding member and help shape HuffPost's next chapter