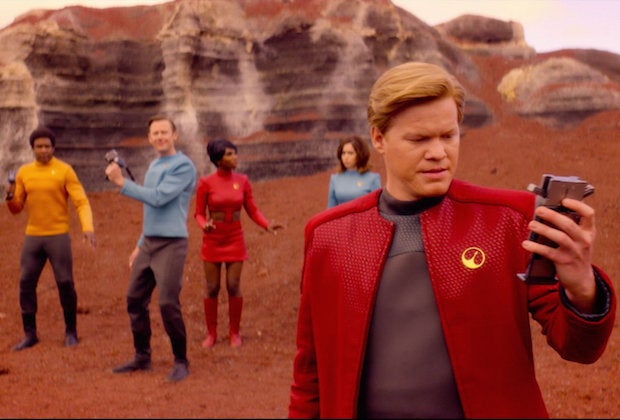 You've heard of Netflix and chill; now it's time to Netflix and choose your own adventure.
An episode of the award-winning "Black Mirror" will feature "live-action interactive programming" in the show's fifth season, which is expected to debut sometime in December, Bloomberg says. The anthology drama is an easy fit, as each installment explores the dark side of technological inventions.
Representatives for Netflix did not immediately respond to a request for comment.
The company has already experimented with the feature for various kids' programs, including "Puss in Book: Trapped in an Epic Tale" and "Buddy Thunderstruck: The Maybe Pile," which gives viewers 10 to 15 seconds to make choices in episodes using their TV remote or video game controller.
"We are putting viewers in the driver's seat," Netflix's director of product innovation, Carla Engelbrecht Fisher, told Variety last year.
"This is very different for Netflix. Not only did the company have to tweak some of its back-end technology to integrate interactive content into its catalog, Netflix and its studio partners also had to figure out how to best tell these kinds of stories," she added.
Applying the same structure to its adult content is more challenging, given the greater complexity of scenarios, but Netflix reportedly plans to debut these specials by the end of the year.
Popular in the Community