 If you're one of the many Americans toiling away at a huge corporation, here are some things you're probably familiar with: tracking vacation days, getting expenses approved and sitting through yearly performance reviews.
These are things salaried employees at Netflix don't have to worry about.
They get unlimited vacation. They can expense without getting approval from their managers, as long as they're acting in Netflix's best interest. They don't have traditional yearly performance reviews. Oh, and they're also paid really, really well.
Netflix is fond of saying it hires only "fully formed adults," and the company treats them as such -- bestowing on them great amounts of freedom so they can take risks and innovate without being bogged down by process.
The flip side of all this power is that people are expected to work at a super-high level or be quickly shown the door (with a generous severance package).
"Netflix assumes that you have amazing judgment," said John Ciancutti, the chief product officer at the online educational tech company Coursera. "And judgment is the solution for almost every ambiguous problem. Not process." Ciancutti is an engineer who left Netflix in 2012, after spending 13 years at the company.
This intense culture of "freedom and responsibility" -- outlined in the so-called "Netflix culture deck," a 124-slide presentation that's legendary in Silicon Valley -- is a key factor in the company's success. In recent years, Netflix has reinvented its business entirely, bounced back from missteps and broken the mold on TV production and distribution with its original series -- including "House of Cards," the third season of which debuted on Friday.
Despite the legendary status of the Netflix culture deck, there's little evidence of its mass adoption, though some companies have started to put its broad-stroke principles to use. Giving employees greater freedom and holding them to higher standards, while not sweating tiny details, are common-sense approaches that seem likely to help many companies beyond Netflix.
"If you trust and empower people and give them a chance to rise to the higher expectations, the vast majority of people are able to do it," said Sam Stern, a senior customer experience analyst at Forrester Research.
Employees at the Los Gatos, California-based streaming video giant know that they're not being judged by how hard they appear to be working -- long, grueling hours aren't encouraged -- but by how they produce. In fact, working long hours and doing adequate work can actually get you fired from the company. Working decent hours and doing great work, in contrast, will get you a raise.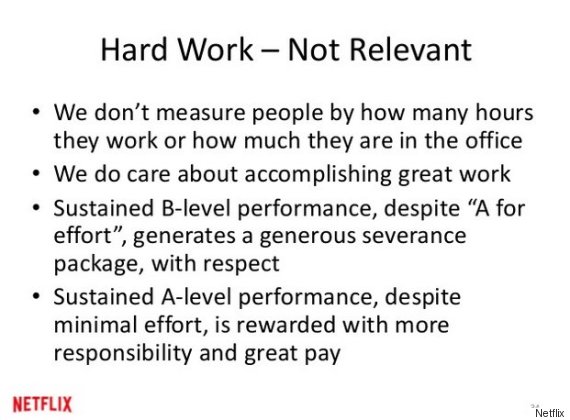 A slide from Netflix's Culture Deck
Since then, the stock has recovered and is now flirting with record highs.
"They've always been very good at thinking about what's coming up ahead and being able to adapt and to change," Jesper B. Sørensen, a professor of organizational behavior at Stanford University, said of the company. "I think kind of the content of their culture has probably benefited them in that respect."
The success of "House of Cards," which has won Golden Globes and Emmys, among other awards, may be party due to the company's "freedom and responsibility" DNA. Netflix, along with Media Rights Capital, the studio behind the hit, ordered two full seasons of the show without seeing a pilot. Netflix gave "House of Cards" creators the freedom to tell the story the way they wanted to, Kevin Spacey, who plays Frank Underwood on the show, said in 2012, according to the Hollywood Reporter.
Tawni Cranz, Netflix's chief talent officer, said the company has been able to maintain its open culture from its early days through its IPO and rise as a global company. "The foundations of freedom and responsibility -- not having a lot of rules, not having policies, not using sort of bureaucracy or hierarchy to govern -- but instead really providing context to folks and giving them all the freedom to do their job and all the responsibility ... has increased over time instead of decreased, and continues to work," she said.
Netflix's culture deck has been viewed more than 11 million times since founder and CEO Reed Hastings first posted it online more than five years ago. Facebook COO Sheryl Sandberg told GQ in 2013 that it "may well be the most important document ever to come out of the Valley."
While the outlined culture may have a lot of perks, parts of it are off-putting to some people. Stanford's Sørensen noted that only a "minority" of executives and MBA students he's shared the slides with have found the culture appealing.
In one extreme example, Netflix managers use a "keeper test" to evaluate employees: If one of your employees told you he or she was leaving for a job at a peer company, would you fight hard to keep that employee at Netflix?
If the answer is "no," then Netflix will put that person out to pasture. Or, as it's put in the Culture Deck, "Sustained B-level performance, despite 'A for effort', generates a generous severance package, with respect."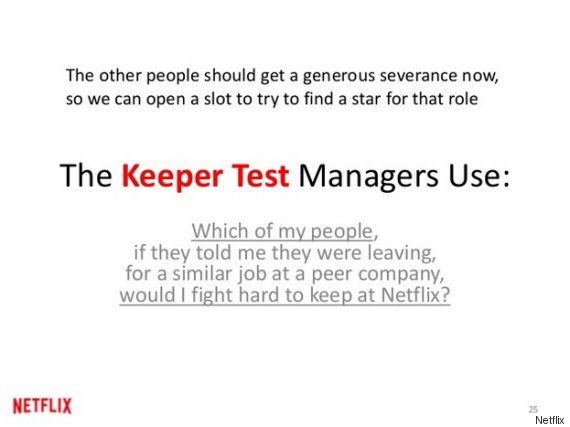 Although it may seem harsh, former Netflix managers say it's an effective way to build a winning team.
"The pernicious thing when trying to create a high performance culture is not weak performers -- weak performers are easy to deal with," said Ciancutti, whose last position at Netflix was vice president of product engineering. "It's people who are good versus great."
Netflix itself acknowledges that the high-performance culture is not for everyone -- especially those who "value job security and stability over performance."
"There is a lot of pressure. It's intense," said Patty McCord, Netflix's first chief talent officer, who left in December 2012 after spending more than 14 years at the company. (McCord has been called "the woman behind the Netflix culture doc," though she said it was a collaborative effort.)
And just because this particular approach may work for Netflix, that doesn't mean it will work everywhere.
The company's culture is "a reflection of the executives there," said Dennis Passovoy, a lecturer at the McCombs School of Business at the University of Texas at Austin who has taught Netflix as a case study. "It's a reflection of the community that exists within the company, and that's unique to them."
But some companies have certainly looked to Netflix when tweaking their own cultures. Richard Branson's Virgin Group and the Boston-based sales and marketing company HubSpot have given nods to Netflix in adopting unlimited vacation policies.
McCord, who now has her own consulting firm, said that nearly all of the two dozen or so startups she consults with have adopted or are considering implementing the vacation policy.
"What I see in the startups I work with is they go through [the culture deck] and pick what they like and try it," McCord said.
Lou Shipley of Boston-based Black Duck Software said he looked to Netflix's deck for inspiration when building Black Duck's culture after taking over as CEO a bit more than a year ago. He did away with the company's three-week vacation policy last summer. He asks employees to put in 40 hours a week, but has no strict guidelines for how they structure that time.
Shipley specifically embraced the part of Netflix's culture that discourages managers from micromanaging.
"You're just hiring the best people you can, and making clear what the overall goals are, and letting people go," he said.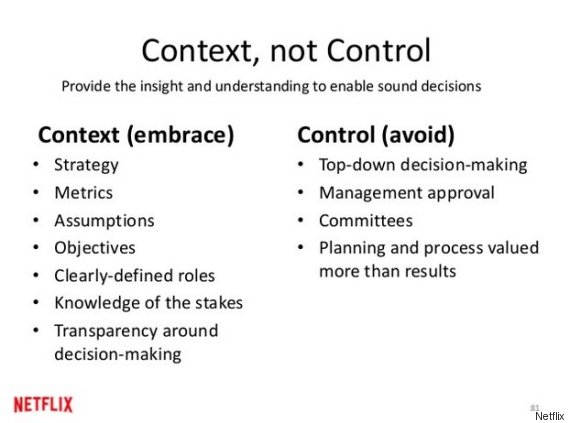 Popular in the Community