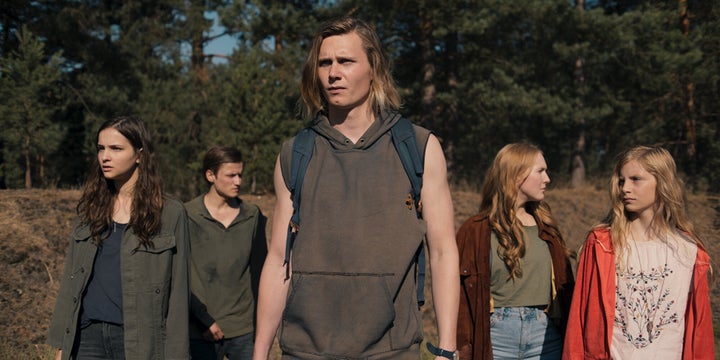 What's up: A show that teases a complicated, purposely hard-to-understand mystery through the journeys of the characters trying to solve it. The inhabitants of a small German town (this is a German show) get caught in a loop of past, present and future that involves a nuclear power plant, time travel machines and possibly God. As various characters learn, the past can affect the future, but the future can also affect the past because of the nature of this self-repeating and fatalistic loop of existence. At first, it seems like characters in the town go missing ― creating a standard whodunit mystery. But these characters disappear into other moments in the town's history, creating strange family dynamics when they age back into adulthood at the time they disappeared.
Sum-up: This attempts to innovate from the mold of a missing children mystery to go past whodunit and instead ask why does anyone do anything. Even if you're not into puzzle box shows, the well-crafted nature of this should impress you from the tangled plot web to the more visual aspects of the creative costuming and props. Much like the characters who keep finding strange details about their world the more they stare into its abyss, you can find all sorts of interesting minutiae if you pay enough attention scene by scene.
Heads-up: Netflix autoplays a lackluster English overdub from the original German. I'd recommend switching to that original German so you can better sense the energy of the lines. That said, I wish "Dark" had more moments of levity. This may betray a bias to a show such as "Twin Peaks," which embraced the balance of drama and comedy, but watching every character be in super-serious ― dark ― mode at all times gave me a feeling of trapped potential.
Look up: Understanding the plot of this show is no easy task. In reading about the show, I particularly enjoyed The Ringer's decision to have two writers just talk about the complicated parts in a conversational tone. Reading that should help those feeling a bit lost as to where to even start on this puzzle of a show.
Read on for more recommendations and news from the week.
And if you want to stay up to date with what to watch on a weekly basis, subscribe to the Streamline newsletter.
Here's the trailer:
"Adam Devine: Best Time of Our Lives" (Netflix Original)
"Big Kill"
"Beats" (Netflix Film)
"The Edge of Democracy" (Netflix Film)
"Le Chant du Loup" (Netflix Film)
"Ad Vitam" (Netflix Original)
"Bolívar" (Netflix Original)
"The Casketeers" (Season 2, Netflix Original)
"The Confession Tapes" (Season 2, Netflix Original)
"Dark" (Season 2, Netflix Original)
"The End of Evangelion"
"EVANGELION: DEATH (TRUE)²"
"Girls Incarcerated" (Season 2, Netflix Original)
"GO! Live Your Way" (Season 2, Netflix Family)
"Jaoon Kahan Bata Ae Dil" (Netflix Film)
"La Misma Sangre" (Netflix Film)
"Mr. Iglesias" (Netflix Original)
"Neon Genesis Evangelion"
"Shooter" (Season 3)