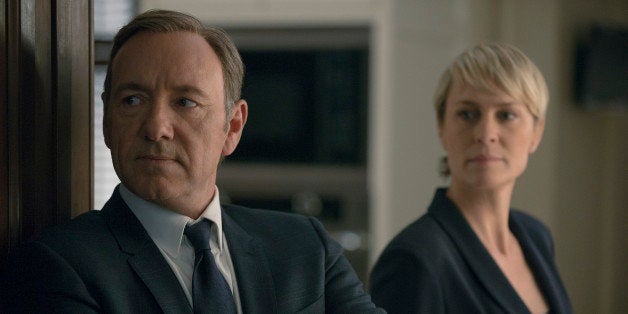 Winter is in full swing, which means nights spent doing anything but watching television from your couch have quickly lost appeal. Luckily, you can keep the hibernation fresh with all the new titles hitting Netflix come February. Happy snuggling!
This list is subject to change. HuffPost Entertainment will attempt to keep it as current as possible.
Films and Specials
"Bleach the Movie: Hell Verse"
"Dark Ride"
"Gimme Shelter"
"Gucci: The Director"
"Hot Pursuit"
"Houseboat"
"Into the Blue 2: The Reef"
"Joe"
"King Arthur"
"Naruto Shippuden: The Movie"
"Now: In the Wings on a World Stage"
"Proof"
"The Brothers Bloom"
"We Could Be King"
"We're No Angels"
"Zapped"
"The Little Rascals Save The Day" (Feb. 5)
"Ever After High: Spring Unsung" (Feb. 6)
"Danger 5" (Feb. 6)
"Dead Snow: Read vs. Dead" (Feb. 7)
"Elsa & Fred" (Feb. 7)
"Blood Ties" (Feb. 8)
"Catch Hell" (Feb. 8)
"Dwight Howard: In the Moment" (Feb. 10)
"Mr. Peabody & Sherman" (Feb. 11)
"Young Ones" (Feb. 12)
"The Two Faces Of January" (Feb. 12)
"Scary Movie 5" (Feb. 12)
"Save the Date" (Feb. 16)
"The Overnighters" (Feb. 17)
"Earth to Echo" (Feb. 18)
"In Secret" (Feb. 18)
"The Fluffy Movie" (Feb. 18)
"White Bird in a Blizzard" (Feb. 19)
"RoboCop" (Feb. 21)
"1,000 Times Good Night" (Feb. 24)
"Open Windows" (Feb. 26)
"Russell Brand: Messiah Complex" (Feb. 26)
"Ralphie May: Unruly" (Feb. 27)
"Boys" (Feb. 27)
TV Shows
"Departures," Seasons 1-2
"Magic City," Seasons 1-2
"MASH," Seasons 1-5
"Spartacus," Complete Series
"Mako Mermaids," Season 2 (Feb. 13)
"Richie Rich," Season 1 (Feb. 20)
"Hawaii Five-0," Seasons 1-4 (Feb. 24)
"House of Cards," Season 3 (Feb. 27)
Calling all HuffPost superfans!
Sign up for membership to become a founding member and help shape HuffPost's next chapter
BEFORE YOU GO
PHOTO GALLERY
Best TV Shows To Binge-Watch