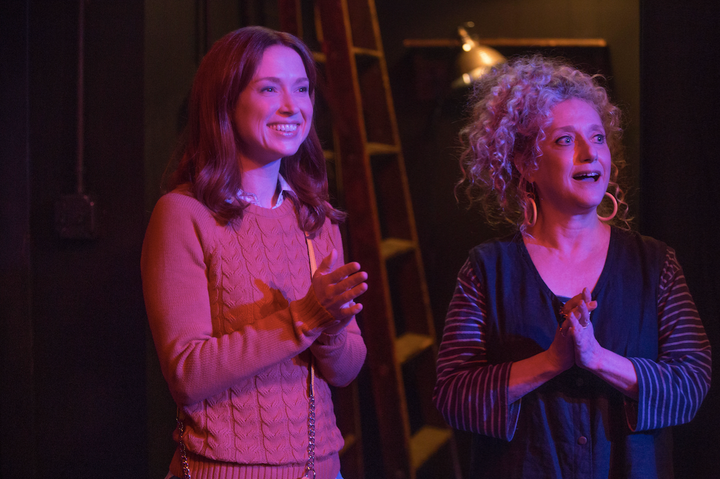 Streaming is huge ― but not so much at the Emmys. 
Of the 23 major nomination categories encompassing 139 nominations, which you can find here, streaming shows collected just 24 of those nominations over a span of 14 categories.
(Editor's note: Major Emmy award categories include, among others, those for outstanding lead actors, supporting actors and guest actors in drama and comedy, along with outstanding drama, comedy, talk and reality series.)
Unsurprisingly, Netflix won the biggest share, with 16 split between "House of Cards," "Bloodline," "Master of None," "Unbreakable Kimmy Schmidt" and "A Very Murray Christmas." Amazon came in next with six major nominations, all for its transgender dramedy series "Transparent." Two other streaming shows, Louis C.K.'s independently distributed "Horace and Pete" and Jerry Seinfeld's "Comedians in Cars Getting Coffee," available on Crackle, earned one major nomination each. Hulu did not manage to score any.
The bulk of the major nominations went to broadcast and cable networks. HBO cleaned up with 24 major nominations (and earned the most over all categories ― acting and technical ― with 94 total nominations) with, naturally, the majority going to "Game of Thrones." FX earned 19 major nominations, primarily for the inaugural season of its "People v. O.J. Simpson: American Crime Story." ABC grabbed 12, NBC 11, Showtime and CBS eight each, and a sprinkling among networks including AMC, BBC and PBS. USA managed to nab two major nominations for its breakout hacker drama, "Mr. Robot."
But still, streaming is huge. And if that's the case, why haven't those platforms earned more respectful nods from TV's integral body, the Academy of Television Arts and Sciences? 
Simply put: There are just fewer shows on streaming platforms to earn accolades. Netflix, Amazon and Hulu are a big deal to us viewers, but the amount of original shows available there are still dwarfed by traditional media. Last year saw 409 scripted shows aired across broadcast, cable and streaming platforms, according to FX Network's research department. Streaming platforms, however, offered only 44 of those. 
Yet, with the number of original shows on streaming networks like Netflix and Amazon growing ― and not slowing down anytime soon ― it seems likely that favorite internet shows might score bigger in the pool of next year's Emmy nominations. 
BEFORE YOU GO
PHOTO GALLERY
Emmy Snubs 2016