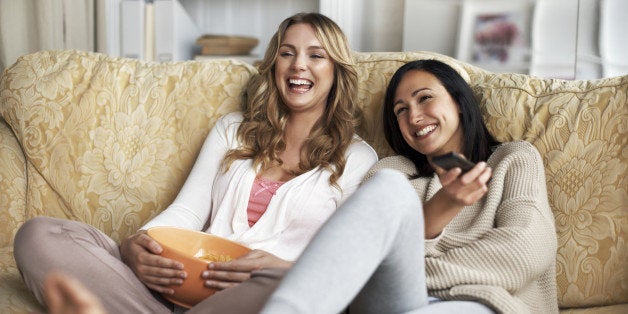 With Thursday's early release of Orange is the New Black on Netflix, I realize my nights will soon be filled with Netflix binge watching (as if they aren't every week...). I'm a self-proclaimed Netflix junkie, and the more marathons I watch, the more I believe that Netflix is slowly guiding me through life's roller coaster of emotions.
Being able to escape reality (even if it's only for an hour) has helped keep me sane in this overwhelming world we live in. Now, before I get backlash for having #firstworldproblems, I will say I tried to find some real-life scenarios we have all found ourselves in. So, which Netflix shows do I recommend specifically for life's (sometimes silly) moods and dilemmas?
Let's start with the most obvious young adult scenario: Heartbreak.
We've all been here -- sitting on your bed with your headphones in; searching for the saddest song on your playlist sporting a gloomy face like you could be in the music video. Maybe it's just me, but when I've had a broken heart in the past, I just want to wallow in it for a bit.
What you need: Gilmore Girls
This fun-loving show is about a mother and daughter duo who make life seem do-able. I have also found that the show's small town setting in "Stars Hollow" makes me feel at ease.
You feel like a boss. You had a great day at work, and now you're amped up!
What you need: House of Cards or Mad Men
Nothing says power like watching politicians duke it out. Plus, since you're feeling a bit sassy, the scandalous scenes (well, they pretty much all are after the first episode) will keep you entertained and on edge. I am a tad biased for the show Mad Men since I work in television advertising, but it is uncanny how the industry's jargon had stood the test of time.
You want to change your eating habits and start living a bit more healthy. So, this one I stumbled upon one Saturday night when I was bored...
What you need: Food, Inc. (Documentary)
This documentary opened my eyes to processed foods and well, meat in general. While I am not a vegetarian, it did make me think twice about what I was putting in my body on a regular basis. Aside from showing you some pretty graphic scenes, it kept me engaged throughout the entire program.
When you miss high school or college, and the carefree life that came along with it.
What you need: One Tree Hill or Friday Night Lights
There's no show like One Tree Hill, it gives me an instant warm fuzzy inside while watching, and the cast brings something new to every episode. While its original air date was back in 2003, the show stayed on air for nine years allowing its fans to watch the growth and development (literally) of the cast. The show portrays what we all loved and hated during our high school years, and then dives into the tough issues young adults face today. Friday Night Lights brings me back to high school every time I watch it- young love, heartache, and a whole lot of drama all wrapped into an hour long show-YES.
When you just want to relax.
What you need: Weeds
There is something about the show Weeds that kept me hooked for all 8 seasons. The wittiness of the main character, Nancy Price Botwin (played by Mary-Louise Parker) brings light to an unfortunate situation with the passing of her late husband. She proves that in the worst of times you can find light at the end of the tunnel. While the show's premise has a "darker" edge, the comic relief by the characters allows you to kick back and watch the story unfold.
I couldn't pick just one for when you're in the mood for a chuckle, but here are my top 5:
The League-a show about a group of friends infatuated with fantasy football, let's get real here...we can all relate.
Unbreakable-Main character, Kimmy Schmidt, is rescued after living 15 years in a cult and now has to navigate through her adult life without any real life experience. It reminds us just how remarkable life truly is!
Orange is the New Black-Season 3 is out!
Grace and Frankie-another Netflix original series
Zoolander- I had to pick one movie to throw in there. We mine as well get ready for the sequel set to hit theaters in February of 2016!
Calling all HuffPost superfans!
Sign up for membership to become a founding member and help shape HuffPost's next chapter