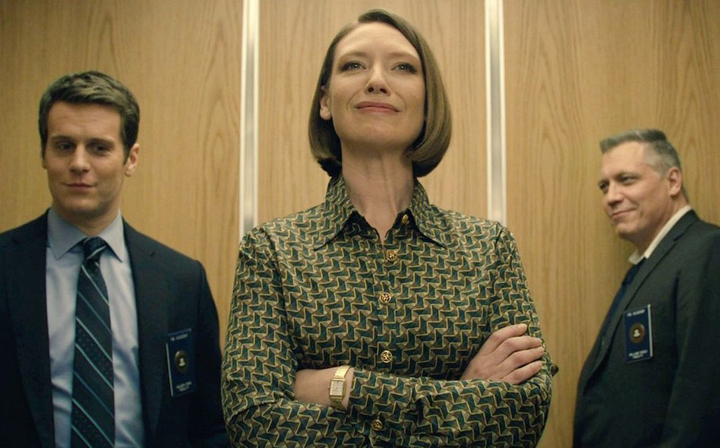 Warning! There are spoilers below for Netflix's "Mindhunter." 
Four decades ago, FBI special agents John Douglas and Robert Ressler began a bold new research project alongside a Boston crime victim expert named Dr. Ann Burgess.
Burgess, now a professor at Boston College's Connell School of Nursing, thought the agents' access to crime scenes and incarcerated killers presented a "phenomenal" opportunity for research, she told HuffPost. That research would go on to help define the ways law enforcement officials and civilians alike understand the concept of a serial killer ― and spark a must-binge TV drama show, too.
Douglas, Ressler and Burgess pioneered a model for criminal profiling at the FBI in the late 1970s, a process eventually documented in Douglas' 1995 book Mindhunter ― which spawned the recent Netflix series by the same name. Much of the show relies on snippets from the book, a 375-page tome filled with fascinatingly macabre details from real-life cases: Charles Manson, the Son of Sam, Richard Speck and Ted Bundy among them. 
In "Mindhunter," the show's Douglas figure is called Holden Ford played by actor Jonathan Groff, while the stand-in for the more seasoned Ressler (who died in 2013), is named Bill Tench played by Holt McCallany. Mirroring the achievements of the young "blue-flamer" portrayed in Douglas' book, Holden kicks off a project to interview serial killers in an attempt to understand how they think. At first greeted by resistance from FBI Academy higher-ups at the Quantico base, the small team manages to secure some hefty funding for their endeavor. Holden and Bill set off collecting interviews on the "deviant behavior" of convicted killers across the country for Dr. Wendy Carr ― a version of Burgess played by Anna Torv ― to analyze. 
In real life, the team worked together for well over a decade, Burgess told HuffPost, and they eventually published the Crime Classification Manual: A Standard System for Investigating and Classifying Violent Crimes in 1992 using their findings on violent crimes. Although forms of offender profiling existed before their research, Douglas, Ressler and Burgess are often credited as helping to establish the bureau's distinct behavioral science method of profiling criminals.
"What we'd do is take the files and start looking at a pattern," Burgess said, explaining how different details from the cases they encountered would be filed under categories like victimology, crime scenes and forensics, while some information would be condensed into numerical figures. The agents "gleaned" information from the profiles they created, and found that, for example, crime scenes could be classified as either "organized" or "disorganized."
"And that's exactly what these agents were able to do. They would go in, look at a scene, and come up with the basic categories," Burgess recalled. "They would have their whole team there, and sometimes people would disagree, which was great! Because by disagreeing, they could say, 'Well, I see this.' Or, 'I don't see that. How do you see that?'"
"There was a very good exchange back and forth," she said, on characteristics as specific as a killer's age.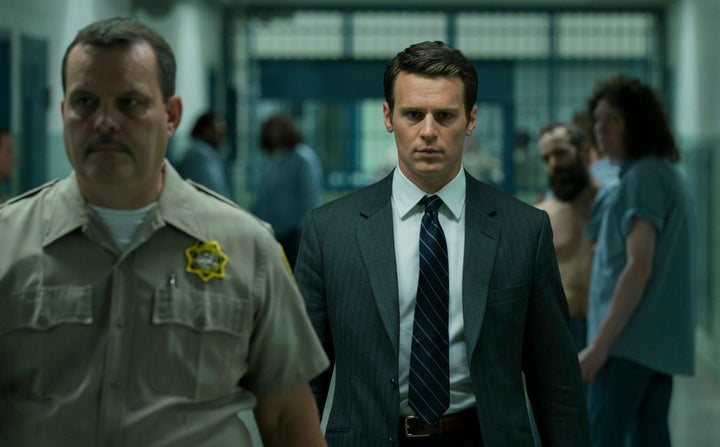 And even though there were very, very few female agents or researchers at the FBI at the time, Burgess felt there was a "mutual sharing of information" among the team members. "Very collegial," she said, although occasional conflict would arise over how, exactly, the team would gather their data. While Burgess ― and the "Mindhunter" character Carr ― preferred to stick to the agreed-upon questionnaire methodology, the FBI agents preferred their own, more casual style. 
"They would get more chatty, rather than being step-by-step," she said, adding that the agents would eventually have to hew closer to the methodology. "Who do you think always won? The academic."
"Mindhunter" takes liberties as it develops characters' personal lives ― Holden's girlfriend may be loosely based on the woman Douglas married, Pam, but the steamy sex scenes are certainly left out of the agent's memoir.
Many details of their work, however, appear to be aligned with real-life events portrayed in the book. The agency really trained up-and-coming agents by showing them a videotape of a hostage negotiation that ended with the hostage-taker turning the gun on himself in full view ― a disturbing sequence portrayed in the show's first episode. Douglas and Ressler really partnered up on "road school," training local cops around the country, and some of those local cops really came up to them after class with strange cases of their own, asking for advice.
The first murderer the pair interviewed was indeed Ed Kemper, and yes, the horrifying description of Kemper's crimes ― murdering and dismembering young women and eventually his own mother ― is also accurate. Yet the experience of talking to him was, apparently, less horrifying.
"I would be less than honest if I didn't admit that I liked Ed," Douglas writes. "He was friendly, open, sensitive and had a good sense of humor. As much as you can say such a thing in this setting, I enjoyed being around him. I don't want him out on the streets, and in his most lucid moments, neither does he. But my personal feelings about him then, which I still hold, do point up an important consideration for anyone dealing with repeat offenders. Many of these guys are quite charming, highly articulate and glib."
Other individual cases on the show derive from Douglas' experience: He offered advice after reading about an elderly woman killed along with her dogs in his local paper, interviewed women's shoe fetishist and convicted killer Jerry Brudos, and recalled an elementary school principal from his hometown who was fired for tickling children's feet. Most of the killers they interviewed were men, and many had problems with women in their lives, which they used as an excuse to commit violence against women.
Burgess, who spoke with Douglas, now in his 70s and retired, during the show's production but wasn't directly involved with the series, explained that she understood why viewers might be drawn to a show like "Mindhunter," in an age of renewed fascination with true crime. 
"Part of it is a fascination, but part of it is a fear. There is so much crime. You don't want to end up as a victim," she said. "And that's something that the agents would emphasize in the field; you would learn something about what had happened in the crime and think, 'Boy, I'm going to try to not do that, if it ever happened to me.' So it's crime prevention as well as it is solving the crime." 
Calling all HuffPost superfans!
Sign up for membership to become a founding member and help shape HuffPost's next chapter
BEFORE YOU GO
PHOTO GALLERY
7 True Crime Docs To Watch On Netflix