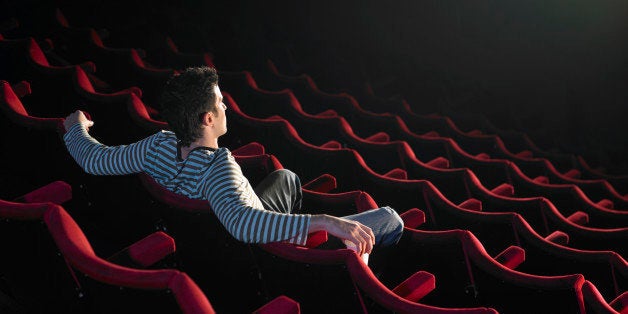 Netflix apparently wouldn't mind if you just never left your house again.
If you hate spending money to see lame new Hollywood movies in theaters, Netflix wants to fix that for you, by letting you watch all of the lame new Hollywood movies on your own couch. This, in Netflix's estimation, might actually make movies better. It would almost certainly improve Netflix's profits.
"Why not premiere movies on Netflix the same day they're opening in theaters?" Ted Sarandos, Netflix's Chief Content Officer, said during his keynote speech at the 2013 Film Independent Forum on Saturday in Los Angeles, Calif. "Why not follow what the consumers desire, to watch things when they want, instead of spending tens of millions of dollars to advertise to people who may not even live near a theater?"
"And not little movies," Sarandos added. "Why not big movies?"
Netflix is widely known as a source for older movies and recent seasons of TV shows, but it clearly wants to provide all of the content.
Netflix's third-quarter earnings quadrupled from a year earlier, as its tally of U.S. streaming-video customers hit 31 million, topping the number of HBO subscribers. The company said subscribers were attracted by its original content, including series like "Orange Is The New Black" and "House Of Cards." Streaming brand-new movies could only help pad those numbers.
But Sarandos claimed altruistic motives, too, suggesting that the current distribution system for big studio movies is crushing cinematic creativity. And it's all the fault of the movie theaters, according to Sarandos.
"I don't blame the studios for what they're doing, and I don't fault them, because the studios are always trying to innovate," Sarandos said. "The premium video-on-demand model has been tried and tried, and theater owners stifle this kind of innovation at every turn.
"The reason why we may enter this space and try to release some big movies ourselves this way is because I'm concerned that as theater owners try to strangle innovation and distribution, not only are they going to kill theaters, they might kill movies," Sarandos added.
Theater owners, as you might expect, disagree.
"The only business that would be helped by [same-day] release to Netflix is Netflix," John Fithian, president of the National Association of Theater Owners, told Deadline. [h/t Atlantic Wire]
History suggests Sarandos' plan might not be feasible. In 2011, Universal planned to release its movies for rental on the same day of theatrical releases for $60 per movie. Theaters killed that effort.
Popular in the Community