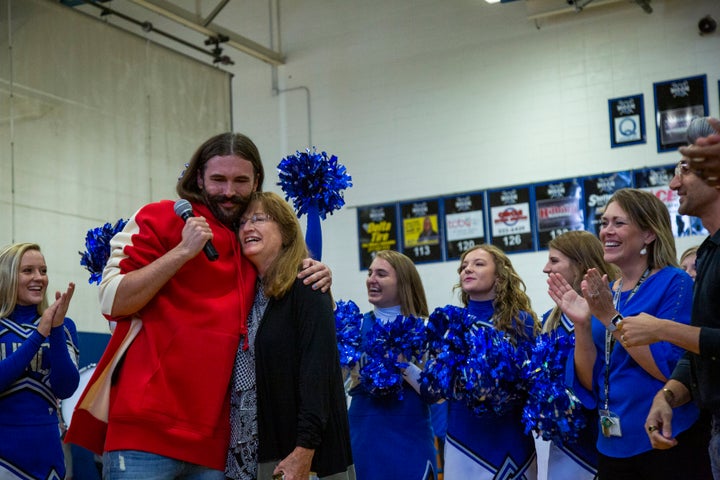 What's up: Days after earning two Emmy nominations, the Fab Five return to make over more lives throughout America. The last season debuted just four months ago, so calling this a new season is a bit of a marketing ploy, but these new episodes do have a tonal shift from the last season.
Sum-up: Given that Netflix debuted two other strong Originals this week, with the return of Jerry Seinfeld's "Comedians in Cars Getting Coffee" and David Harbour's "Frankenstein's Monster's Monster, Frankenstein," I thought this might be the first time I don't recommend new "Queer Eye" episodes as the show to watch in a given week. But when I started tearing up less than 10 minutes into the first episode of Season 4, I knew "Queer Eye" still deserved the spotlight.
The fourth season gets meta and reckons with the stardom of the Fab Five. The crew heads to host Jonathan Van Ness' former high school to make over a beloved teacher who works long hours. The students are starstruck by the hosts, but instead of wallowing in this aspect, the show uses the attention to stress the importance of celebrating the many undervalued public schoolteachers in America.
The season then goes on to support various community leaders, creating a much more rewarding enterprise than simply making schlubs look better, like the crew did in the earlier episodes.
Heads-up: Although I love the show, I took issue with "Queer Eye" around the time Season 3 debuted for implicitly shaming poor people for not being rich. Much of the show has revolved around criticizing the makeover subjects for not buying nicer things. Although this conceit has not been entirely dropped, Season 4 begins with the aforementioned much more rewarding episode. This show has reckoned with its influence and continues to innovate on how it transforms its subjects' lives. As the theme song's chorus states, "Things keep getting better."
Bonus: I have enjoyed host Tan France's YouTube series, "Dressing Funny," which Netflix releases on its YouTube channel. In the series, France gives fashion makeovers to famous comedians, including Tina Fey, John Mulaney and most recently, Pete Davidson ― a follow-up to a super-viral video that "Saturday Night Live" made of France and Davidson shopping.
Read on for more recommendations and news from the week.
And if you want to stay up to date with what to watch on a weekly basis, subscribe to the Streamline newsletter.
What Else Is New This Week On Netflix