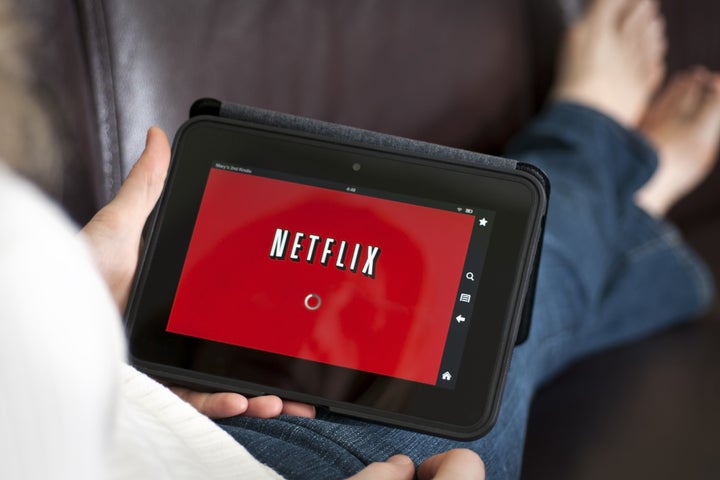 From the parades to the parties to the corporate marketing, there is so much packed into June that sometimes it can be a bit overwhelming.
So for those moments when you need to just sit in the air conditioning, relax and avoid the crowds, Netflix is here to ensure that you can keep the spirit of Pride alive.
This week the streaming film and television service released it's 2016 Pride Guide, a comprehensive list of the top streaming lesbian, gay, bisexual and transgender (LGBT) films and television series available for viewing from the provider.
From "Orange is the New Black" to "Rent," now you can engage with LGBT entertainment without in the comfort of your own home (or... if you're Netflix and chillin'... the comfort of someone else's home...).
Check out the list and descriptions below, courtesy of Netflix.
4th Man Out (2015)
A young mechanic comes out to his extremely straight best friends. Once they get used to the idea, they're determined to help him find the right guy.
Anatomy of a Love Seen (2014)
While filming a lesbian love scene, two actresses fall for each other and start a relationship that brings them love in all its painful, messy glory.
August (2011)
When Troy returns to Los Angeles after many years in Barcelona, he finds that his ex- boyfriend has begun dating a handsome South American immigrant.
Bare (2015)
A free-spirited female drifter leads melancholy Sarah away from small-town boredom toward an enticing world of drugs and danger.
Before You Know It (2013)
This compelling documentary follows three gay men over the course of a year as they navigate love, loneliness and life after 60.
Blackbird (2014)
A Southern teenager struggles with the realization that he's gay, fearful of betraying his devoutly religious mother and his own faith.
Do I Sound Gay? (2014)
Driven by his own self-doubt and his curiosity about other men's experiences, filmmaker David Thorpe explores the stereotype of the "gay accent".
Drown (2015)
When a surfing champion is dethroned by a newcomer, a booze-fueled night brings waves of jealousy, homophobia, unrequited lust and shocking tragedy.
Grace and Frankie: Seasons 1-2 - NETFLIX ORIGINAL
They're not friends, but when their husbands leave them for each other, proper Grace and eccentric Frankie begin to bond in this Emmy-nominated series.
How to Get Away with Murder: Seasons 1-2
Brilliant criminal defense attorney and law professor Annalise Keating, plus five of her students, become involved in a twisted murder case.
Jenny's Wedding (2015)
When Jenny plans to marry her girlfriend, she decides it's time that her family, who doesn't know that she's a lesbian, finally learns the truth.
Orange is the New Black: Seasons 1-3 - NETFLIX ORIGINAL (Season 4 avail 6/17/16)
A privileged New Yorker ends up in a women's prison when a past crime catches up with her this Emmy-winning series from the creator of "Weeds."
Out in the Line-Up (2014)
Two gay surfers embark on a global journey to uncover the taboo of homosexuality in surfing and discover an emerging like-minded community.
Pariah (2011)
A lesbian teen in the Bronx balances the open expression of her sexuality among her close friends with keeping it hidden from her religious parents.
Rent (2005)
Based on Puccini's opera "La Boheme," this musical follows a group of scrappy bohemians who face true love, drug addiction and AIDS in New York City.
Room in Rome (2010)
Two women meet and experience sensual and emotional fulfillment during a steamy encounter in a hotel room where they share secrets as well as sex.
Salvation Army (2013)
A Moroccan writer directs this big-screen adaption of his own semi-autobiographical novel, telling a complex story of sexual awakening.
Such Good People (2014)
A couple is surprised when they find a pile of cash hidden in their friends' house. But when their friends die suddenly, surprise turns to temptation.
Tangerine (2015)
Fresh out of a stint in jail, transgender prostitute Sin-Dee and her pal Alexandra hit the crazy streets of LA to get revenge on her fickle pimp.
The 100: Seasons 1-2
A century after Earth was devastated by a nuclear apocalypse, 100 space station residents are sent to the planet to determine whether it's habitable.
The Falls (2012)
Buried feelings rise to the surface when two seemingly perfect teen Mormons are assigned to serve a mission together as part of their rite of passage.
The Kids Are All Right (2010)
The children of same-sex parents become curious about the identity of their sperm-donor dad and set out to make him part of their family unit.
The Next Best Thing (2000)
Pals Abbie and Robert never let sex get between them ― it's never been an issue, as he's gay. But after an unexpected tryst, Abbie becomes pregnant.
The Out List (2013)
Activists, entertainers, athletes and politicians are among those profiled in this thought- provoking portrait of notable LGBT personalities.
The Way He Looks (2014)
A new classmate transforms the daily life of a blind teenager who longs for independence and disrupts his relationship with his best friend.
Tig (2015) - NETFLIX ORIGINAL
Comedian Tig Notaro announced her cancer diagnosis at what became a legendary stand-up set in 2012. Follow her search for humor and devastating news.
Weekend (2011)
This frank drama centers on the relationship between two gay men who contemplate turning a passionate one-night stand into something more meaningful.
Xena: Warrior Princess (Seasons 1-6)
Bent on redeeming her outlaw past, powerful warrior princess Xena roams the land with her companion Gabrielle in search of wrongs to right.
Don't know what to watch on Netflix? Message us on Facebook Messenger for TV and movie recommendations from our editors! 
REAL LIFE. REAL NEWS. REAL VOICES.
Help us tell more of the stories that matter from voices that too often remain unheard.
BEFORE YOU GO