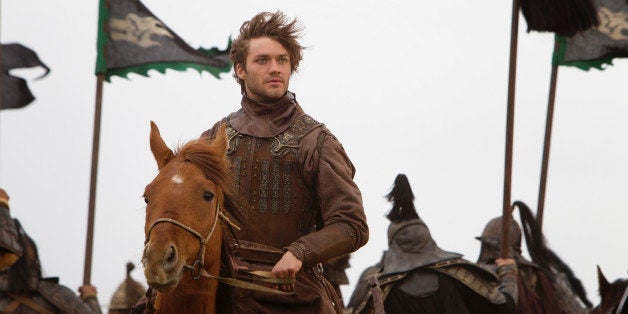 The critics may not think much of it, but Netflix's big-budget epic series "Marco Polo" is a hit with viewers -- at least according to Netflix CEO Reed Hastings.
The historical drama is "a massive success," Hastings told The Huffington Post in an interview this week. "It's been super popular with the audience," he said. "It's epic-scale -- beautiful costumes, naked kung fu."
But unless you work at Netflix, it's more or less impossible to know how many people are actually hooked on that naked kung fu.
"Marco Polo," which premiered last month, is a major undertaking on Netflix's part. The streaming video company reportedly spent $90 million on the first season, which follows the title character through the courts of Kublai Khan (where there are, yes, a lot of naked people). According to The New York Times, HBO's "Game of Thrones," the wildly successful fantasy series (which is also packed with nudity), is the only show that costs more.
We know HBO's spending paid off: "Game of Thrones" is the network's most popular show ever. HBO says an average of 19 million people in the U.S. watch each episode of "Game of Thrones," whether on TV, on demand, through their DVRs or via the HBO Go streaming service.
The viewership numbers for "Marco Polo," on the other hand, remain a mystery.
Netflix has a treasure trove of viewership information, but the company holds it close. Apart from superlatives like "most watched series in every Netflix territory" -- an honorific that went to "Orange is the New Black" last year -- Netflix doesn't actually say how many people watch a given show. The company has said that it doesn't need to release ratings because it's not in the business of selling advertising, and it doesn't care whether someone watches a show the day it comes out or months later.
Ted Sarandos, Netflix's chief content officer, said last month that ratings are "an irrelevant measure of success for us."
Netflix isn't alone in keeping this kind of information confidential. Amazon, whose streaming video service has lately garnered headlines and accolades, also doesn't share its viewership data. (Amazon's Prime Instant Video is part of its $99 Prime loyalty program, and the notoriously secretive company won't even disclose how many people are enrolled in that.)
Hulu, which is a private company, likewise doesn't share its viewership figures. HBO will say how many viewers it gets across all platforms, but it doesn't break out data for the HBO Go streaming app by itself.
So observers are left to look at other signals -- vague statements from executives, critical notices and awards -- to determine whether or not a show is a hit. Netflix says it determines the success of an original show based on the cost per hour viewed -- that is, how much the company spends on the content relative to how much of it people watch. (In a letter sent to shareholders on Tuesday, Netflix said that its original programming last year was actually more "efficient" than "most of" its licensed content. This means in 2014, it actually cost Netflix less to produce original content than to license some content from other studios, in terms of how much of it people watch.)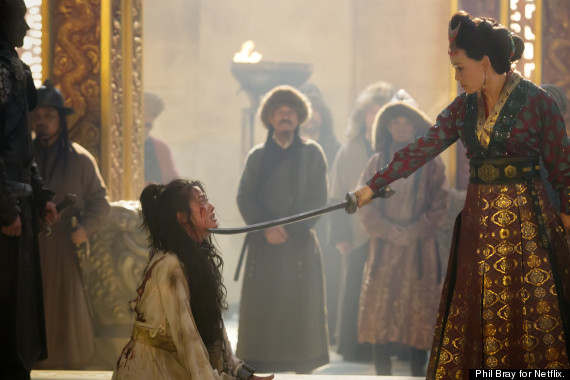 Olivia Cheng and Joan Chen in the Netflix original series "Marco Polo."
"Marco Polo" hasn't received anywhere near the critical acclaim or buzz garnered by "House of Cards," "Orange is the New Black" or "Game of Thrones." The New York Times' Neil Genzlinger called it "a disappointment," while Time's James Poniewozik named it one of the 10 worst things he watched last year.
The review-aggregation site Rotten Tomatoes shows a 30 percent average rating for "Marco Polo" among critics. But speaking to HuffPost this week, Hastings pointed to Rotten Tomatoes' "Audience Score" metric, which as of Thursday was a favorable 93 percent for "Marco Polo."
"In the delta between the audience and the critics, and given that delta, we'll always run with the audience," Hastings told HuffPost.
In a call with investors this week, Sarandos called "Marco Polo" a "global phenomenon," noting that "the volume of viewing has been phenomenal" and that viewers are completing the show at a rate that's "comparable to our other big tentpole original shows."
High-quality exclusive and original programming is crucial to the success of Netflix, particularly as the options for streaming video continue to proliferate. Netflix is no longer the only game in town -- Amazon's streaming video service is improving, and both HBO and Showtime have said they'll launch standalone streaming services this year.
And as soon as people find Netflix doesn't have what they want to watch, or they conclude their money is better spent on a competitor, the company risks losing them.

Related