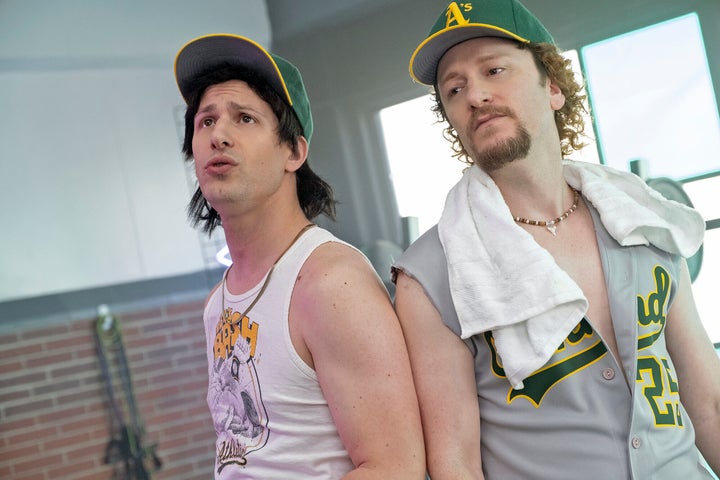 The Netflix highlight: "The Lonely Island Presents: The Unauthorized Bash Brothers Experience" Special. Netflix rolled this out with a surprise midnight release earlier in the week.
Stars: The Lonely Island (Andy Samberg, Akiva Schaffer and Jorma Taccone) as well as a ton of cameos.
Premise: A collection of music videos by The Lonely Island that tells a fictionalized version of the rise to prominence and fall from grace of baseball players Jose Canseco and Mark McGwire. Canseco and McGwire played for the Oakland Athletics in the 1980s and got their collective nickname for "bashing" home runs and then "bashing" each other's forearms together in celebration (rather than high-fiving or fist-bumping). Both later admitted to using steroids at the time.
Sum-up: With a glorious mix of highbrow and lowbrow, The Lonely Island uses the silly story of two sports guys that got in trouble and elevates this duo to characters of dramatic distinction. The musical group's rap style also lends itself well to the 1980s setting, as the songs have a strong similarity to the Beastie Boys. As someone who grew up in the Lonely Island era of "Saturday Night Live," and as a huge sucker for cameo appearances by the band Haim (see Vampire Weekend's latest album, "Father of the Bride"), I'm extremely predisposed to love this. But the group's affection for the subject material (they all grew up in Berkeley, California, during this era) should endear this effort to the more casual viewer. Additionally, it marks the second time in just a few weeks (following the excellent "I Think You Should Leave") that Netflix has debuted a strong use of short-form comedy.
Heads-up: Since the plot unfolds in song, you might have a hard time following along if you don't already know the basic history and context. And speaking of context, you should probably know the basic celebrity arc of Jose Canseco before watching this as it makes the character's existential musings more funny.
Will everyone be talking about this? The Lonely Island repeatedly went viral during their stint on "Saturday Night Live." Although the subject matter for this has a far more niche appeal (reminiscent of Samberg's two HBO sports mockumentaries), I can't imagine this not reaching a sizable audience (at least of comedy nerds).
Read on for more recommendations and news from the week.
And if you want to stay up to date with what to watch on a weekly basis, subscribe to the Streamline newsletter.
Here's one of the music videos:
What Else Is New This Week On Netflix
"She's Gotta Have It," Season 2 ― Spike Lee created and directed this television reimagining of his 1986 movie.
"The Perfection" ― Allison Williams stars as a former musical prodigy in a body horror movie reminiscent of "Black Swan."
A Couple Of Netflix News Stories From This Week
1. New Coke has returned from the dead because of the upcoming "Stranger Things" season. In a cross-promotional move that apparently didn't involve money changing hands, the third season of "Stranger Things" will feature the failed 1980s soft drink, while Coca-Cola sells New Coke again to advertise the new season on Netflix.
2. More "Black Mirror" trailers for the new season debuted this week. One of them stars Miley Cyrus as a pop star and a Miley Cyrus-pop-star-robot.
"Prince of Peoria" (Part 2, Netflix Original)
"Rosario Tijeras (Mexico Version)" (Season 2)
"Arrow" (Season 7)
"Moonlight"
"Wanda Sykes: Not Normal" (Netflix Original)
"A Tale of Two Kitchens" (Netflix Original)
"One Night in Spring" (Netflix Original)
"The Flash" (Season 5)
"Riverdale" (Season 3)
"Slasher: Solstice" (Netflix Original)
"After Maria" (Netflix Original)
"Alta Mar" (Netflix Original)
"Joy" (Netflix Film)
"Rim of the World" (Netflix Film)
"She's Gotta Have It" (Season 2, Netflix Original)
"The Perfection" (Netflix Film)
"WHAT / IF" (Netflix Original)

CORRECTION: The original version of this piece spelled Mark McGwire's name as Mark McGuire. I'm chalking this up to a personal bias for his rival, Sammy Sosa.