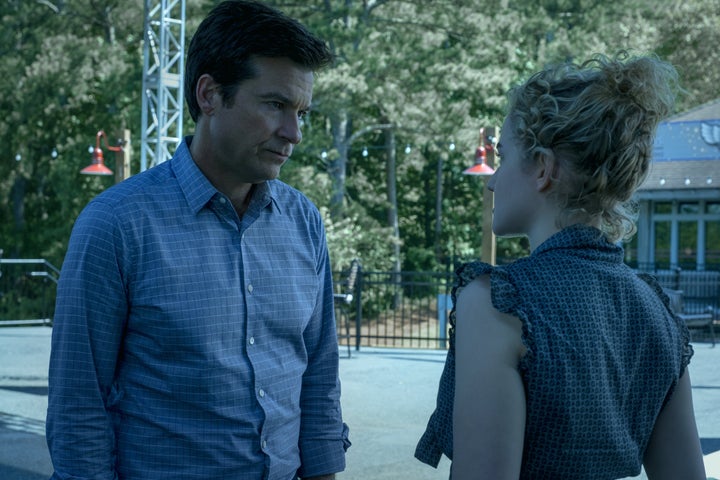 "Ozark" (Netflix Original, Season 3)
Premise: In this crime thriller, a Chicago family stumbles deeper and deeper into a life of crime as they have to work for violent people in the Ozarks due to a money-laundering scheme gone wrong. Over time, they become the same violent people and come to realize they can't leave.
How it starts: The third season begins with the camera focusing on an overhead fan making a noise that sounds like a ticking time bomb. The camera shifts focus to a statue of St. Jude Thaddeus, one of Jesus' Twelve Apostles and the namesake for the famous children's hospital.
Is it any good? The show has earned five Emmy nominations, including for Outstanding Drama Series in 2019. Julia Garner won for Best Supporting Actress in a Drama series.
The third season has a Metacritic score of 76 out of 100 right now. Metacritic aggregates scores from top critics. A show in the 70s is typically solid, but not a must-watch.
Notable Cast: Jason Bateman, Julia Garner, Sofia Hublitz and Laura Linney
Runtime: Season 3 runs 10 episodes of roughly 60 minutes
Bonus: Here's a recap of the second season:
Premise: In this docu-series, a charismatic, drug-using polygamist named Joe Exotic who owns a tourist trap zoo hires a hitman to kill a rival.
Setting: An Oklahoma roadside zoo in the recent past
How it starts: A voiceover asks, "Where do you want to start?" on a blank black screen. The camera cuts to a man dressed in black with a black cowboy hat, smoking a cigarette in a restaurant with paintings covering the walls. The man in black responds, "I guess at the beginning somewhere." He shakes his head and continues, "It was a crazy beginning."
Is it any good? Metacritic score: 74 out of 100, with nine reviews so far. This has "Wild Wild Country" vibes in that it focuses on a mythical, ridiculous and dangerous central figure. Nick Allen at RogerEbert.com gave it a 4 out of 4, saying: "'Tiger King' is Netflix comfort food of the highest order: it immerses viewers in a mind-boggling lifestyle and series of scandals, and yet the term 'true-crime' doesn't do justice to its greatness."
Runtime: This limited series runs seven episodes of roughly 45 minutes.
Bonus: Joe Exotic ― now famously ― made quite a few ridiculous music videos with original music. Here's one of Exotic's most popular videos, for the song "Here Kitty Kitty":
Shows from earlier in the month:
Premise: In this comedy, a female stand-up comedian with addictive behaviors falls for a woman who has only experienced heterosexual relationships. The two begin to date, but the comedian is still working through addictions.
Setting: Contemporary London
Is it any good? Metacritic, which aggregates critic evaluations of the quality, scores it 84 out of 100. A few critics are comparing it to "Fleabag" given the balance of humor and addiction. Lucy Mangan at The Guardian gave it a rare five out of five-star review, calling it a "beautiful, truly funny love story."
Notable Cast: Lisa Kudrow, Mae Martin and Charlotte Ritchie
Runtime: The first season runs six episodes of roughly 25 minutes.
"Elite" (Season 3, Netflix Original)
All the movies that have joined Netflix this month so far:
The Story of God with Morgan Freeman" (Season 3)
"Castlevania" (Season 3, Netflix Anime)
"Paradise PD" (Part 2, Netflix Original)
"The Protector" (Season 3, Netflix Original)
"Ugly Delicious" (Season 2, Netflix Documentary)
"The Circle Brazil" (Netflix Original)

"Dirty Money" (Season 2, Netflix Documentary)

"On My Block" (Season 3, Netflix Original)
March 12
"Hospital Playlist" (Netflix Original)
March 13
"100 Humans" (Netflix Original)
"Beastars" (Netflix Anime)
"Bloodride" (Netflix Original)
"Elite" (Season 3, Netflix Original)
"Kingdom" (Season 2, Netflix Original)
"The Valhalla Murders" (Netflix Original)
"Women of the Night" (Netflix Original)
March 17
"All American" (Season 2)
"Black Lightning" (Season 3)
March 19
"Altered Carbon: Resleeved" (Netflix Anime)
"Feel Good" (Netflix Original)
March 20
"Self Made: Inspired by the Life of Madam C.J. Walker" (Netflix Original)
"Tiger King" (Netflix Documentary)
"Sol Levante" (Netflix Anime)
"YooHoo to the Rescue" (Season 3, Netflix Family)
"7Seeds" (Part 2, Netflix Anime)
"Unorthodox" (Netflix Original)
"Car Masters: Rust to Riches" (Season 2, Netflix Original)
"Ozark" (Season 3, Netflix Original)