We're talking major. You know that part in the second season of "House of Cards" that you didn't see coming? Yeah, that's in there. The really sad ending of "Old Yeller?" That's in there too. Spoilers from "Rocky," "Breaking Bad," "The Hunger Games" and "Good Morning Vietnam" are also included.
You do have to click a few times to see the spoiler, but don't say you weren't warned.
Netflix's "Living With Spoilers" site, which also includes a flow chart that identifies what kind of spoiler you are, is part of a promotion the company is running just as the fall TV season kicks off. Netflix also commissioned a survey about people's changing attitudes around TV and found that people care less about spoilers -- either giving them away, or learning about them -- than they used to.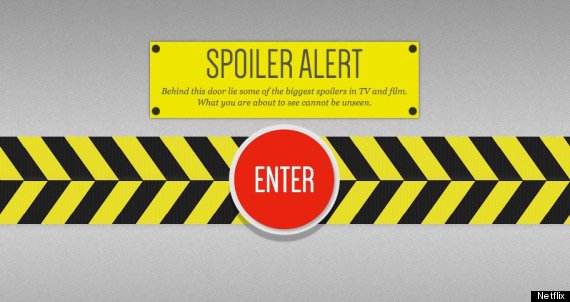 According to the survey, about 1 in 5 Americans say it's OK to share a plot twist right after they see it, and a full 94 percent say that they don't want to stop watching a TV series even if they hear a spoiler.
"In the old days spoilers would just extinguish a show and you wouldn't watch it," Grant McCracken, a cultural anthropologist Netflix hired to spend time with consumers and study how they watch TV, said in an interview with The Huffington Post. "These days, spoilers can actually end up recruiting for the show. They send you a message that it's really good -- that people really care about it and that you might want to watch it too."
Thirteen percent of people surveyed said they become more interested to watch a show they weren't going to watch if they hear a spoiler, though 54 percent still said that if people are talking about plot twists, they should use some sort of coded language.
Netflix, which unlike traditional TV can be streamed anytime and almost anywhere, takes some of the credit for the shift, and the company's programming boss said that the conversation around spoilers changed when it released the entire second season of the political thriller "House of Cards." (Spoiler alert, it has a pretty shocking scene in the first episode.)
"When we premiered all episodes of our series at once across the world, it created a new dynamic around spoilers," Ted Sarandos, Netflix's chief content officer, said in a statement announcing the survey results. "After Season 2 of 'House of Cards' launched there was a definite shift in the social conversation about a key plot twist in episode one; that was the moment everything changed."
The results of Netflix's online survey, which was conducted in the U.S. last month by market researcher Harris Interactive, come as television viewing habits are undergoing a massive shift, due in large part to services like Netflix, Amazon Prime Instant Video, Hulu, HBO Go and YouTube. The time consumers spend each month watching video on the Internet is up 64 percent this year, according to Nielsen. (Nielsen bought Harris Interactive earlier this year.)
Observers consider television to be in a "new golden age." Our TVs, tablets and desktops are teeming with an abundance of good programming from more than just traditional cable and network TV, thanks in part to technology and services that allow us to watch on our own terms. Netflix and other streaming services are spending more money on original programming, and they're more often releasing a season's episodes all at one time to let consumers binge-watch an entire show in one weekend. Amazon will release all episodes of "Transparent," a new comedy-drama starring Jeffrey Tambor, to its Amazon Prime members on Friday.
Netflix, which is already available in over 40 countries around the world, is in the midst of an aggressive expansion into Europe. The company began operating in France, Germany and four more European countries last week.
Related
Popular in the Community