Here's a concept: A medical mystery of a girl is seen hooked up to wires in a secretive research facility that appears to conduct high-tech mind-based experiments. The scene is contrasted by images of her running through woods and bleeding from the nose.
The character in question is Prairie Johnson in Netflix's upcoming series "The OA" ― but she's giving us serious Eleven from "Stranger Things" vibes. (Minus the whole '80s thing.) Netflix announced by surprise on Monday that all eight episodes of the drama series are set for release Friday.
Although the streaming service produces a lot of new original content on the regular, we usually know what's coming out when. In this case, there's almost no information about "The OA" on Netflix ― and only some creepy hints on Twitter.
The series comes from creators Brit Marling and Zal Batmanglij, who partnered up on a environmental-themed thriller, "The East," which premiered at Sundance in 2013.
Its trailer reveals little, but sets itself apart from "Stranger Things" with somber violin music and scenes bathed in muted tones. Marling stars as Prairie, who went missing for seven years as a girl and returned as an adult with her blindness mysteriously cured. After returning home to some intense public attention, a team of men questions Prairie about her disappearance, and she undergoes some kind of memory recovery therapy. In flashes, she's also shown running through woods and fields, jumping off a bridge, and uncovering odd markings on her back. There's a gun, blood, and an accident on a bridge.
Also appearing are Emory Cohen (Tony Fiorello in "Brooklyn"), Scott Wilson (Herschel Greene in "The Walking Dead"), Jason Isaacs (Lucius Malfoy in "Harry Potter") and Phyllis Smith (Phyllis Vance in "The Office").
On Instagram, images showing pills and people hooked up to machines are peppered with messages reading "This is a dream but you're wide awake," "I liked it better when you were blind," "How do we fight the cold?" and "Which way is up?"
"I remember everything," Prairie says in the trailer. Maybe, on Friday, she'll enlighten us.
Before You Go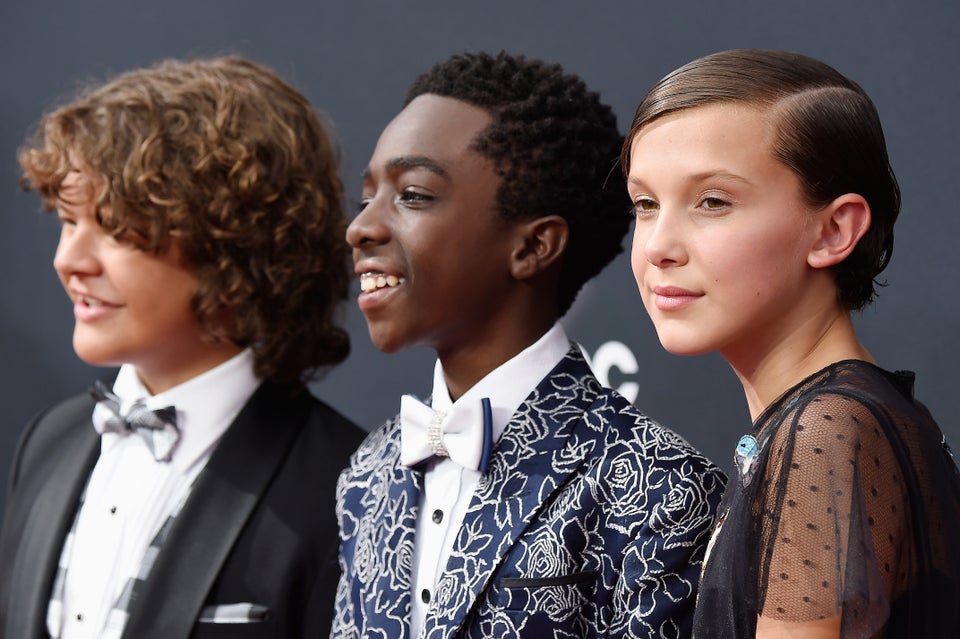 The "Stranger Things" Kids At The Emmys
Popular in the Community