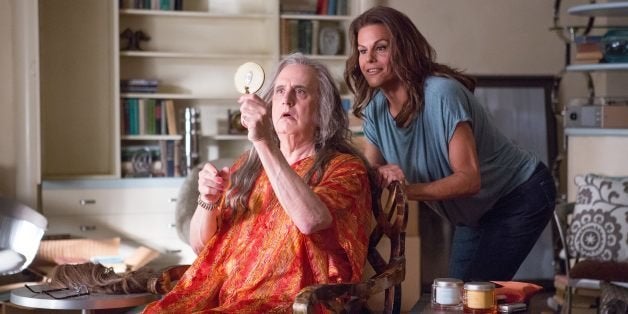 Those two Golden Globes could have been Netflix's.
The biggest streaming service in the world, which now boasts more than 57 million members in about 50 countries, had the opportunity to bid on "Transparent," Reed Hastings, Netflix's founder and CEO, told The Huffington Post.
"Transparent" creator Jill Soloway has a "great reputation," Hastings told HuffPost in an interview Tuesday. "She'll talk to multiple people to try to get multiple bids, so it's not that meaningful that we were one of many to take a look at it."
"But it's a great show -- we're thrilled that Amazon chose to produce it," he added.
"So we're not going to win all of them," Hastings said.
As streaming companies and premium TV networks like HBO and Showtime (which announced they'll launch standalone streaming services later this year) continue to grow, competition for programming is only going to intensify.
"Transparent," which follows the story of a father who comes out to his family as transgender, beat out shows from HBO, the CW and, yes, Netflix, to win a Golden Globe for best TV series, musical or comedy. The New York Times noted that Amazon's win in the category was the first time a streaming service has won best TV series. Jeffrey Tambor, who plays the father, also won a Golden Globe for best actor in a TV series, musical or comedy.
Netflix still had a good night at the award show. Kevin Spacey took home a Golden Globe for his role as Frank Underwood in "House of Cards"
Both Amazon and Netflix are investing heavily in original and exclusive programming to lure subscribers, though their models and goals are very different. Netflix only makes money from subscriptions, which in the U.S. start at $7.99 per month. Amazon Prime Instant Video, the company's streaming service, is only available as part of the retailer's $99 annual Prime loyalty program, which also includes free shipping. Prime members shop more frequently and spend more money, so Amazon tries to lure as many people as it can to become Prime members.
But Amazon is still taking programming seriously. Last week, the company said it had hired Woody Allen to write and direct his first TV series. And this week, Amazon said it would produce 12 movies for theaters, making them available on its Prime streaming service 30 to 60 days after they debut on the big screen.
Netflix beat analyst expectations in reporting its quarterly earnings Tuesday, sending its stock up more than 15 percent in after-hours trading.
REAL LIFE. REAL NEWS. REAL VOICES.
Help us tell more of the stories that matter from voices that too often remain unheard.