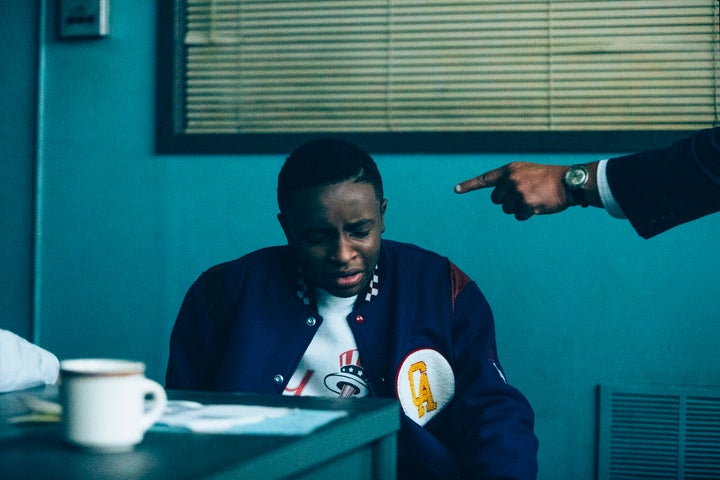 The Netflix highlight: "When They See Us" miniseries.
Premise: A depiction of the events surrounding the infamous Central Park Five case that took place in New York City. In April 1989, a serial rapist assaulted and raped a female jogger in Central Park at roughly the same time a large group of teenagers wreaked havoc nearby. Without a clear suspect at the time, the district attorney's office and the NYPD decided to name a few of the teenagers (all black or Hispanic) as suspects and then coerced confessions. All of the children had to serve significant jail time.
Stars: Ava DuVernay created the show; actors include Felicity Huffman, Joshua Jackson, Niecy Nash and Michael K. Williams
Sum-up: "If you walk away from this with fury or rage, ask yourself how you're going to be a part of the solution," actress Niecy Nash said to AM New York about the series. I don't know how you could watch this and not have fury and rage boil up. The show does an incredible job of setting the stakes for one of the most public injustices in our country's recent history. Of course, this case is no isolated incident, which the actual facts of the case help make apparent. As the beginning of the second episode highlights, President Donald Trump had a huge part in the scandal, as he paid tens of thousands of dollars for newspaper advertisements advocating for the execution of the teenagers. The systemic racism on display in "When They See Us" remains entrenched in America today and now goes up to the highest office. Perhaps a well-told story of unjust treatment and undeserved pain can help more Americans realize this.
Heads-up: The show depicts the NYPD and prosecutor as such pure forces of evil that it cheapens the narrative a bit. The best "stories" portray the villains with nuanced intentions for their evil deeds, which "When They See Us" only passingly attempts to do. Of course, this is based on real events and sometimes evil has no such nuance in real life. But given this is a show and not a documentary, that still deserves mentioning. Also, Felicity Huffman has a starring role as the main villain, which feels a bit jarring given the recent college admissions scandal, in which she pleaded guilty in May.
Look-up: Lifelong New York City residents Desus and Mero (who gained fame from their NYC-centric podcast "Bodega Boys" and recently got a new late-night program on Showtime) interviewed DuVernay about this miniseries. Also, Ken Burns co-directed a documentary called "The Central Park Five," which you can watch for free if you have Amazon Prime. In 2016, Sarah Burns, another co-director for that documentary, wrote an op-ed in The New York Times that focused on President Donald Trump's original and ongoing involvement in the scandal.
Will everyone be talking about this? Critics have heaped praise on this. I could see this catching on when people share their outrage about the depicted events on social media.
Read on for more recommendations and news from the week.
And if you want to stay up to date with what to watch on a weekly basis, subscribe to the Streamline newsletter.
What Else Is New This Week On Netflix
"My Next Guest Needs No Introduction," Season 2 ― David Letterman returns with another set of long-form interviews. This season will include Tiffany Haddish and Kanye West as guests.
"Always Be My Maybe" ― Randall Park and Ali Wong star in this romantic comedy set in San Francisco. The duo also co-wrote the movie, along with Michael Golamco.
A Couple Of Netflix News Stories From This Week
"Historical Roasts" (Netflix Original)
"Outlander" (Seasons 1-2)
"Disney's The Nutcracker and the Four Realms"
"Chopsticks" (Netflix Film)
"My Week With Marilyn"
"Svaha: The Sixth Finger" (Netflix Film)
"The One I Love"
"Always Be My Maybe" (Netflix Film)
"Bad Blood" (Season 2, Netflix Original)
"Black Spot" (Season 2, Netflix Original)
"How to Sell Drugs Online (Fast)" (Netflix Original)
"Killer Ratings" (Netflix Original)
"When They See Us" (Netflix Original)
"Arthdal Chronicles" (Netflix Original)
"Oh, Ramona!" (Netflix Film)
"50/50"
"A.I. Artificial Intelligence"
"Anohana: The Flower We Saw That Day"
"Batman Begins"
"Cabaret"
"Carrie"
"Cat on a Hot Tin Roof"
"Dynasty" (Season 2)
"Good Night, and Good Luck"
"Gran Torino"
"Life in the Doghouse"
"Madagascar: Escape 2 Africa"
"Magic Mike"
"Network"
"Platoon"
"Prosecuting Evil: The Extraordinary World of Ben Ferencz"
"Satan & Adam"
"Small Soldiers"
"The Dark Knight"
"The Phantom of the Opera"
"The Space Between Us"
"What a Girl Wants"

Related