Melissa Rosenberg, who created Netflix's intense new Jessica Jones series, doesn't see why white guys should be the only ones who get to enjoy a world of constant danger, unrelenting darkness and haunted self-doubt.
So Marvel's Jessica Jones, whose first 13 eagerly awaited episodes drop Friday, hands all of those pleasures over to the title character, played by Krysten Ritter as a smart, sharp-tongued private eye whose two best pals seem to be Jack Daniels and Cutty Sark.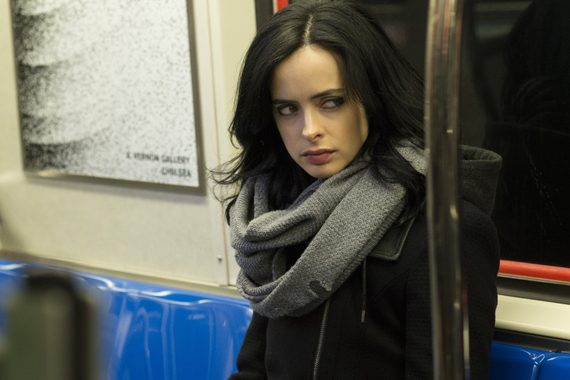 "What makes characters interesting is their flaws," says Rosenberg. "What sets them apart is how damaged they are. Noble heroes are less interesting than the long-suffering ones."
Rosenberg has taken that approach in the hugely popular Twilight movie series, which she wrote, and she applied it ferociously over four seasons as the head writer on Showtime's serial killer drama Dexter.
Jessica Jones will become the second in Netflix's planned series of four Marvel adaptations, which began will Daredevil and will add Luke Cage and Iron Fist before they all rendezvous for a Defenders miniseries.
Still, Rosenberg cautions fans that while Jessica interacts regularly with Cage (Mike Colter) in this new show, it's not a classic Marvel ensemble production.
"Jessica was created by Brian Michael Bendis to live in the Marvel universe," Rosenberg says. "And she does. But this is entirely Jessica's story. Luke is there, but Jessica is exactly the same person she would be without him. Our story doesn't follow the comic, it uses the comic as a jumping-off place.
"Jessica is a lesser-known character in Marvel, so there were very few restrictions on what we could do with her."
Jessica's story, to oversimplify considerably, is that she was once a superhero with great strength and other powers. But she decided to drop out of the superhero world after something terrible happened to her there, and now she's a low-profile private investigator in New York, trying to behave like a civilian, keep her head down and pay the rent.
"Even as a superhero, she was a flawed character," says Rosenberg. "I think she wants to do something good and meaningful with her life, but she's been buffeted by a lot of serious issues, and now her hardest job may be to forgive herself."
She's trying to do that in a largely unforgiving world. Jessica's New York is dark, overcast and cold, as are most of the people she encounters. Her one friend who isn't 90 proof, Trish Walker (Rachael Taylor, with Ritter above), fights a constant battle against Jessica's high, fortified walls.
Rosenberg, who has been working on a Jones series since 2010, says she cast Ritter late last year because Ritter would make Jessica into someone viewers would root for, not someone who was simply morose, depressed and self-medicating.
"I can't imagine who else could have filled these boots," says Rosenberg. "Krysten draws on many talents I don't think people have seen from her before.
"The whole meaning of a scene can change with the way the actor delivers the words and she meets every challenge that we write for her. I've never seen a line die on her lips."
Rosenberg says the writers went into the season "knowing where eventually Jessica will end up. So we have a road map to start with, and what we do is add stops along the way. With any show, you start writing toward the things that play well."
Some of those things will be different in Jessica Jones than in most superhero-based tales, says Rosenberg, simply because Jessica herself and the writers come at it from a female perspective.
"What happens most of the time," Rosenberg says, "is that people write for a guy, a white guy. When there's a woman or a person of color, the story becomes about gender or race.
"Our story is based on neither. Jessica and Luke are characters, like Tony Soprano or Dexter or Vic Mackey [from The Shield] were characters.
"There have been some women [in dark dramas], like [Edie Falco in] Nurse Jackie. I hope the number of roles for women and persons of color will grow."
Equal opportunity on the dark side.
Calling all HuffPost superfans!
Sign up for membership to become a founding member and help shape HuffPost's next chapter