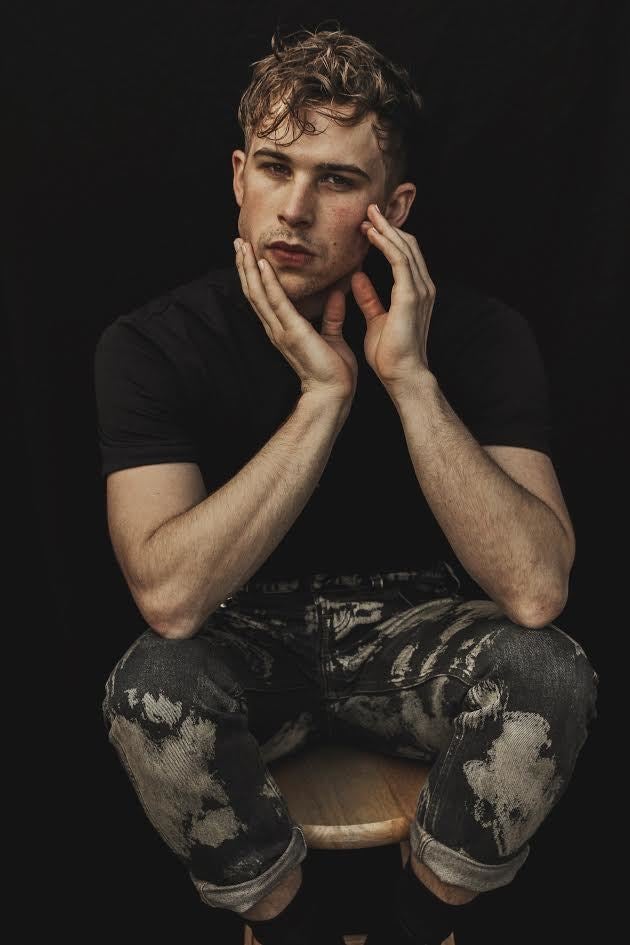 If you're looking for reasons why you should watch juicy new series 13 Reasons Why, here are three; one- it's streaming on Netflix, and when do they go wrong? Two- the series is produced by Selena Gomez, who has already shown that she is an incredible actress and singer, so it's great to see the young super-starlet take some power in the industry behind the lens! And three? It introduces bright newcomer Tommy Dorfman into the world in a big way- and that is reason enough to tune in!
Now, if you're looking for reasons why you should love the quickly rising star, there are nearly a billion- but let's just start at thirteen. One (through four); he's absolutely adorable. He's got a great jaw and intense dark eyes that are beyond cute, and he definitely has a face for close-ups. Then we have reason five; he's also extremely talented. And not only is Dorfman a great actor, he shows tremendous respect and understanding for the material, a hard work-ethic, and support for his co-stars- and, he has incredible perception for who the greats in the industry are as he lists off heroes such as Sofia Coppola, Gus Van Sant, and Wilson Cruz- another amazing LGBTQ activist actor.
Which brings us up to reason ten; Dorfman is not only playing an awesome LGBTQ activist on screen, making his character totally exciting and something television definitely needs more of, but, he also happens to be a real LGBTQ activist in real life. Openly gay, and recently married, the handsome star is an encouraging role model for youths everywhere as he sets a great example both on-screen and off, and for a community that has struggled with finding heroes and icons that are not simply pandering to them, he makes a wonderful addition to the celebrity stratosphere. And if you still need to hear reasons twelve and thirteen, the poised actor is also sweet as can be and totally humble.
With 13 Reasons Why set to be Netflix's next biggest hit, and Dorfman sure to be a huge breakout star, he took some time to sit down and talk about the hot new show, his great cast, what it's like working with Selena Gomez, and what he would love to do in the future!
So, for those not familiar with "13 reasons Why," tell audiences a bit what it is about?
13 Reasons Why is based on the book by Jay Asher, and it's sort of a mystery to figure out why this high-schooler killed herself, and it's told through the eyes of her classmate Clay Jensen, played by Dylan Minnette. So, these tapes get released in replace of a suicide note, and through these tapes you learn why she killed herself.
And you play Ryan Shaver. Can you talk a bit about your character?
Ryan is a classmate of Hannah's, as well as everyone else at school, and he's a poet as well as a gay rights activist. He runs a bit of a zine, and his goal is to essentially finish school and get to college. He's very intelligent, although some characters see him self-centered and egotistical.
As you mentioned, this series is based on the book by Jay Asher. Did you read it before getting into the role, or did you want to work from a blank slate?
I did read the book- I read it at some point during the audition process. I was curious about the story as a whole. I thought it was important to see where the writer started from, because there has been changes through the adaptation to television- but I think those changes are for the better in a lot of ways. It expands on other characters and storylines, which is great.
You also got to work with Selena Gomez as an executive producer here, as well as Kate Walsh, Ross Butler from "Riverdale," and a whole bunch of new talents. Want to talk about the great people you got to work with?
Selena is fantastic. Her and her mother Mandy bought the rights to this book eight years ago, and they've been working on getting this done since then. It's just such a loving and accepting environment. Brian Yorkey is our showrunner, and he's tremendously talented- and it's just been a gift to get to work with him as well. And, Tom McCarthy came on as well and directed our first two episodes. He's amazing. He directed Spotlight. And, as far as the actors go, it was just a great mix of veterans of the business as well as new people like myself. Kate is lovely. I have one scene with her and it's great to watch her work. It's great to watch people like her and Derek Luke, who have been in this business forever. Watching their work-ethic and creativity is wonderful. Then, there are tons of newcomers like myself, and Alisha Boe, Christian Navarro, Brandon Flynn- a lot of us, it's just our first big job, or first job ever, and there's so much enthusiasm and passion. Especially in Katherine Langford, who plays Hannah- she came from Australia, and this is her first big job, and she's great. We got really close working on the show because we were all so passionate about it.
And after this show, your career will no doubt be on the rise. Who else would you love to work with, and what other roles would you love to play?
Ooh! I would love to work with Sofia Coppola and Gus Van Sant- they're amazing. And for other roles, I've always been a big fan of period pieces, so that would be a big dream. I also really have always loved television. Ever since I've been growing up, television has really been putting out incredible character-driven projects that felt more like mini-series' and movies. So, I really seek to be a part of something like that which can go on and that can give the characters a chance to breathe over a long period of time. So, I'd love to continue to work in this medium as well- obviously on our show, but also on other shows.
And there's no doubt that the talented actor will certainly get his wish. There might only be 13 Reasons Why the events happened on Netflix's new series, but there are definitely plenty more reasons why audiences should love Tommy Dorfman. And they will.
13 Reasons Why premieres March 31st on Netflix.
Calling all HuffPost superfans!
Sign up for membership to become a founding member and help shape HuffPost's next chapter
This post was published on the now-closed HuffPost Contributor platform. Contributors control their own work and posted freely to our site. If you need to flag this entry as abusive,
send us an email
.