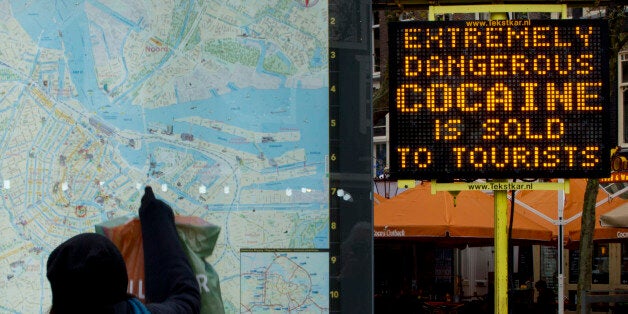 A spate of deaths attributed to dangerous drugs in Amsterdam has prompted a major effort by Dutch authorities to prevent further tragedy.
But rather than cracking down on the people buying the drugs, the Netherlands is focusing on keeping drug users safe and tracking down the dodgy dealer.
Three British tourists have died in Amsterdam in recent months after snorting heroin they may have believed to be cocaine, according to Dutch police. More than a dozen other tourists have fallen sick, apparently after using the same drug.
Police believe that a single drug dealer is responsible. They suspect the dealer doesn't realize he is selling heroin, which is much more expensive than cocaine, a spokesman for the force told the BBC. White heroin, which is less common than brown heroin, looks like cocaine but can cause respiratory failure when snorted.
Dutch authorities are offering a reward of 15,000 euros ($18,500) for information about the dealer, who they believe may be targeting tourists.
At the same time, the city has launched a public information campaign to warn drug users to be cautious. An English-language sign was put up outside Amsterdam's main train station that reads: "Extremely dangerous cocaine is sold to tourists."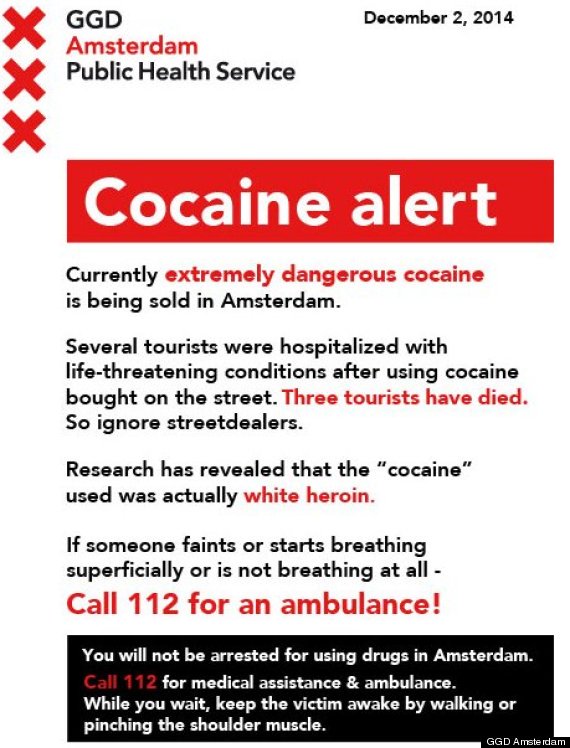 Meanwhile, the city's public health service has issued fliers warning about the misidentified drugs, and urging people to seek medical assistance if they need it.
"You will not be arrested for using drugs in Amsterdam," the leaflets assure readers.
The website of the local health service even gives detailed instructions to help cocaine users make sure they are not inadvertently consuming heroin.
Under the Netherlands' famously permissive policies, drug use is not a crime in itself. Drug dealing and drug production are illegal, but Dutch authorities distinguish between hard drugs and cannabis, and tolerate small-scale pot-selling in the country's famed "coffee shops." Drug possession is also technically illegal, but smaller amounts are generally tolerated by authorities. Possessing less than 5 grams of cannabis and less than 0.5 grams of hard drugs like cocaine is usually not penalized.
On Tuesday, The Washington Post's Wonkblog noted the contrast between the Netherlands' drug policies, with their focus on the safety and health of active drug users, and the U.S. approach, which tends to emphasize punitive enforcement measures.
"One of the drawbacks of a criminal justice approach is that the threat of harsh sentencing keeps many drug users from seeking medical assistance in the event of an overdose," the Post's Christopher Ingraham wrote. "That's not a concern in the Netherlands. The Dutch approach allows authorities to have a frank dialogue with drug users when new dangers arise, like the fake cocaine."
REAL LIFE. REAL NEWS. REAL VOICES.
Help us tell more of the stories that matter from voices that too often remain unheard.
BEFORE YOU GO
PHOTO GALLERY
The Most And Least Used Drugs In the World