Shoppers in the Netherlands can now take low-impact living a step further after Dutch supermarket chain Ekoplaza launched the world's first plastic-free aisle in one of its Amsterdam stores on Wednesday.
Customers can choose from almost 700 plastic-free products, including fruit, vegetables and grains, as well as more unlikely suspects such as meat and dairy. Those products that are packaged are either wrapped in compostable biomaterials or come in more conventional plastic alternatives such as glass, metal and cardboard.
An estimated 8 million tons of plastics enter our oceans annually — the equivalent of dumping one New York City garbage truck full of plastic into the ocean every minute of every day for an entire year, according to Ocean Conservancy.
Campaigners have been calling for supermarkets to do more about plastic waste as awareness of the toxic problem of plastics pollution has grown. Here, we go beyond Amsterdam to look at what else is happening to packaging in some of the more forward-thinking grocery stores around the world.
Vancouver, Canada: Nada
As a marine biologist, Brianne Miller was constantly reminded of the harm plastic packaging does to our oceans. So she decided to do something about it. The result is Nada, a packaging-free grocery pop-up in Vancouver that will be opening a 2,400-square-foot permanent store in the city in April.
Miller admits going packaging-free isn't always straightforward, particularly when it comes to the shelf life of products. But Nada is finding solutions to that, Miller told HuffPost, for example by featuring a small cafe at the new shop which will turn the store's surplus fruit and vegetables into soups and smoothies.
Nada also prioritizes local sourcing, shortening the supply chain to help keep food fresh, and works with community organizations such as Food Stash Foundation to redistribute food nearing the end of its shelf life.
"I don't think [zero waste] is just a trend, I think this is a movement here to stay out of necessity," said Miller. "We're a large amount of people on a planet with finite resources."
Totnes, U.K.: Earth.Food.Love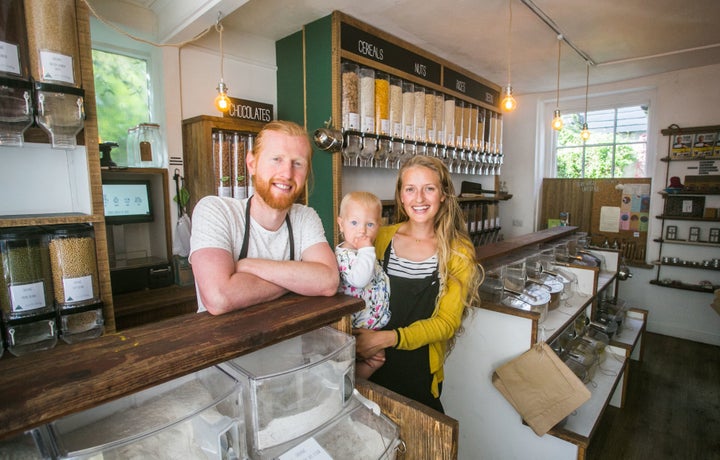 After Richard Eckersley retired from professional football, he and his wife, Nicola, invested their savings to open Earth.Food.Love in the town of Totnes in southwest England. "Packaging-free shops make sense, so we couldn't understand why we couldn't find any wherever we went," Richard told HuffPost. "That's when we decided to do it ourselves."
As the 100 percent vegan and organic store approaches its first anniversary, Eckersley says the most rewarding thing has been the satisfaction he sees shoppers get from choosing how much they want, filling their own containers and weighing it all.
"Our customers realize they can have more control over their food [...] People are so used to just grabbing a packet of something. We're here to help them slow down. There haven't been any upsets so far — we're going with the flow. As I always tell people, it's just about really listening to what the customer wants."
Berlin, Germany: Original Unverpackt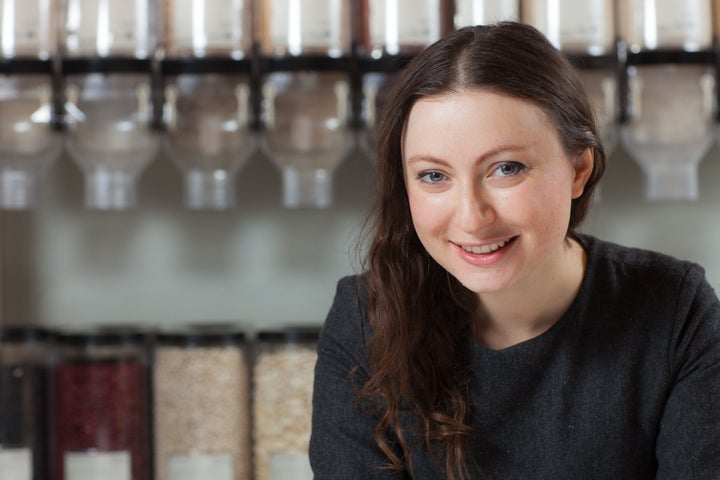 A pioneer of zero-waste shopping, Berlin-based supermarket Original Unverpackt has taken its love of packaging-free shopping a step further by offering an online course (190 euros/$230) to teach others everything there is to know about opening a zero-waste store. To date, more than 200 people have signed up to the program, and several zero-waste projects have started as a result, according to co-founder Milena Glimbovski.
"The zero-waste movement was very small when we started [in 2014]," Glimbovski told HuffPost. "Now it's growing hour by hour, and not just in Europe but around the world."
Glimbovski believes it's not surprising that the "not-so-sexy topic of trash" has become so pressing. "It makes sense — people feel an urgency to do something about it. A few years ago supermarkets wouldn't even think about plastic-free aisles. Now consumers are asking questions and they're asking for change. If consumers are active, industry will change," she said.
Austin, Texas: in.gredients
The in.gredients grocery store in Austin, Texas, opened its doors to the public in the summer of 2012 thanks to three brothers eager to establish a zero-waste grocery store in the city.
More than five years on, it now also includes a cafe, playground and event space, as well as a small garden plot out front which is tended by a local farmer. The produce grown there is then sold back to the store at low cost, and free of packaging.
About half the products the grocery store sells today – many of which are locally sourced — are packaging-free, with the store encouraging shoppers to bring their own containers to fill up on everything from granola to shampoo.
"We try to make it as easy as possible for customers to reduce their waste, and even donate five cents to a nonprofit for every container they fill up," marketing director Grayson Vreeland told HuffPost.
And the word is spreading. Vreeland added that the store is regularly contacted — often several times a week — by people wanting to know how to set up a zero-waste store in their own town.
For more content and to be part of the 'This New World' community, join our Facebook group.

HuffPost's 'This New World' series is funded by Partners for a New Economy and the Kendeda Fund. All content is editorially independent, with no influence or input from the foundations. If you'd like to contribute a post to the editorial series, send an email to thisnewworld@huffpost.com
Popular in the Community