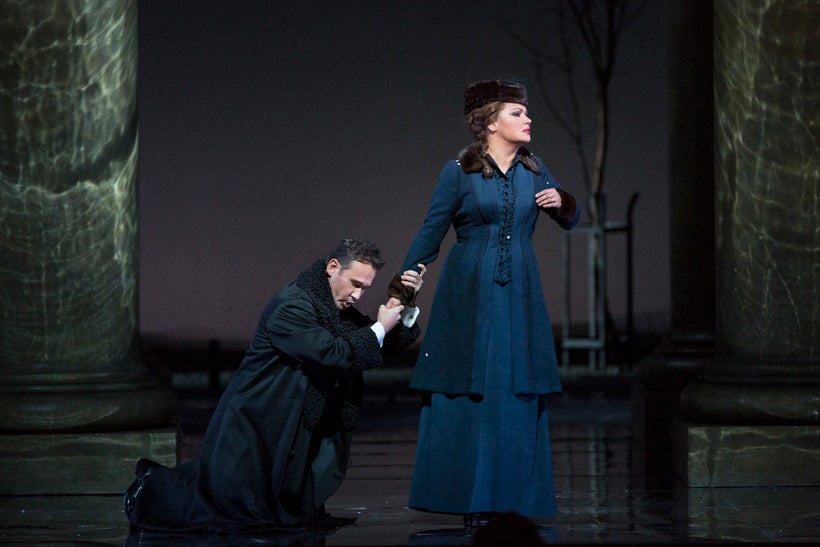 Irony does not easily translate into music, but Tchaikovsky's Eugene Onegin masterfully captures all the ironic nuance of Pushkin's great verse novel, and with Anna Netrebko and Mariusz Kwiecien again paired as the tale's ill-fated lovers the current Met Opera revival is a poignant and anguished account of lost love.
Netrebko, singing at the top of her power, is a natural for the role of Tatiana Larin, the shy, bookish daughter of the Russian steppes who falls head over heels at first sight of Onegin, a sophisticated aristocrat who arrives for a visit with his friend Lenski, a poet and a neighbor to the Larins who is courting Tatiana's flighty sister Olga.
Kwiecien is no less adept as Onegin, the bored cosmopolitan who disdains and rejects the advances of a country girl like Tatiana to the point of humiliating her. It was Netrebko and Kwiecien who created these roles for the current Met production of Eugene Onegin nearly four years ago and they are even better now than then.
It is a captivating night of opera that the Met will make available to audiences around the world on April 22 when it simulcasts its matinee performance to over 2,000 theaters in some 70 countries as part of its Live in HD series.
Tchaikovsky first balked when the idea of writing an opera based on Eugene Onegin was suggested to him. He felt the novel was too subtle and too ironic to be set to music. And Pushkin, the father of modern Russian literature, was regarded almost as a saint in Russia and Onegin especially was considered a sacred text.
In the end, Tchaikovsky wrote most of the libretto himself and turned the long narrative poem into a series of what he called "lyrical scenes." He begins with a chorus of peasants singing a harvest song and a succession of tableaux re-creates what can only be described as "country life in Russia."
There are passages of folk music and folk dancing as well as more formal ballroom dancing. There is a name-day party for Tatiana at which Onegin, out of boredom, begins to flirt with Olga, to Lenski's growing annoyance and, this being 19th-century Russia, ending with a challenge to a duel, which naturally ends badly. It is only after Onegin returns from years abroad that he comes to realize the folly of his dismissal of Tatiana's love.
The genius of both Pushkin's poem and Tchaikovsky's opera is in the subtleties by which Tatiana transforms from the romantic, day-dreaming girl who gushes her infatuation to Onegin in a letter into a sensible, determined woman, and Onegin changes from an arrogant and condescending snob into a pleading pursuer, falling on his knees to proclaim his latent love.
But the opera is mainly Tatiana's story and Netrebko makes the character's transitions credible and moving. She sings the famous "Letter Scene," impulsively pouring out her love to Onegin, with a passionate brilliance that is heart-rending, and her final duet with Onegin is at once soaring and full of sorrow.
Kwiecien's about-face is even more difficult and the Polish baritone is persuasive in his torment over a love that was never to be realized. His opening act aria rejecting Tatiana is almost a sneer, but his imploring declarations of love at the end are pitiable, full of ardor and remorse.
A fine all-round cast – nearly all-Russian, in fact, for this very Russian opera – includes the tenor Alexey Dolgov as Lenski, Elena Maximova as Olga, and the Slovakian bass Stefan Kocan as Prince Gremin, the man who has recognized Tatiana's qualities and married her.
Dolgov delivers an emotional "Where, oh where have you gone" (to use the English translation) reflecting on life and death before his duel with Onegin, and his opening act love duet with Maximova is tender. As Olga, Maximova is perky, a contrast to her sister. Kocan, who only appears in the last act, sings a splendid "Love is no respecter of age" aria that is a highlight of the performance.
Robin Ticciati, in only his second appearance in the Met pit, conducted the excellent Met Orchestra in an inspired reading of the score.
The current staging, by the British theater director Deborah Warner, is an oddity, with little to suggest it even takes place in Russia. But Tchaikovsky's music, sweeping and pensive, along with a top cast transports the audience from the Russian steppes to the grandeur of St. Petersburg.
Calling all HuffPost superfans!
Sign up for membership to become a founding member and help shape HuffPost's next chapter
This post was published on the now-closed HuffPost Contributor platform. Contributors control their own work and posted freely to our site. If you need to flag this entry as abusive,
send us an email
.