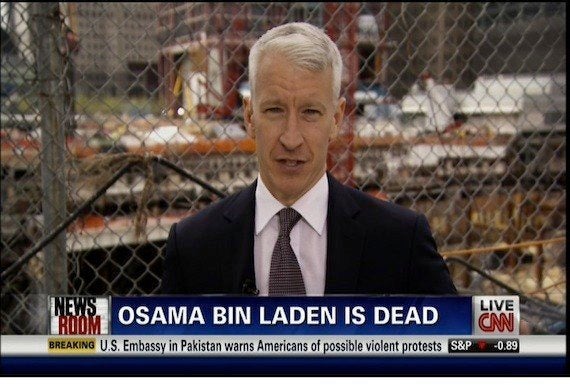 NEW YORK -- Network anchors who recently got their passports stamped in Egypt, Japan and London aren't rushing out on flights to Pakistan to further their reports on the killing of Osama bin Laden by U.S. special forces.

Instead, top television journalists are heading to Ground Zero, where nerves are still raw nearly a decade after the devastating attacks on Sept. 11 perpetrated by the al Qaeda leader.

All three major broadcast anchors -- NBC's Brian Williams, ABC's Diane Sawyer and CBS's Katie Couric -- will host an expanded, one-hour edition of their nightly broadcasts from the Lower Manhattan site.

CBS News president David Rhodes told The Huffington Post that broadcasting from Ground Zero helps bring Sunday night's major breaking news "back to that day." Rhodes said the decision to anchor the newscast from Ground Zero was "an obvious one."

Several cable news anchors were also broadcasting Monday from Ground Zero, including Fox News' Bill Hemmer at 9 a.m. and again in the afternoon. Shepard Smith is expected to anchor at 7 p.m.
CNN's Anderson Cooper appeared at 3 p.m. while co-anchoring continued bin Laden coverage with Wolf Blitzer from Washington D.C. Eliot Spitzer will host "In The Arena" at 8 p.m from the lobby of 4 World Trade Center, with Cooper returning for his regular program at 10 p.m.

"I think the emotional center of [9/11] was Ground Zero," said CNN political director Sam Feist. "So it's a natural place for Anderson to anchor from."

Feist pointed out that thousands of New Yorkers "spontaneously and organically" flocked there on Sunday night, while throngs in Washington D.C. congregated in front of the White House. "I've never seen anything like it," Feist said.

The live shots of jubilant crowds in the two American cities attacked on 9/11 made for compelling television into the early morning hours on Monday. So it makes sense that some of the networks' top talents would keep bin Laden coverage going into Monday night from the same location to which so many gravitated upon hearing the news of bin Laden's demise.

But while Manhattan-based anchors head downtown, news divisions are also beefing up their presence in Pakistan -- a country where U.S.-based networks are largely without significant staff.

ABC News' Nick Schifrin was the only network correspondent to appear Monday morning nearby the bin Laden compound in Abbottabad, roughly 75 miles from the Pakistani capital Islamabad. Schifrin provided a report for "Good Morning America" along with a major scoop -- exclusive footage inside the ravaged compound that housed the terrorist leader over the past six months.

An ABC producer told The Huffington Post that producers on the ground obtained the video from Pakistani sources but declined to elaborate further.

While Schifrin may have been the only on-air correspondent so close in the early morning hours, others are on the way. CBS is dispatching correspondent Elizabeth Palmer, while Fox News is sending Greg Palkot and Dominic Di-Natale, according to TVNewser.

CNN's Nick Paton Walsh, who was in Kabul, Afghanistan Sunday night, was on the ground in Islamabad the following day. Meanwhile, Nic Robertson –- who'd been reporting extensively from the revolts sweeping across the Middle East and North Africa -- is expected to arrive in Pakistan for prime-time coverage.

Robertson, on Twitter Monday afternoon, wrote that he "hope[s] to learn more when I get to #Pakistan about how killing of #Osama Bin Laden took place" along with how the al Qaeda leader "was able to hide in plain sight."

UPDATE: This post was corrected to reflect when anchors began broadcasting from Ground Zero on Monday.

REAL LIFE. REAL NEWS. REAL VOICES.
Help us tell more of the stories that matter from voices that too often remain unheard.