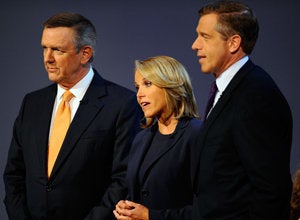 If anything could slow the inexorable decline of evening news viewership, it should have been this year's riveting presidential campaign, which produced a ravenous appetite for political news.
The cable news networks benefited mightily during the race, more than doubling their prime-time audiences this fall. And some broadcast news programs saw big gains: "60 Minutes," up 12% this season, attracted 25 million viewers Sunday for its interview with Barack and Michelle Obama, the largest audience for a television program this season.
But the overall number of people watching the network evening newscasts actually shrank slightly in the last months of the presidential campaign, despite the programs' heavy political focus -- down 280,000 viewers since Sept. 22 compared with the same period last year, according to an examination of Nielsen Media Research data.
Of the three programs, the top-rated "NBC Nightly News" was the only one to register an uptick in audience, growing 1% to 8.37 million viewers. ABC's "World News" fell 2% to 8.2 million viewers while "CBS Evening News" dropped 3% to 6.1 million viewers.
The contraction of the audience at a time when viewers were aggressively seeking news speaks to the challenge the programs face in a landscape increasingly cluttered with media choices.
Once the country's dominant news platforms, the three flagship network newscasts found themselves jockeying this season with cable channels and Internet sites to deliver the freshest political updates.
Related
Popular in the Community