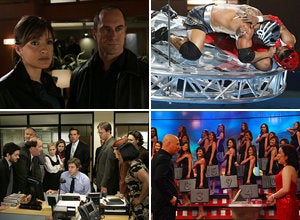 We had been led to expect the worst. Stripped-down presentations. No celebrities. No clips. No point. It would be as if the networks were going to roll over and play dead in the wake of the WGA strike and amid the ravages of the recession.
What a pleasant surprise that almost all the networks rallied in grand style, if to varying degrees of success. The following is a hindsight critique of last week's broadcast presentations, as well as two cable events that are included because of their proximity to the action.
Univision once again towered above all other presentations during Upfront week, with a typically solid presentation at Jazz at Lincoln Center. It opened with a music and dance number from In the Heights, a Spanish-centric Broadway show that had been nominated the day before for 13 Tony Awards. Univision CEO Joe Uva made a compelling set of comments about the value, importance and opportunity of increasing Spanish language marketing investments, and Univision's leadership. Dave Lawenda, head of sales, added key facts about the growth of the network and the success of the primetime schedule and other program categories. The competitive story was compelling, and at one point he showed the performance of the other networks and then stepped onto a platform that rose 30 feet in the air to visually demonstrate the comparable performance of Univision. President Ray Rodriguez presented a strong slate of programming and the stars were there to discuss their shows. The focus was on Univision's version of American Idol moving from one hour on Friday to two hours on Sundays. The presentation (a tight 1 hour) closed with three songs by Shakira and her band - and she expressed her love of Univision and its importance to the Hispanic community. A lavish lunch followed. (Written with Jack Myers)
The executive team at Fox continues to impress with an unfailing ability to put on a show and make everybody care about what they are doing. The No. 1 network's presentation last Thursday was so good, in fact, that it seemed, if only for a few hours, as if there had never been a writers strike and that the media economy wasn't depressed as a result. In a stroke of marketing genius, Fox took out full page ads in the New York Times and New York Post that day heralding the arrival of its big new fall thriller Fringe, and as attendees arrived at the City Center for the late-afternoon presentation they saw personal transport vehicles motoring around 55th Street with video screens mounted to them, also promoting the show. During the presentation, advertisers saw tantalizing clips from its two-hour premiere and met the cast; at the party that followed at Wollman Rink, guests posed for pictures with the actors while Fringe super-producer J.J. Abrams worked the tent. The presentation, incidentally, opened with dozens of Fox stars on stage and included detailed explanations from Fox Entertainment Chairman Peter Liguori and Entertainment President Kevin Reilly on the network's new Remote-Free TV initiative (there will be dramatically fewer commercials than average in two new series next season, Fringe and Joss Whedon's Dollhouse); brief comments from Kiefer Sutherland (a true class act) about the future of 24; clips from a number of new shows; and a rousing closing performance featuring past dancers from the summer hit So You Think You Can Dance, which debuts tonight. There were only three network parties last week, and Fox' was the best by a mile. Granted, Fox had much to celebrate at the end of this chopped up season, becoming for the first time in its history the most-watched network. But I think it would have put on a grand event regardless.
If CBS had thrown its usual party for advertisers at Tavern on the Green it might have tied or eked past Fox on this list, because its presentation at Carnegie Hall, through streamlined from seasons past, was simply terrific and a big improvement over last year's unusually lifeless affair. Late Late Show host Craig Ferguson (coming off a successful gig as host of the annual White House Correspondents dinner and filled with renewed comic energy), Adam Carolla, Rachael Ray and CSI creator Anthony Zuiker made a longish segment about CBS Corp.'s outdoor, radio and digital platforms breeze by in entertaining style, and CBS Entertainment President Nina Tassler presented clips (on a dazzlingly vivid screen) from a number of new shows that truly seemed to jazz the crowd. "Rather than simply talk about the new shows, we're proud to be able to show them to you today," Tassler beamed, in a not-so-subtle reference to other networks that did not have clips to share. On the downside, there was a large crowd of media executives standing around in front of Carnegie Hall after the show, seemingly stranded with nowhere to go (because CBS cancelled its popular party). On the up, the press was fortunate enough to be invited to a small gathering at a local watering hole for cocktails and hors d'oeuvres with CBS President and CEO Leslie Moonves and the rest of his executive team and cast members from CBS' new fall shows. It was one of the nicest events of the week.
MTV Networks didn't even produce an Upfront presentation last year, but they made up for that gap this time around, with an event that included performances by John Legend, Sarah Silverman and the cast of Legally Blonde: The Musical, and appearances by Justin Timberlake, Taylor Swift, Jon Stewart, Stephen Colbert, George Foreman, Chris Rock, Lauren Conrad, Ashanti, Samuel L. Jackson and Dr. Drew Pinsky. Collectively, they made for the most exciting celebrity mix of any Upfront event this year. MTVN wasn't all play: It also effectively put across an important business message amid the merriment, that Commercial Time is Content Time. (Written with Nina Spezzaferro)
Turner Networks (3 ½ Jacks)
Anyone who misses the straightforward, by the book broadcast presentations of Upfront weeks past must have enjoyed Turner Networks presentation, which was moved into the traditional Upfront week for the first time ever. Although it was not particularly original, it was unarguably effective, quickly educating its audience on the current state of and future plans for TNT and TBS and bringing cast members from its current and upcoming shows on stage to simultaneously spread and feel the love. (Kyra Sedgwick of TNT's The Closer is as exciting a star as any on television today.) Frank Caliendo of Frank TV closed the presentation with a comedy routine that included uproarious impersonations of Presidents George W. Bush and Bill Clinton that were among the best I've ever heard, and his Adam Sandler, Robin Williams and Jeff Goldblum were comic perfection. It made me want to pay more attention to his show. Isn't that the point? Sometimes the old ways are the best.
Word of The CW's plan to drop its traditional presentation at Madison Square Garden in favor of a cocktail party in the tent at Lincoln Center where ABC usually throws its Upfront party came through so late that some media mavens were beginning to wonder if CW would even show up this year. But it stepped up with a perfectly serviceable affair Tuesday that was most welcome, in that it was scheduled immediately following and adjacent to ABC's presentation at Avery Fisher Hall. The CW's youthful brand was reinforced at every turn, from waitresses in green wigs serving green apple martinis with green cherries to a surprise performance by Maroon 5 to the appearance in holographic triplicate of CW Entertainment President Dawn Ostroff, on hand to introduce her new fall shows, every one of them a thematic sibling to Gossip Girl or America's Next Top Model, or both. Executives from Warner Bros. and CBS Corp. were everywhere and easily accessible. Oddly, the talent from The CW's shows was confined behind ropes. Talent at every other network party was allowed to roam freely among advertisers and journalists. Was The CW trying to protect its pretty young things from us, or were they trying to protect us from them? Another note: Media buyers were uncomfortable standing for 45 minutes after partying to listen to Ostroff's presentation.
Opinions were sharply divided about ABC's presentation, the most stripped-down and streamlined of the week. Some attendees appreciated the all business and no bluster approach: Entertainment President Steve McPherson briefly described the two new series ABC will present in the fall and talked a bit about its midseason possibilities, while Sales and Marketing President Mike Shaw revealed details of a new research capability and the development of an Advertising Value Index designed to provide a custom measurement process to agencies and their clients. Others complained that, except for the annual comedy routine by the increasingly invaluable Jimmy Kimmel, there was nothing about ABC's effort that actually engaged the audience or generated interest in and enthusiasm for its new season. There was no party afterwards, paving the way for The CW to swoop in and save the day for those who had the urge to mingle.
While there were no structural similarities whatsoever between ABC's and NBC's Upfront week events, they had one thing in common: They left people divided as to their effectiveness. If ABC's was so low key as to be forgettable, NBC's was so over-the-top that memories of it will stay with some people for years to come, even if they try their best not to remember. A wild mash-up of personalities and programs from the many divisions of NBC Universal -- including all of its cable networks, Web entity iVillage and Universal's movie division – the company showed off everything it has, all at once, in a manner that was either fascinating or head-spinning, depending on one's point of view. I'm a little put off by the chorus of complainers who thought it a waste of time. With more than 150 personalities in attendance, including cast members from Friday Night Lights, Heroes, Battlestar Galactica, 30 Rock and Saturday Night Live - not to mention Tom Brokaw, Conan O'Brien, Jimmy Fallon, Kathy Griffin, Suze Orman, Donny Deutsch, Jim Cramer and Janice Dickinson - if you couldn't find someone you were interested in talking to you probably shouldn't have been there in the first place. Perhaps the whole event was somewhat overdone, but so what? In this era of ever-increasing corporate influence at the expense of creative expression, it was exciting to see a network push the show back into the business, even if it pushed a bit too hard. My only complaint is that I came away with no new information about any of NBC's new fall programs, some details of which were announced during its Infront presentation seven weeks ago.
To communicate with or to be contacted by the executives and/or companies mentioned in this column, link to the JackMyers Connection Hotline.
REAL LIFE. REAL NEWS. REAL VOICES.
Help us tell more of the stories that matter from voices that too often remain unheard.