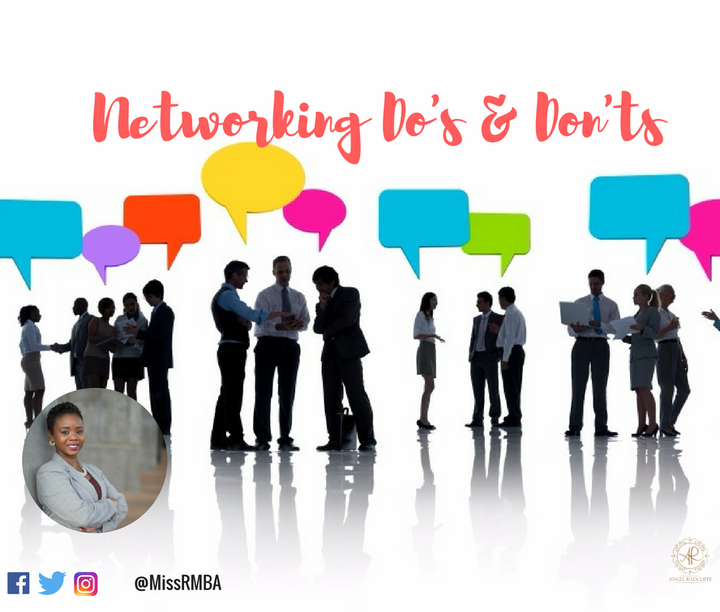 It's Not What You Know, but WHO You Know.....
An old adage we've all heard before, and I've heard plenty of times from my parents. Networking is POWERFUL, whether you are in business or not!!! You never know who can introduce you to the next person, become a future client, give you great advice and so forth. I'm a huge advocate of networking; I try to attend a variety of events from business to social gatherings. It's not always about showing up at an event; it's what you do while you are there & most importantly, after the event. Last week I attended the #ChaseForBiz conference, geared towards small business owners. A free event filled with informative breakout sessions, industry leading gurus, celebrities and I can't forget the delicious food :-) I bounced in and out of sessions trying to simultaneously work and reply to emails. By mid-day I had connected with so many people, this was becoming one of my top conferences for the year. I thoroughly enjoyed the conference, power packed with industry leading gurus hosting sessions on; social media, cyber security, access to capital & more. Daymond John, from Shark Tank was the keynote speaker and all attendees were gifted with his book 'The Power Of Broke' The event was hosted by Nick Cannon, who added humor to the entrepreneurship journey. In between taking in the abundance of information & meeting new people, I had an opportunity to practice my co-hosting skills with Nick Cannon, see for yourself. While attending a networking event, it's not about 'getting the most business cards'. It's about connecting with the right people, even if it's only 1. Let's touch on some 'Networking Event Basics'
Choose the Appropriate Attire - There is nothing more embarrassing than showing up an at an event either under/over dressed
Research ! - Be sure you research key attendees, including panel speakers. You may encounter them during the reception & can easily strike up a conversation based on one small detail of information.
Prepare Materials - Be sure business cards, brochures, etc are printed and ready to go.
Plan Your Day- You want to arrive at the event early enough to network before a large crowd arrives. Plan your day out, be sure you are well rested, energized and ready to present yourself well.
Be sure to

take notes

during sessions (You can use this information when following up with certain people or for social media postings)

Firm handshakes and eye contact

(YES, this goes for ladies too. Your body language plays a huge part in first impressions)

Listen

- Be sure to listen first, think second and speak third. It's about getting to know the other person, not blabbing about your business, kids or goals.

Exchange business cards

- (You should ALWAYS carry enough business cards, if the person is down to their last one, offer to take down their email. This is where the CamCard app will come into play)

Properly introduce yourself

- Think about what you want to be known for. If it's your business, then have your intro/pitch ready!! If you are only there networking, be upfront, tell people what you are trying to do, you never know who can help you.
Follow Up within 48 hours

- You want to send the follow up email within the first 48 hours of making the connection. If you are waiting more than 1 week to follow up, chances are, you are already forgotten. Personalize the follow up, let the person know you both were in a session together or maybe you connected at the reception, refresh their memory.

Connect on Social Media

- Now don't go adding someone you just met to your Facebook page.(Unless they have a fan page/public page) Add them on LinkedIn. If they share social information on the business card, then it's considered an invitation to connect to their personal page other than LinkedIn.

Connect Again

- If the contact is local, plan on meeting for coffee or at the next networking event. This is how you start building relationships.
These are just a few networking tips to help you on your journey.
Related
Popular in the Community