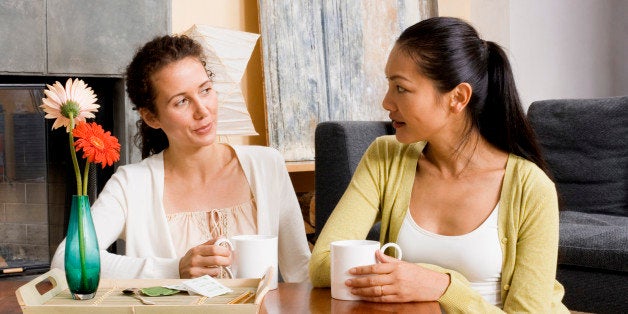 Invitations to networking lunches in LA and dinners in NYC by Broadway producer Pat Addiss, along with her NY colleague, Magda Katz, are coveted one-time only invitations. Women are invited and must introduce themselves to each other and then continue the talk about their work. They are glad to exchange information and business cards to keep succeeding.

In Manhattan where Pat lives, she makes a habit of gathering 10 or so women new to her, hoping for an eclectic mix of ages and disciplines, each time to hold forth at a round table at The Peking Duck Restaurant. In Los Angeles, where there is better light but fewer round tables, she reserves a private tent in the Sunset Marquis's garden. Invitees, mostly in show business but also the professions, are counted on for a rich give and take.

Patricia Flicker Addiss is one of the most prominent women theatrical producers. Her credits include: Buyer & Cellar; Vanya and Sonia and Masha and Spike; A Christmas Story: The Musical; The 39 Steps (a Tony winner for her); Spring Awakening; Bridge and Tunnel; and more, including the longest running play ever, The Fantastics.

A Finch graduate majoring in Merchandising and Costuming, her first career started in promotional bags, totes and aprons, leather passport wallets and tags for Pan Am, where she learned the promotional business the hard way, encountering both female discrimination and corporate failure. She built her own business after taking herself to school -- the Advertising Specialty Institute's course. She initiated and hosted networking dinners for her clients, encouraging them to continue their own, but few did. To produce anything, even a one-time salon, requires skills in risk-taking, persuasion and drive, not so common as you might think. After her business became successful, she turned it over to her daughter, a lawyer who still runs it. Then Pat moved on to a different business -- show business.

After enrolling in the Commercial Theater Institute, a three-day overview, she signed up for 16 Monday evenings with lectures by producers, lawyers and general mangers, most of whom stayed in touch. Later, one of her CTI classmates invited her to produce Little Women with her, workshopped at Duke University, and then to Broadway.

Networking has proved essential for any business. Inspired by the book, she started another version for women in her show business years.

Inspired by the title of the book The Divine Secrets of The Ya Ya Sisterhood, Pat started another version of her old salons, which she called the Ya Yas. Enthusiasm among the women who greet and eat together is delightfully high.

When I asked her for her advice to anyone who would like to try, she gave her five cardinal rules:
1. Invite interesting working women, not your friends.
2. Try for different dimensions of disciplines.
3. Reserve a round table that encourages equal attention and request separate checks. If you are stuck with a long table, have women change seats halfway through to meet others. Don't give in to resistance.
4. Try for equal time; be prepared to nicely cut short big talkers.
5. Encourage everyone to exchange cards, keep on meeting and start new salons.

I must say that after having sampled both NYC and LA groups, I am convinced of the kindness of strangers who become friends and more, thanks to Pat.

Start a lunch or dinner with women soon.

Make your own luck happen!