By Stephanie A. Maddox, PhD
Although the brain is central to all that we do, sense, and feel, it's surprising how little most of us know about how the brain works. That's why a group of us at McLean Hospital created Brains Matter— an educational neuroscience outreach program. By bringing our expertise—along with actual brain samples—to classrooms, meetings, and public events, we hope to increase understanding of the brain and raise awareness about mental health issues. We also hope to inspire the next generation of neuroscientists.
Brains Matter was launched in 2016. It was modeled on efforts led by McLean's Chief Scientific Officer Kerry J. Ressler, MD, PhD, while he was at Emory University. At Emory, Kerry was stunned by the high trauma rates that were accompanied by high rates of civilian PTSD, which at the time was primarily associated with the military. Inspired by these observations, Kerry, others, and I began outreach efforts in the Atlanta area to not only raise awareness about civilian PTSD, but also mental health in general. Through our various presentations, we realized that many individuals lacked a basic understanding of neuroscience and mental health issues.
Now at McLean, Kerry and I, along with undergraduate researchers from local universities and McLean scientists, are continuing this public outreach work, but our focus is more general. We touch on topics such as how brain tissue is used in research and is vital in our efforts toward understanding mental illness. We also talk about the complexity of mental illnesses such as depression and dementia.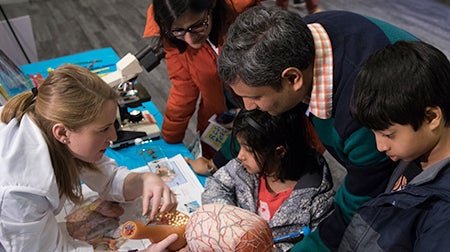 Our talks always feature brain models that people can take apart and try to put back together. We also bring along actual brains, including postmortem human brain samples provided to us by the Harvard Brain Tissue Resource Center and brains from animals to showcase the similarities and differences among species. And, yes, we let people touch the brains.
When people see what actual brains look like or when they hold them for the first time, their reactions range from disgust and shock to amazement and fascination. The question "Is it real?" can be heard by dozens of people at every event. People ask where disorders like Alzheimer's disease "happen" in the brain, and they come to understand that depression, schizophrenia, bipolar disorder, PTSD, and other mental health conditions have a biological basis not unlike physical health conditions. We hope that continued conversations like these will help to alleviate stigma related to mental illness.
Since we launched the program, we have presented at Boston's Museum of Science and at the recent American Association for the Advancement of Science annual meeting in Boston, as well as in many classrooms and science fairs around the region. So far, we have reached more than 6,000 people.
Our program is adaptable, meaning that we can modify our presentation to address young learners, college and graduate-level science students, or groups of adults, including seniors.
In our experience, we've found that discussing the makeup and functions of the brain and putting people in contact with actual brains sparks questions and conversations about science, research, and mental illness. Through these interactions, we've been constantly reminded that there are many questions about the brain we simply can't answer, and that much more research is needed to help us better understand the brain and treat mental health disorders.
Because of these responses, our experience with the program has been both humbling and inspiring, and it has made us proud to be bringing important information to dozens of audiences and teaching people, young and old, that "brains matter."
Stephanie A. Maddox, PhD, is a research fellow in the Neurobiology of Fear Laboratory at McLean Hospital, where she is actively working to uncover the neurobiological basis of fear memory formation as well as the mechanisms that are critical to the alleviation or extinction of these memories.
Related
Popular in the Community