When I was 26 and pregnant with my eldest, a friend from college died of a brain tumor. I felt the loss keenly, not only because I was lushly pregnant and felt everything keenly, but also because he was a unique and splendid man.
Rob was one of those gifted people who excel at everything. He was a fellow Yalie and an America's Cup Sailor; he published a paper about his family's maritime history in a well-regarded journal. He was extraordinarily good-looking. He was even kind.
We met the summer before freshman year when we were both working at the Mystic Seaport Museum. Rob was welcoming and inclusive despite the contrast between my modest origins and his Yankee blueblood background. To this day, though I've met several Hollywood actors, he remains the handsomest man I've ever laid eyes on, like a blond Marlboro man. What he could have become, what he could have done? Anything was possible for a person like him.
I mentioned Rob to Joshua Bederson, Chief of Neurosurgery at Mount Sinai, a few years ago when we became friends over a shared interest in sculpture and Italian culture. Because of Rob, I've always wanted to see neurosurgery advance. If only there had been a way to save him....
Doctor Bederson remembered my interest and invited me to a conference he arranged last week on the science and applications of brain surgery simulation.
Simulation is regularly used in other high-risk industries, such as aviation, nuclear power, and the military. Pilots practice taking off and landing in simulators and also handling emergencies. I, for one, am grateful they have done so, every time I step onto a jumbo jet.
Simulation is also a tool in many areas of medicine. Residents practice intubating on mannequins; surgeons learn a running whipstitch on a chicken breast. Cardiothoracic surgeons refine their skills on pig and beef hearts. Residents are better trained and better prepared because they have worked this way, learning and refining basic skills before being turned loose on real patients. Safety is enhanced; outcomes are improved. There are many benefits to practicing a skill in a simulated environment.
Brain surgery simulation, however, has remained elusive, both because of its inherent complexity and because of the exquisite, mushy, wet, softness of the human brain itself. It's also hard to distinguish critical structures within the brain from each other. For example, the optic and the olfactory nerves are similar, as normal brain and pathological brain can be.
Successful outcomes depend on an almost fantastic synthesis of psychomotor control, excellent visual discrimination, years of training, and meticulous planning. How can surgeons reach this peak more efficiently, perhaps more quickly?
Nascent technologies show potential. Bederson holds a vision of growing the world's best technology for brain surgery simulation, and his goal for the conference was to bring people together from many different fields to collaborate to that end.
Speakers included luminaries from around the world, among them Christopher Broom, Director of Flight Training at American Airlines; Dr. Suvranu De, Director of the Center for Modeling, Simulating and Imaging in Medicine at Rensselaer Polytechnic; Dr. Rolando Del Maestro, Chair of Neuro-Oncology at McGill; Dr. David Gaba, Professor of Anesthesiology and Associate Dean for Immersive and Simulation-Based Learning at Stanford; Patricia Kovatch, Associate Dean for Scientific Computing at Mount Sinai, and the overseer of the Minerva computer; and Dr. Garnette Sutherland, Professor of Neurosurgery at University of Calgary, and one of the preeminent researchers into robotics in surgery.
Bederson's opening remarks included a sobering figure: Neurosurgery in the Mount Sinai hospital system covers eight hospitals where 3,290 open neurosurgery procedures are performed each year. Although safety has reached unprecedented levels, brain surgery, he said, entails serious risks and high cost. Training requires a minimum of seven years and extends through life. Even small technical errors can have profound consequences, physically and socioeconomically, for the patient. Malpractice insurance for neurosurgeons is astronomical.
Christopher Broom then spoke of American Airlines' use of flight simulators, which ranges from computer video-game-like programs to full flight simulators. Pilots train this way from the beginning. It's cost-effective and allows them to experience a range of situations, from simple malfunctions to all-out catastrophes.
They also stay current with their skills in simulators and cycle back through every nine months for four days of training. "Even being 99-percent perfect is not good enough for us," Broom explained. "A 1-percent error would be 20 flights per day at American Airlines. The public trust of us lies in the integrity of the crews we train."
The parallel with brain surgery is obvious. A neurosurgeon must be in top form. A few millimeters in the brain can mean the difference between a patient speaking normally or never speaking again. Were I a patient, I would want my surgeon to have worked through those millimeters in every way possible before he or she cuts into my brain.
Indeed, Bederson intends for brain surgery simulation to evolve to the point where it is so realistic, both in appearance and in haptics, that it can be used to teach and refine basic skills for residents as well as attendings.
This conference was fascinating, and sometimes abstruse. During a discussion on haptics, the touch feedback of virtual reality, the assembled doctors and researchers tossed around terms like "force parameters of 0.1 newtons"; at other times, the language simply eluded me.
Throughout, I never lost sight of the human benefits. How many years will it be before a neurosurgeon can walk into a holodeck like the one on Star Trek and practice resecting a tumor before opening a patient's head? That patient will have increased odds for a safe, happy outcome.
I cannot imagine what the hole caused by Rob's untimely death feels like to his family; it must still resonate all these decades later. I was happy to see research being done that could one day spare other families and friends from a similar loss.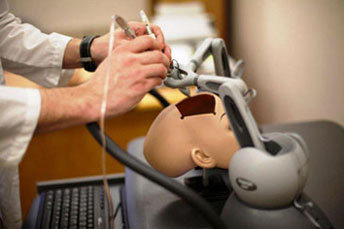 Calling all HuffPost superfans!
Sign up for membership to become a founding member and help shape HuffPost's next chapter