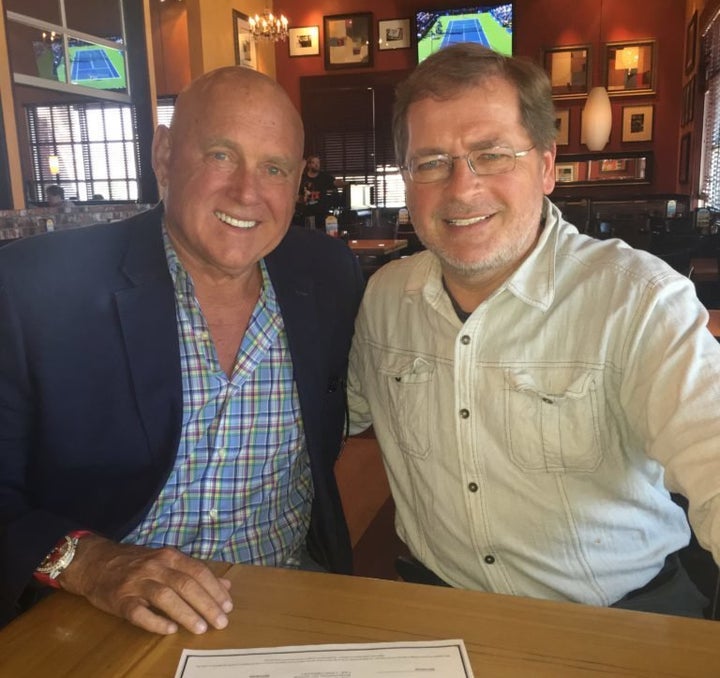 Dennis Hof, the proprietor of several popular and legal brothels in Nevada, has a lot in common with Donald Trump.
They're both reality television stars who are running for office — although the Republican presidential nominee and former star of NBC's "The Apprentice" is seeking a bigger job than HBO's "Cathouse" star Hof, who has launched a long-shot campaign for a Nevada Assembly seat representing the state's 36th district.
Neither man fits easily into the typical confines of either major political party: Trump has upended the GOP, and Hof is running as a Libertarian. They've both been accused of running as a publicity stunt. They're both planning to vote for Trump for president.
But even the 69-year-old Hof — who is literally a pimp — is worried about Trump's rhetoric.
Trump should "quit stepping over himself and doing stupid things," he told The Huffington Post.
And while Hof shares many Trump supporters' anger over unauthorized immigration, he's not sure Trump has the answers, noting there are political costs to the real estate mogul's anti-immigration rhetoric.
"It has played very well at the expense of the Latins in the world that could vote for him," Hof observed.
"I believe he is the one Libertarian running for state office who could win this year, which is interesting."
Unlike Trump, Hof is relentlessly on message: No matter the topic, he inevitably comes back to slamming Republican incumbent state assemblyman James Oscarson's support for Nevada's new tax on businesses.
"I got into the race because of the commerce tax," Hof said. "It's the worst thing that has happened in Nevada's history."
Nevada's commerce tax levies a fraction of a percentage point fee on businesses' income above $4 million. (The exact percentage of the tax varies by industry.) Hof is still working it out with the state, but he believes that his business is subject to the new tax and would benefit from its repeal.
Like the handful of Republican lawmakers who voted against the bill, Hof calls it a betrayal of voters' wishes and says it will limit business growth and cost the high-unemployment Sagebrush State crucial jobs.
In addition to the commerce tax, Hof said he would prioritize fending off tighter state regulation of the district's water use.

In August, Hof met with Grover Norquist, president of Americans for Tax Reform, to sign Norquist's influential taxpayer protection pledge vowing not to raise taxes. (Norquist was on his way to Burning Man.)
They'd met previously in a green room at Fox News.
"I believe he is the one Libertarian running for state office who could win this year, which is interesting," Norquist said.
By most other accounts, though, Hof's chances are slim. Oscarson won an uncontested re-election in 2014 with 100 percent of the vote. At least four Republican legislators who backed the commerce tax lost to primary challengers, but Oscarson beat his two major opponents in the primary.
Still, one of them ― Tina Trenner, who ran against the tax ― lost by less than 200 votes.
"It's highly unlikely that [Hof] would win, given that Libertarians have not had success here," said Michael Bowers, a professor at the University of Nevada, Las Vegas who specializes in Nevada politics. "At the same time, this is an odd year when voters are in a contrarian mood."
There is no Democratic candidate for Assembly in the district, Bowers noted. He surmises that the district's Democrats would sooner "hold their noses" and vote for Oscarson than back Hof.
Oscarson has defended the new commerce tax, arguing in a statement that "When Nevada is ranked consistently last in education, it's time to make tough decisions."
Meanwhile, he is already making an issue out of Hof's brothel business.
"While my opponent, a self-proclaimed pimp runs a legal business in very limited areas of Nevada, his continued quest for media attention, at the expense of my constituents, is completely inappropriate," Oscarson stated.
"I cannot imagine this happening in any other cycle."
A self-described "conservatarian," Hof has said he would like to legalize prostitution and drug use statewide, and says prohibition only makes both practices more dangerous.
He also exclusively dates sex workers, saying he is upfront with them about needing to be intimate with multiple women.
"I also have more than one car that I drive," Hof said. "I am like every other guy, except I'm honest."
That kind of talk is another thing the aspiring politician shares with Trump, who has routinely boasted of his promiscuity and described women as sex objects.
Of course, none of that stopped the GOP from nominating Trump. Hof and Trump show how the conservative movement is changing, said John Gilmore, a Minnesota-based conservative blogger and co-author of Bachmannistan, a ripping exposé of Rep. Michele Bachmann's 2012 presidential campaign.
"It's Nevada, so it's a bit of a different state," Gilmore said. "[But] I cannot imagine this happening in any other cycle."
Sign up for the HuffPost Must Reads newsletter. Each Sunday, we will bring you the best original reporting, longform writing and breaking news from The Huffington Post and around the web, plus behind-the-scenes looks at how it's all made. Click here to sign up!
Support HuffPost
The Stakes Have Never Been Higher
Before You Go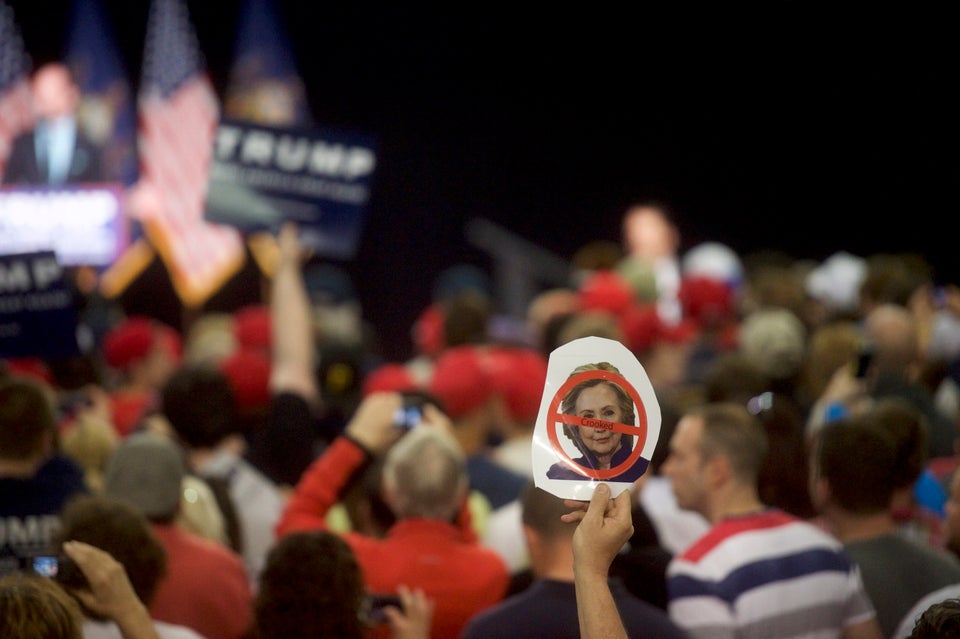 Donald Trump Is Name-Caller In Chief
Popular in the Community