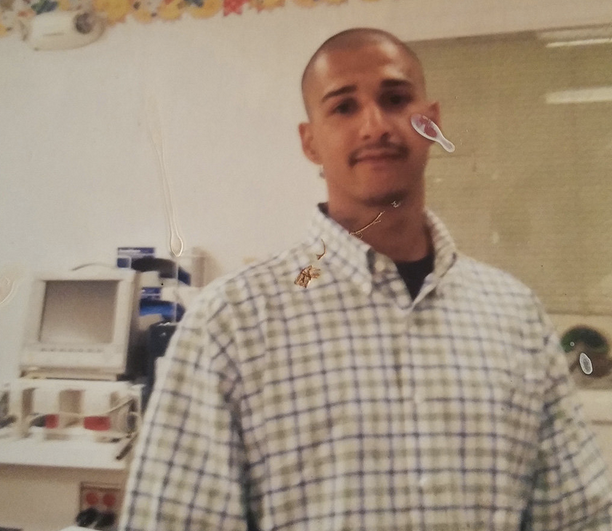 WASHINGTON -- For decades, Nevada has allowed correctional officers in prisons to fire shotguns loaded with birdshot at inmates to break up serious fights. Unsurprisingly, something went wrong. And on Monday, the Nevada attorney general's office charged a former officer with two felonies for shooting and killing a handcuffed inmate.
Raynaldo Ramos, an officer who worked at High Desert State Prison outside of Las Vegas, was charged with involuntary manslaughter and "reckless disregard of persons or property resulting in death" for killing Carlos Perez, an inmate, in 2014. The incident was detailed in a Huffington Post Highline investigation last year. Ramos faces a potential two- to nine-year sentence for the two charges.
"I do not take lightly charging a correctional officer, but based on the available evidence, prosecutors in my office believe criminal charges are warranted," Attorney General Adam Paul Laxalt said. His office is also defending the state against a civil lawsuit filed by Perez's family.
In November 2014, Perez, 28, was released from his cell at the same time as another inmate, Andrew Arevalo. The two men, who had their hands cuffed behind their backs, began to fight. Witnesses described it as a scuffle: "It was like some awkward and quirky dance, then 'BOOM,'" wrote Steve McNeill, a prisoner who observed the incident. Ramos, an inexperienced trainee, admitted in a report that he fired multiple live rounds of 7 ½-birdshot, the same pellets used to hunt small game, to break up the fight.
"They continued kicking each other even though they were bleeding," Ramos wrote. Perez died with at least 30 pellets in his face, 30 in his neck, and as many as 200 in his chest and arms. Arevalo was hit with extensive shots to his face, neck, arm, chest and flank. In a civil court filing, Ramos said that his use of force "was reasonable and justified under the circumstances alleged" based on "his reasonable fear for his own safety and/or the safety of others."
His attorneys did not immediately respond to a request for comment on the criminal charges.
The prison kept the true story of Perez's death quiet for months. Initially, officials accused Arevalo of murder and disciplined him, even though a death certificate issued later stated Perez was shot to death. Internal records show the Nevada Department of Corrections found two other officers involved contributed to the incident by failing to intervene in the fight, and making false statements later, among other violations.
Both men have denied wrongdoing in civil court filings, and they are not facing criminal charges. The NDOC declined to comment Monday.
Perez was supposed to get out of prison about four months after he was killed. His brother Victor was watching Carlos' children until he got out and was prepared to be a full-time father. Victor said he did not find out how Carlos died until he went to the funeral home. His body was covered in pellet wounds. 
Cal Potter, an attorney for the Perez family, said they welcome the criminal charges. But he questioned why the other officers involved and the warden at the time were not also held accountable. "The Criminal Complaint raises more questions than it answers," he said in an email.
Nevada correctional officers have long been permitted — by policy and the courts — to skip birdshot off the ground at inmates if there is a possibility of serious injury or death. It's unclear to what extent, if any, Ramos failed to follow the policy — he may have fired a direct shot, or the fight may have not been serious enough to warrant the use of a shotgun. But it's striking that officers are permitted to shoot at and injure inmates in the first place.
The practice is virtually unheard of in other large prison systems, and is a relic from California's oldest prison, San Quentin, which stopped using birdshot in the 1980s. Nevada's prison system is historically understaffed, so employees have used shotguns to bolster security, even as other systems have shifted to more modern alternatives, like chemical spray and Tasers.
After Perez's death, at least 22 inmates at three facilities in the state were injured by shotgun blasts last year. Nevada officers fired a live round once every 10 days between January 1, 2012, and June 26, 2015, according to our investigation. There have not been other documented deaths, but some of the injuries have been serious: Dario Olivas, then 21, said he was blinded in 2012 as a bystander, when birdshot was fired in the cafeteria where he was eating.
The Association of State Correctional Administrators, an independent corrections organization, determined last year that Nevada should stop using birdshot to deter or respond to incidents after taking other security steps, like making sure there are appropriate numbers of officers. NDOC refused to get rid of birdshot. The state has taken some measures that have led to a decrease in shootings, including requiring officers to shoot rubber stingers before resorting to birdshot, issuing chemical spray to officers, and revamping training. But understaffing remains a problem.
When Republican Gov. Brian Sandoval asked at a prison board meeting in January why more states weren't using birdshot if the practice saves lives, interim NDOC director E.K. McDaniel — who took over when the previous director abruptly resigned less than a year after the Perez incident — argued it's been successful. "We are right and everyone else is wrong," he added.
Sandoval announced last month he was replacing McDaniel with a new director who has worked in the Connecticut and New York City correctional departments, which do not skip birdshot at prisoners. It is not yet known whether the new director will continue the practice. But as recently as last month, birdshot was still an option. An officer shot three rounds because four inmates were assaulting a prisoner with handmade weapons, according to a NDOC spokesperson. The attackers sustained multiple pellet wounds, with one taken to the infirmary.
That officer was simply following policy.
This article has been updated with comment from the Perez family attorney.
REAL LIFE. REAL NEWS. REAL VOICES.
Help us tell more of the stories that matter from voices that too often remain unheard.