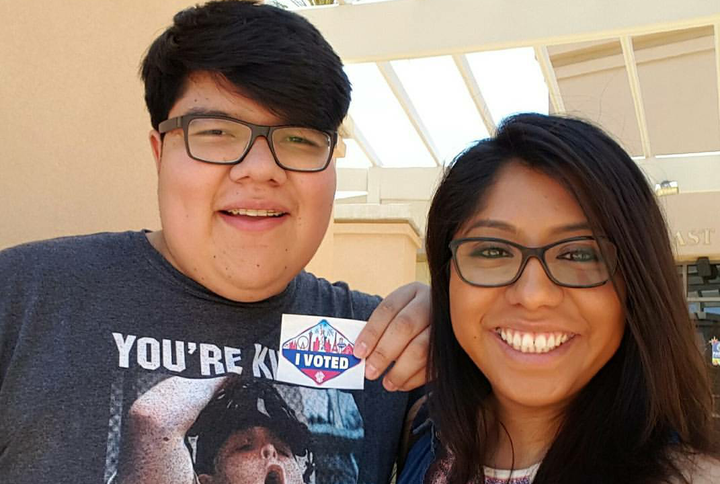 NORTH LAS VEGAS, Nevada ― On Friday, Alejandro Castro will go with his sister, Erika, to vote in his first presidential election.
The 19-year-old isn't all that interested in politics, although he follows the news on Twitter and sometimes watches clips of debates on YouTube. But he couldn't not vote, especially this year, with Republican presidential nominee Donald Trump at the top of the ticket. And especially since Erika has been pestering him about it for months.
"For the past week, it's probably been every day," he said at their house in North Las Vegas ahead of the early voting period in Nevada, which began Oct. 22.
Erika and their parents are undocumented. They moved to the U.S. from Mexico when Erika was 3 years old ― she's 27 now ― before Alejandro was born. Erika is allowed to work and obtain a driver's license under the Deferred Action for Childhood Arrivals program, or DACA, which Trump has promised to strip from people like her.
Erika, like other undocumented immigrants, can't vote. But she can have an effect on the election anyway, in the same way other undocumented immigrants are ― organizing, knocking on doors and making smaller-scale efforts, like urging U.S. citizen friends and family to take advantage of their right to vote.
Nevada is a prime location for this. With an estimated 210,000 unauthorized immigrants, it doesn't have the largest undocumented population in the country ― California, for example, has more than 10 times that number. But undocumented immigrants in Nevada make up the largest proportion of the population of any state, at 7 percent to California's 6 percent. California isn't a swing state; Nevada is. Democratic presidential nominee Hillary Clinton leads Trump in Nevada by only about 2.5 points, according to HuffPost Pollster, which aggregates publicly available polls.
Alejandro is supporting Clinton, who has vowed to protect and expand DACA, along with pushing for a path to citizenship for other undocumented immigrants.
"I vote because I know it's important because of my parents," he said. "I do it for my parents."
Erika and Alejandro live with their mother in a two-story house with a Spanish tile roof and a small backyard. They have a big age gap and different interests ― Erika likes to hike and be outdoors, while Alejandro prefers going online and watching TV ― but largely similar lives. They both attend a nearby community college, and spend a lot of time with their family.
The biggest divide between the two is over immigration status. Erika has known something was going on with her family since she was 6 or 7 years old, when she, her mother and her aunt were walking home past a 7-Eleven and saw Immigration and Customs Enforcement officers detaining an older man wearing work clothes. Her mother froze and started to cry. Her aunt, who had a work permit, told them to run home, and they did.
We're the same, but he's a citizen and I'm not. I think that's the hardest part.

Erika Castro
It really hit Erika when she started high school that she was undocumented. One of her friends was also undocumented, but they didn't talk about it much. They were too ashamed. It affected her life in other ways, too ― when she tried to enroll in college several years ago, a staffer told her inaccurately that she wasn't allowed to because of her immigration status.
She and her parents didn't talk about their immigration status much around Alejandro, but he figured it out around sixth grade, and then realized the significance and that he could lose his parents a couple of years later. 
He feels bad sometimes that Erika's potential is held back by her undocumented status and his isn't. She gets frustrated by the same.
"Sometimes it's hard," she said. "It's hard because even though he understands, he can still go about his life. .... We're the same, but he's a citizen and I'm not. I think that's the hardest part."
Thanks to DACA, Erika is able to do many of the things she hoped for: she has a full-time job at a nonprofit, and attends school full time at a community college. Alejandro goes to the same community college part time.
But there are still things Alejandro can do that Erika can't. Their uncle's wife in Mexico was very sick over the summer and they wanted to go visit. DACA recipients can get permission to leave the country under certain circumstances, but Erika wasn't granted it in time. Their aunt died, and Alejandro traveled to visit their family and attend the funeral without his sister.
Erika is able to participate in the election, sort of, through Alejandro, although she doesn't dictate how he votes. She told him about when she went to a Trump rally last December out of curiosity, and the rally ended up in the news after an audience member shouted "Light the motherfucker on fire!" as security guards removed a protester from the event.
They also discuss the presidential debates, including the one in Las Vegas last week, which Erika watched from a party where Clinton ended up making a surprise appearance. Erika got to shake her hand and told her she did a great job at the debate.
Earlier this year, Erika took Alejandro to the polls for the Nevada primary. She was excited to see it, but it was also a little hard.
"I was emotional because it was his first time voting, and also because I wished I could vote, but I couldn't," she said. "Being so close but still so far." 
HUFFPOST READERS: What's happening in your state or district? The Huffington Post wants to know about all the campaign ads, mailers, robocalls, candidate appearances and other interesting campaign news happening by you. Email any tips, videos, audio files or photos to scoops@huffingtonpost.com.
Calling all HuffPost superfans!
Sign up for membership to become a founding member and help shape HuffPost's next chapter
BEFORE YOU GO
PHOTO GALLERY
How Donald Trump Talks About Undocumented Immigrants