LAS VEGAS ― Gary Witt is standing in the blinding desert sun trying to convince a tattooed ex-felon with a ZZ-Top beard that the government is not trying to take away his guns like Nazi Germany, a task he gives up after realizing some minds can't be changed.
"I have a real hard time with that bullshit," Witt remarks before crossing another name off his list of eligible voters in this precinct north of the Las Vegas strip, part of a Democratic stronghold known as Clark County, Nevada.
The 66-year-old retired cabinet maker volunteered to canvass neighborhoods for Democrats in July after deciding "there's gotta be something more to life than sitting around on my ass all day watching CNN and getting upset at what's going on around the country."
So, despite some bad knee problems, he spends his time knocking on doors several times a week urging people to vote in November ― an election he views as a crucial referendum on Donald Trump's presidency.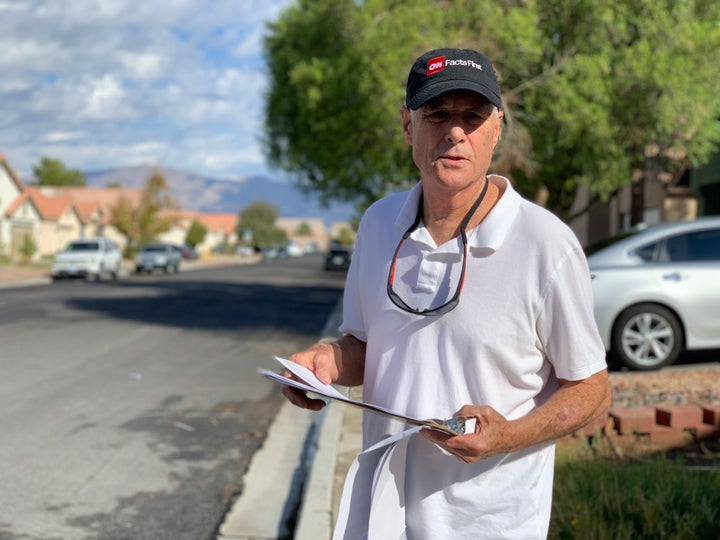 "It feels like a general election because it is about Trump. He's said it verbatim, 'I'm on the ballot.' OK, so we'll think of it that way. We're going to turn out," Witt predicted Sunday morning as he made his rounds wearing a hat emblazoned with the words "CNN Facts First," the logo of the president's least-favorite cable news outlet.
There are already signs that Witt may be right. According to data posted by Nevada's secretary of state, Clark County voters cast their ballots in record numbers on Saturday, the first of 14 days of early voting, with Democrats taking a significant lead. Democrats also posted early vote leads in Washoe County, which has more registered Republicans. It's a stark contrast to the last midterm election, when the party lost statewide in Nevada after a poor early vote showing.
Veteran Nevada political journalist Jon Ralston cautioned that things may yet change as GOP absentee ballots come in, but his observation Saturday that "2018 is not 2014" was met with a huge sigh of relief from Democrats.
"I think it's pretty impressive because it's way more than we had in midterms recently," Nevada Democratic Party spokeswoman Sarah Abel told HuffPost.
Low voter turnout would be disastrous for Nevada Democrats. Sen. Dean Heller (R-Nev.), for example, could squeak to his second term despite being the only GOP senator up for re-election in a state that Democrat Hillary Clinton won in 2016, significantly worsening the party's chances of winning control of the Senate.
Evidence of lagging Latino enthusiasm across the country could also hamper Democratic chances of regaining control of the House. Few Latino voters answered Witt's door knocks on Sunday, and the ones who did turned him away.
That's why Democrats are bringing in some of their biggest names to fire up the Nevada base in hopes of building an early vote firewall come Election Day. Former Vice President Joe Biden rallied with labor activists in Las Vegas on Saturday, and former President Barack Obama is scheduled to make an appearance there on Monday.
The United States was founded "on an idea, the American idea, basic fundamental decency, and it's being shredded," Biden said Saturday of Trump's presidency at the Culinary Workers Union Local 226, a powerful union that represents thousands of workers at the majority of casinos and hotels on the Las Vegas strip.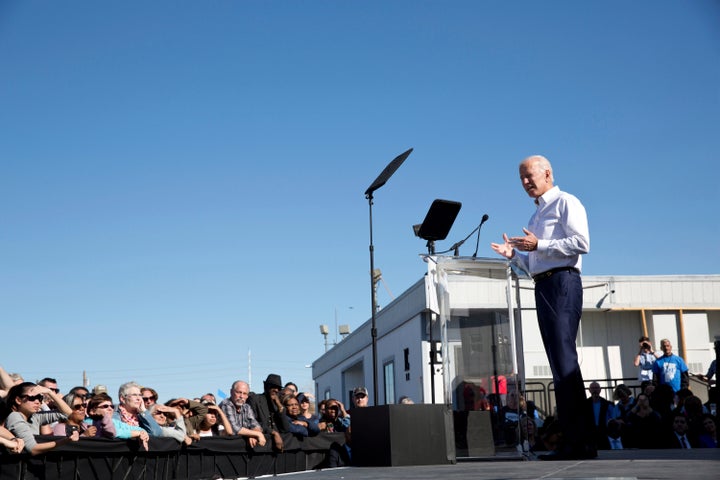 Meanwhile, Republicans are targeting voters in rural areas of the state. Trump held a rally with Heller and thousands of their supporters in the city of Elko on Saturday, where the GOP needs to outperform in order to offset Democratic advantages in urban areas like Clark County. After stepping off Air Force One with Heller by his side, Trump confidently predicted that the prospect of a blue wave in November "is being rapidly shattered." 
"Now he's bullying people," Democrat Jennifer Petcoff lamented Sunday as she spoke to Witt about the upcoming election. "He's saying if you do something wrong with your vote, [it means] stiff crime, stiff penalties. 'You'll go to prison, we'll lock you in a cage.'"
Still, despite Trump's threats, Democrats are optimistic that two years of a turbulent presidency filled with a seemingly unending stream of outrageous actions and false statements will animate voters to the polls, even if the president's name isn't directly on the ballot.
"This election is a war on truth," Witt said Sunday before crossing another name off his list. "Other presidents in the past, they've all lied to some degree. But this guy, it's every day."
CORRECTION: A previous version of this story mischaracterized the location of Washoe County, Nevada, in relation to Clark County. Language describing the size of Elko has also been amended.
Calling all HuffPost superfans!
Sign up for membership to become a founding member and help shape HuffPost's next chapter
BEFORE YOU GO