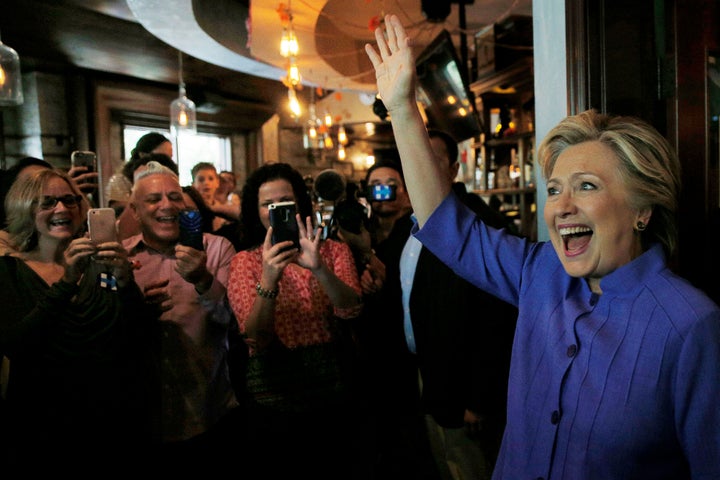 Democrats are turning out in large numbers in the battleground state of Nevada, building what may become a vital electoral firewall for the party's presidential nominee, Hillary Clinton, in the final days of the 2016 race.
Democrats actually increased their turnout lead by roughly 3,000 votes on Saturday, one day after FBI Director James Comey made headlines by releasing a controversial letter indicating his agency was again looking into Clinton's email practices while she was secretary of state.
To understand the state's importance, consider this: If Clinton wins Nevada, she could lose all of the other swing states ― Florida, North Carolina, Ohio, Iowa, Arizona, Georgia ― and still win the presidency, assuming the non-battleground states do not shift.
Democrats hold a 90,000-voter registration edge over Republicans in Nevada, and if current turnout trends continue, the state will be "almost impossible for Trump to win," wrote Jon Ralston, an influential Nevada political reporter, on Sunday.
Of course, it's unknown who they're actually voting for. But only considering voters' registrations, Trump faces considerable odds, Ralston explains:
[H]ere's how daunting it is for Donald Trump right now in Nevada, with six days left in early/mail voting, which is usually 60 percent or so of all votes cast:

If you assume he and Hillary Clinton get 90 percent of their bases (and almost no poll shows Trump doing that well), and she loses indies by 20 points (and most here show her up with indies) she STILL wins the state by 2 points.

Let's suppose Republicans end up coalescing and he gets 90 percent and she gets only 80 percent of Democrats ― a highly unlikely scenario, to put it mildly ― he would still need to win indies by at least 10 points to win the state.
Press reports have also noted a dramatic gap between the parties' respective get-out-the-vote operations.
On Saturday, for instance, reporters found that Democrats in Reno had six different staging areas for volunteers, each expected to draw over 100 people. On the same day, a visit to the city's local Republican headquarters turned up just five people.
Before Trump's rally in Las Vegas on Sunday, speakers informed the estimated crowd of 8,000 that buses would be available to take them to early voting sites after the event. But reporters couldn't easily find the buses.
In the end, all they turned up were two vans that brought about 20 people to the polls.
Democrats in the state say they've been thrilled with turnout operations thus far, and some Republicans acknowledged their party faces an uphill climb.
Popular in the Community