Another Trump campaign event in Nevada has been hit with fines after it was found to have violated state coronavirus guidelines that limit crowd sizes.
The state's Division of Industrial Relations announced Monday that it has issued more than $5,500 in fines to Douglas County and ABS Aviation Inc. for failing to submit a required COVID-19 safety plan ahead of the Sept. 12 event in the town of Minden, located south of Carson City.
The outdoor rally for President Donald Trump drew thousands of people to the Minden-Tahoe airport, which is managed by ABS Aviation, despite the state back in May imposing a 50-person crowd limit to help prevent the virus from spreading.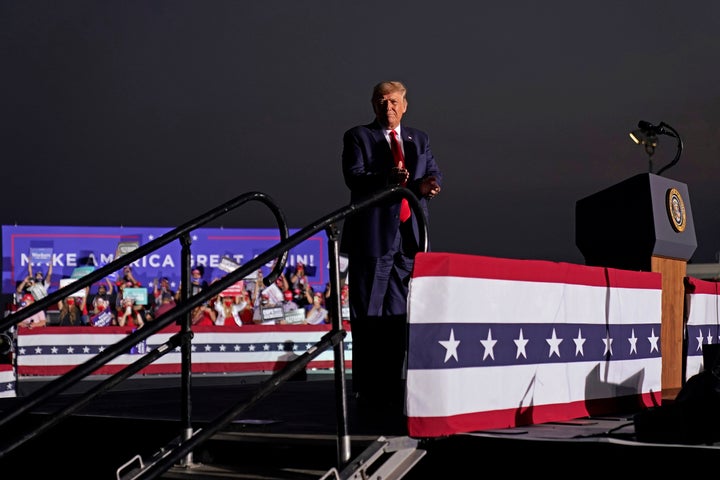 Douglas County was fined $2,950 and Minden Airport manager ABS Aviation was fined $2,603 for breaking this emergency order, according to the Division of Industrial Relations, which is part of the state's Department of Business and Industry.
That emergency order has since been updated to allow events, as of Oct. 1, to have up to 250 people so long as the organizers submit a Preparedness and Safety Plan, which would have to be approved prior to the event.
Representatives for Douglas County and ABS Aviation did not respond to HuffPost's requests for comment on Tuesday.
The rally in Minden was just one of several Trump campaign events recently held in the state and investigated by the Department of Business and Industry for allegedly violating the state's emergency directives, a public information officer told HuffPost.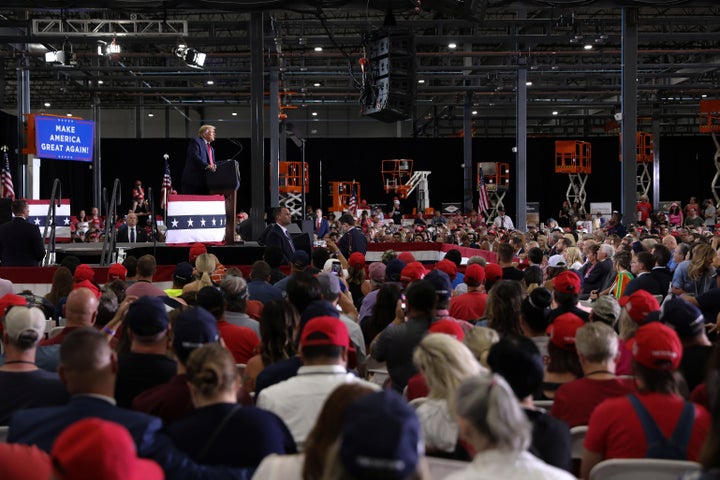 One day after the Minden event, on Sept. 13, the Trump campaign held a packed indoor campaign rally in Henderson, Nevada, that led to a $3,000 fine from the city against the venue's owner, Xtreme Manufacturing.
The event took place even though the city and the state's governor warned that it would violate the imposed safety rules. Democratic Gov. Steve Sisolak blasted Trump as "reckless" and "selfish" on Twitter for holding the event.
Despite the backlash, the Trump campaign held another packed event on Oct. 18 at the Carson City Airport. The event again drew thousands of people who stood in close proximity to each other, violating guidance issued by the Centers for Disease Control and Prevention.
As of Tuesday, both events remain under active investigation. They are expected to be concluded in the coming week or so, said public information officer Teri Williams.
In addition to the Minden rally, two other Trump campaign events have been cited by the Division of Industrial Relations in recent months.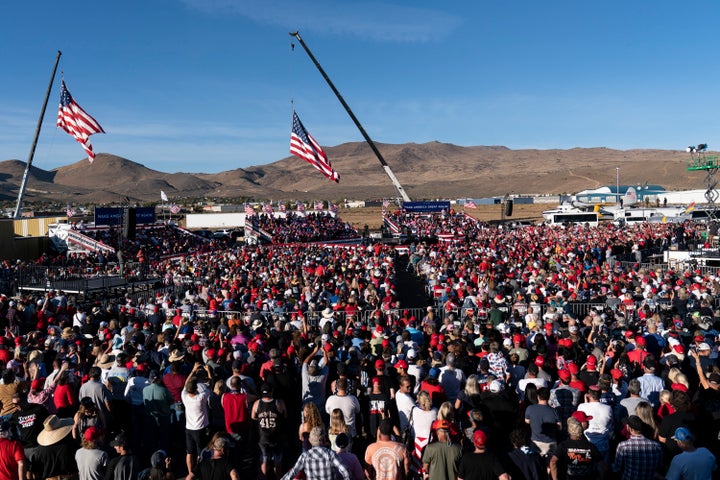 A campaign event held on Sept. 24 at the Pahrump Valley Winery, roughly 60 miles west of Las Vegas, led to citations against both the winery and the vendor used for the event, LMG LLC. An Evangelicals for Trump event held in August also led to fines against the Ahern Hotel in Las Vegas over large crowd sizes, Williams said.
Though the state's health guidelines did not prevent those Trump events from taking place, they did block a mid-September rally that was being planned for Reno, which is one of Nevada's largest urban areas, The Associated Press reported.
Trump's team had reportedly hoped to campaign at the Reno-Tahoe International Airport but instead went to Minden after the owner of the airplane hangar that planned to host the event was told that a rally would violate the state's limit on crowds. The Trump campaign had also reportedly eyed hosting a rally in Las Vegas.
Trump's Democratic challenger, former Vice President Joe Biden, also recently held a rally in Nevada. That Oct. 9 event was considered a drive-in campaign stop, where the attendees kept a physical distance from each other by remaining in or just outside of their cars.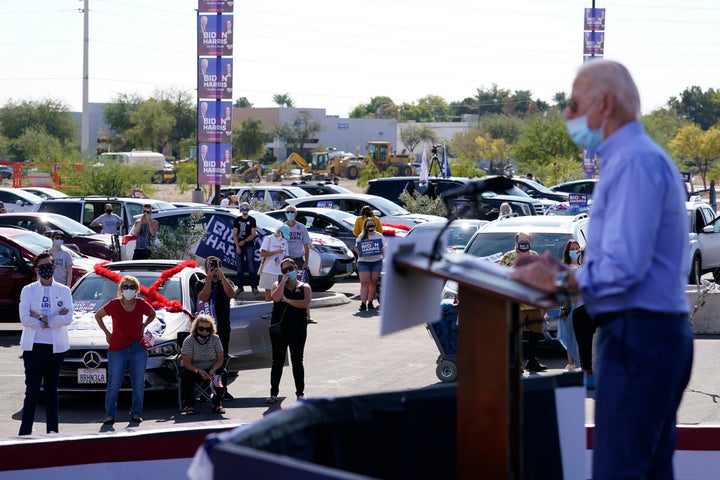 Popular in the Community