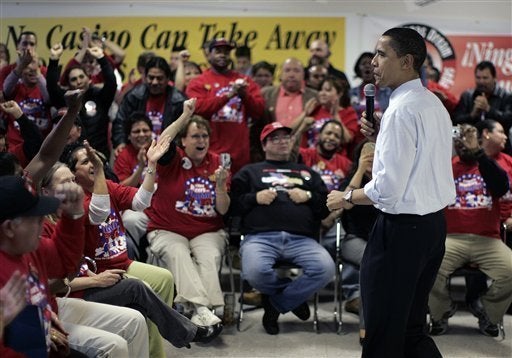 Las Vegas, NV -- Forty-eight hours to go before Saturday's Democratic caucuses and it's strictly battle-station mode at the headquarters of the 60,000 member Culinary Workers Union. By 8:30 a.m., more than 250 union staff and workers -- mostly Latino maids, cooks, and janitors who are the brawn and muscle of Sin City's mega-resorts -- are bunched together in a second story meeting room prepping for one more twelve-hour shift knocking on the doors of fellow members and turning them out to caucus for Barack Obama.
"We've been like this for two solid weeks," says Culinary staffer Chris Bohner. "The union is 100 percent focused on this right now." Widely considered one of this labor-rich state's most powerful political machines, if not its kingmaker, the Culinary threw its weight officially behind Obama last week. So did the 12,000-member Service Employees (SEIU), which represents nurses and government workers.
But this is no run-of-the-mill get-out-the-vote campaign of the sort frequently run by labor in election season. This isn't a ground game, to use the parlance. It's a veritable ground war. Campaign against campaign. Union against union. Unions against the Democratic Party. Even faction against faction inside some unions.
"These folks here are going door-to-door contacting every one of our members," says Culinary Political Director Pilar Weiss, stepping away from one of the marked-up whiteboards in the meeting room. "Our shop stewards, meanwhile, are talking to everybody at their worksites. And of course, we're doing full-on phone banking."
Just a few minutes up the road in northeast Las Vegas, the SEIU has also deployed a battalion of shock troops Thursday morning. Staffers and worker-volunteers have parked an RV in front of the offices of the Department of Juvenile Justice and are systematically going through the facility, trolling for employees who are union members. "We catch them on their lunch break, bring them out here, and tell them everything they need to know on how to caucus and how to caucus for Obama," says SEIU staffer Hillary Haycock.
Those who come out to the union campsite are asked to sign pledges to caucus for Obama, given a purple and yellow t-shirt, a box lunch if they wish, and are asked to volunteer to become an Obama precinct captain for Saturday's caucuses. "Our members know how to organize," says Haycock. "So we want them to know that when they get into those caucuses, it's not just about standing for our guy but also about persuading others to do it."
SEIU has poured in organizers and staff from out of state to aid the pro-Obama blitz, especially from the candidate's home state of Illinois. Activists are phone banking, sending out email blasts and personal text messages, and circulating workplace invitations to participate in the coming caucuses.
When U.S. Senator Harry Reid proposed two years ago that Nevada become an early voting state one reason was to offer labor -- weak in Iowa and New Hampshire -- more participation in the nominating process.
But no one imagined the donnybrook that has ensued. "Traditionally, the Democratic Party in Nevada has taken its endorsement cues from the Culinary," says College of Southern Nevada historian Michael Green. "But this time the party machine, to the degree it exists, has been locked up by Hillary, while Culinary has gone with Obama."
Nor is labor support itself for Obama unanimous. The smaller Carpenters and Steelworkers are pro-Edwards. Government workers affiliated with AFSCME are in the Clinton camp. And while the teachers, organized into the Nevada State Education Association, have not officially endorsed Clinton, they are considered reliable allies.
Indeed, the NSEA roiled the state's political waters and divided the union movement, and itself, when last week it filed an ultimately unsuccessful challenge to nine "at large" caucus sites inside Vegas casinos, arguing they unduly favored the pro-Obama Culinary workers. Culinary activists were quick to characterize the teacher lawsuit -- thrown out today in federal court -- as a thinly-veiled act of voter suppression orchestrated by the Clinton campaign. Tempers also flared as the president of the Vegas-area chapter of the teachers union, Ruben Murrillo Jr., publicly complained that the move to shut down the casino caucuses was out forward without the consent of local teachers. The Las Vegas chapter "was not involved in the initiation of the lawsuit. It was done without our input," Murrillo said.
Indeed, the clumsy last-minute attempt to shutter the casino-based caucus sites, a move publicly endorsed by Bill Clinton, may have opened up rifts within Nevada labor that could persist beyond the election. And, in the short term, may have been a political backfire.
"This was mock outrage from the teacher's union. It stinks," Eric Herzik of the University of Nevada, Reno tells the Huffington Post. "These rules have been in place for the last six months, and they file a suit two days after Culinary endorses [Obama]."
"Filing the suit was ill advised," Herzik said, "because by losing the suit, all you have done is irritate Culinary. So now you've riled up Culinary, they get upset and they go vote for Obama."
But with media attention now so intensely focused on the union role in Nevada's caucuses, especially that of the Culinary, is labor's clout being unrealistically over-estimated? "Definitely a possibility," says Nevada historian Green. "I think this could be very dangerous to Culinary if Obama doesn't win."
The union has an impressive record of carrying local and sometimes statewide elections, Green says. But there's no guarantee that clout is transferable to national contests. "Culinary might have bitten off more than it can chew," he says. "I don't think anyone really knows how much influence the union leadership has over some newly arrived workers who are trying to make up their minds among three candidates with strong national presence."
That's a dilemma faced every hour at ground level by union field activists. "Absolutely, absolutely, I'm coming up against this a lot," says Dale Jackson an Illinois-based SEIU official now working on the Vegas pro-Obama drive. "A lot of our members like Hillary and even more they like John Edwards. I understand that because they're right when they Edwards has been supportive of us. But so has Obama and right from the beginning. I tell them 'Edwards has been great. But right now it's Obama that has America's ear and Edwards doesn't."
Calling all HuffPost superfans!
Sign up for membership to become a founding member and help shape HuffPost's next chapter