 WASHINGTON -- Although a just-released poll of likely Republican caucus-goers in Nevada finds Mitt Romney with a huge lead, polls in Nevada and the other upcoming Republican caucus states have been scarce.
Where have all the polls gone? While budgets are a factor, the main reason is the difficulty of surveying likely voters in low-turnout caucuses.
The new Nevada poll, released Wednesday and conducted by the University of Nevada-Las Vegas' Canon Survey Center for the Las Vegas Review-Journal and Nevada's 8NewsNow, finds Romney winning nearly half the vote (45 percent). Newt Gingrich (25 percent), Rick Santorum (11 percent) and Ron Paul (9 percent) all run far behind among the 426 registered Republicans surveyed who said they planned to attend the Nevada caucuses on Saturday.
The Democratic Party-affiliated firm Public Policy Polling is also in the midst of conducting a survey of Nevada Republicans. Partial findings shared by PPP on Wednesday night show Romney leading Gingrich "by about 15-20 points," with the only question being whether Romney "gets over 50%."
Romney's apparent strength in Nevada is not surprising, given that he trounced the Republican field there in 2008, receiving a majority of the vote (51 percent), followed distantly by Ron Paul (14 percent) and John McCain (13 percent).
The Mormon vote played a big role in that 2008 victory. Although Romney led by healthy margins among nearly all subgroups of Nevada Republicans, the National Election Pool entrance poll found that he won the votes of virtually all (95 percent) of the 26 percent of caucus-goers who identified as Mormons.
Romney has apparently maintained that overwhelming strength among Nevada Mormons, winning 86 percent of their support in the Review Journal/8NewsNow poll.
The two new public polls are the only ones conducted so far this year on the Republican contest in Nevada and, with just two days remaining before that state's Feb. 4 caucuses, may be the only surveys we see. Pre-election polls were similarly rare in 2008, when just three organizations released polls in the final week.
In Colorado and Minnesota -- where caucuses will be held on Tuesday, Feb. 7 -- and in Maine -- where municipal caucuses are being held on different dates, mostly concluding in February -- we have seen no public polls so far in 2012.
After the deluge of 25 public surveys released in South Carolina and 33 in Florida, all conducted in January alone, why is there such a scarcity in Nevada and the other early February caucus states?
A key reason is that polling low-turnout caucuses is hard. Party caucuses require more of a time commitment from voters than a primary election does. Caucus-goers need to attend a meeting that occurs in the evening or, as in Nevada, on a Saturday afternoon. While Republican caucus-goers usually are not required to openly declare their preferences (as their Democratic counterparts do), they still must endure an hour or more of speeches and electioneering. So turnouts are typically quite low compared to primary elections.
The table below shows just how low. In Nevada four years, ago, less than 3 percent of adults participated in the caucuses. Pollsters using standard sampling techniques would need to screen out virtually all of their initial respondents to identify true likely caucus-goers.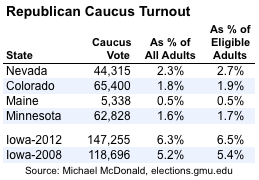 In the other states, the 2008 turnout was even lower, varying between 1.8 percent of all adults in Colorado to 0.5 percent in Maine. Turnout at the Iowa caucuses may have amounted to a "teensy fraction of the humans in Iowa" who were eligible, as The Huffington Post's Jason Linkins put it, but Iowa's turnout of more than 6 percent of adults in 2012 was huge compared to turnouts in Nevada, Colorado, Minnesota and Maine four years ago.
The two pollsters in Nevada are sampling from a list of registered Republicans provided by the Nevada Secretary of State, which simplifies their task, but they still need to find the roughly 1 in 9 Republicans who is likely to participate in the caucuses among Nevada's nearly 400,000 active registered Republicans to perfectly model a likely electorate. In practice, these samples of self-identified likely caucus-goers include many who will not actually participate, but as in Iowa, they should provide a reasonable if imprecise estimate of the ultimate outcome.
Finally, we are also seeing fewer polls because of constrained budgets. National media and polling organizations knew that attention would focus on the first four primary and caucus states in January and spent their money accordingly. A few invested in the expensive task of surveying Iowa's likely caucus-goers using live interviewers, but in an era when many media organizations have cut back on polling, these upcoming caucus states are simply a lower priority.
Calling all HuffPost superfans!
Sign up for membership to become a founding member and help shape HuffPost's next chapter
BEFORE YOU GO