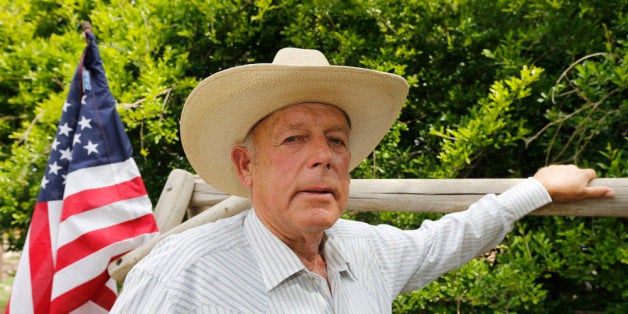 (Adds comments from Nevada governor and from expert on militias)
BUNKERVILLE, Nev., April 12 (Reuters) - U.S. officials ended a stand-off with hundreds of armed protesters in the Nevada desert on Saturday, calling off the government's roundup of cattle it said were illegally grazing on federal land and giving about 300 animals back to the rancher who owned them.
The dispute less than 80 miles (129 km) northeast of Las Vegas between rancher Cliven Bundy and the U.S. Bureau of Land Management had simmered for days. Bundy had stopped paying fees for grazing his cattle on the government land and officials said he had ignored court orders.
Anti-government groups, right-wing politicians and gun-rights activists camped around Bundy's ranch to support him in a standoff that tapped into long-simmering anger in Nevada and other Western states, where vast tracts of land are owned and governed by federal agencies.
The bureau had called in a team of armed rangers to Nevada to seize the 1,000 head of cattle on Saturday but backed down in the interests of safety.
"Based on information about conditions on the ground and in consultation with law enforcement, we have made a decision to conclude the cattle gather because of our serious concern about the safety of employees and members of the public," the bureau's director, Neil Kornze, said in a statement.
The protesters, who at the height of the standoff numbered about 1,000, met the news with applause. Then they quickly advanced on the metal pens where the cattle confiscated earlier in the week were being held.
After consultations with the rancher's family, the bureau decided to release the cattle it had rounded up, and the crowd began to disperse.
"This is what I prayed for," said Margaret Houston, one of Bundy's sisters. "We are so proud of the American people for being here with us and standing with us."
A number of Bundy's supporters, who included militia members from California, Idaho and other states, dressed in camouflage and carried rifles and sidearms. During the stand-off, some chanted "open that gate" and "free the people."
A man who identified himself as Scott, 43, said he had traveled from Idaho along with two fellow militia members to support Bundy.
"If we don't show up everywhere, there is no reason to show up anywhere," said the man, dressed in camouflage pants and a black flak jacket crouched behind a concrete highway barrier, holding an AR-15 rifle. "I'm ready to pull the trigger if fired upon," Scott said.

The dispute between Bundy and federal land managers began in 1993 when he stopped paying monthly fees of about $1.35 per cow-calf pair to graze public lands that are also home to imperiled animals such as the Mojave Desert tortoise. The government also claims Bundy has ignored cancellation of his grazing leases and defied federal court orders to remove his cattle.
"We won the battle," said Ammon Bundy, one of the rancher's sons.
The bureau said Cliven Bundy still owes taxpayers more than $1 million, which includes both grazing fees and penalties, and that it would work to resolve the matter administratively and through the court system.
Jack Kay, a professor of communication at Eastern Michigan University and an expert on militias, said the federal government did well to step back from the conflict. "These things tend to escalate, someone looks like they're going to pull the trigger and then something happens," he said.
Nevada Governor Brian Sandoval, who earlier in the week suggested the federal government had created an atmosphere of "intimidation," said in a statement on Saturday he welcomed the bureau's action. "Given the circumstances, today's outcome is the best we could have hoped for," he said.
Hundreds of Bundy supporters, some heavily armed, had camped on the road leading to his ranch in a high desert spotted with sagebrush and mesquite trees. Some held signs reading "Americans united against government thugs," while others were calling the rally the "Battle of Bunkerville," a reference to a American Revolutionary War battle of Bunker Hill in Boston.
The large crowd at one point blocked all traffic on Interstate 15. Later, as lanes opened up, motorists honked to support the demonstrators and gave them thumbs-up signs.
In an interview prior to the bureau's announcement, Bundy said he was impressed by the level of support he had received.
"I'm excited that we are really fighting for our freedom. We've been losing it for a long time," Bundy said.
But an official with an environmental group that had notified the government it would sue unless federal land managers sought to protect tortoises on the grazing allotment used by Bundy's cattle expressed outrage at the end of the cattle roundup.
"The sovereign militias are ruling the day," said Rob Mrowka, senior scientist with the Center for Biological Diversity. "Now that this precedent has been set and they're emboldened by the government's capitulation, what's to stop them from applying the same tactics and threats elsewhere?"
Roger Taylor, retired district manager with the Bureau of Land Management in Arizona, also said the agency's decision to release the cattle will have repercussions.
"The (agency) is going to be in a worse situation where they will have a much more difficult time getting those cattle off the land and getting Bundy in compliance with regulations," he said. (Additional reporting by Laura Zuckerman in Salmon, Idaho; Writing by Scott Malone and Alex Dobuzinskis; Editing by David Gregorio, Lisa Shumaker, Robert Birsel)

Related
Popular in the Community