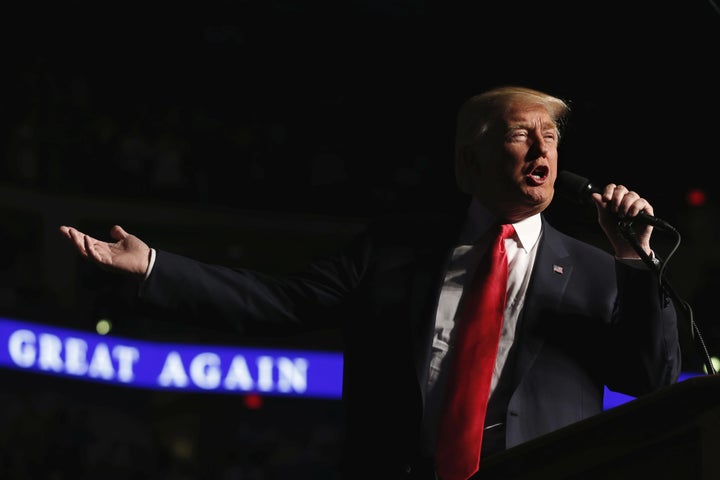 There's almost no recent polling on Tuesday's Republican caucuses in Nevada. Jeb Bush's former supporters could play an important role, but we don't know that either. And a majority of Americans supports the FBI in their dispute with Apple. This is HuffPost Pollster for Tuesday, February 23, 2016.
NEVADA REPUBLICANS CAUCUS TUESDAY NIGHT - GOP voters are heading to the caucuses in the Silver State, and as with the Saturday's Democratic caucus, there is very little indication of what might happen. The most recent two polls, conducted after the New Hampshire primaries, are now a week old, and the caucus format lends itself to more uncertainty than primaries due to lower turnout. So while the very limited polling shows Trump ahead and Sens. Ted Cruz (R-Texas) and Marco Rubio (R-Fla.) tied for second, the outcome of the caucus could look very different.
Get used to scarce polling - Philip Bump: "Within the next three weeks, by March 15, both the Republicans and the Democrats will have assigned more than half of the total delegates it will take to win each party's nomination….This is a critical period for figuring out who will go on to represent both parties in November. And the data we have about how this will all turn out is very sketchy. In most states, on both sides, there hasn't been any new polling conducted since the Iowa caucuses. In some cases, the most recent polls in a state show people like Chris Christie winning, because they were conducted in 2013. In others, conducted last fall, Ben Carson is doing disproportionately well…. Lots of delegates are about to be allocated and we don't know who's going to get them." [WashPost]
IT'S ALSO UNKNOWN WHERE BUSH SUPPORTERS WILL GO - Josh Clinton, Hannah Hartig and John Lapinski: "With Jeb Bush dropping out of the Republican presidential race after the first three state contests, the big question is whether the move will benefit Marco Rubio….We asked Bush supporters what they thought…. Among Bush supporters, those who have a second place preference - and nearly a quarter of Bush supporters did not - split their preference among the field. While Rubio gets the support of 19 percent of Bush supporters, this is only slightly more than Kasich (16 percent) and Cruz and Trump are not far behind (12 percent and 11 percent respectively)….It is important to note that these conclusions are based on data collected before the South Carolina Republican primary, and it is possible that the dynamics of the race have changed since the poll was taken." [NBC]
Rubio could benefit but not enough to challenge Trump - HuffPollster: "Combined data from the four most recent Economist/YouGov polls show slightly more significant support for Rubio, giving him 23 percent, followed by Kasich at 12 percent, Cruz at 11 percent, Carson at 10 percent, and the remaining candidates in the single digits. Since the polls date back through the beginning of the year, they also include some candidates who have since dropped out, such as New Jersey Gov. Chris Christie, who attracted 11 percent while he was still included. Forecasts about Trump's demise tend to rely on the idea that, as some of his rivals drops out, the remaining challengers will consolidate support. While there's still evidence that Trump may have a ceiling to his support, it's not at all clear that he's reached it yet -- or that Rubio will get the boost he's hoping for out of the narrowing field." [HuffPost]
HUFFPOLLSTER VIA EMAIL! - You can receive this daily update every weekday morning via email! Just click here, enter your email address, and click "sign up." That's all there is to it (and you can unsubscribe anytime).
RUBIO IS RACKING UP THE ENDORSEMENTS - The Republican Party has been slow to decide on a favored candidate, but Sen. Marco Rubio (R-Fla.) picked up 22 endorsements in the past two weeks, solidifying his status as the candidate with the most establishment support.  He now leads the endorsement race with a total of 40 House members, 13 senators and three governors pledging to support him, and has picked up support from some former backers of former Florida Gov. Jeb Bush. The chart from FiveThirtyEight shows how current candidates' endorsements compare to previous Republican nominees. With the new wave of endorsements, Rubio has reached Sen. John McCain's level from this point in 2008. [538]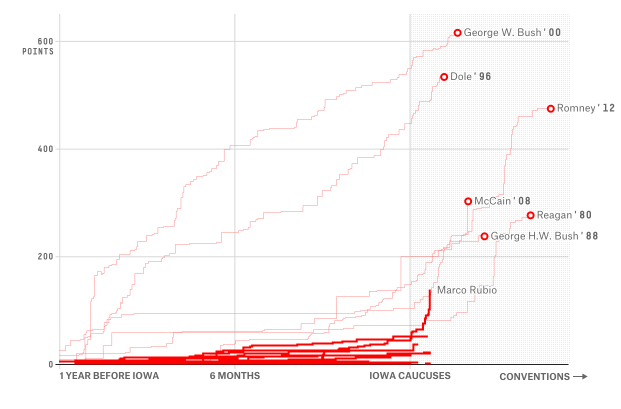 A MAJORITY OF AMERICANS THINK APPLE SHOULD GIVE FBI IPHONE ACCESS - From a Pew Research report: "As the standoff between the Department of Justice and Apple Inc. continues over an iPhone used by one of the suspects in the San Bernardino terrorist attacks, 51% say Apple should unlock the iPhone to assist the ongoing FBI investigation. Fewer Americans (38%) say Apple should not unlock the phone to ensure the security of its other users' information…. [A]lmost identical shares of Republicans (56%) and Democrats (55%) say that Apple should unlock the San Bernardino suspect's iPhone to aid the FBI's ongoing investigation. By contrast, independents are divided...However, independents who lean toward the Republican and Democratic parties – unlike those who identify as partisans – hold very different views. By a 58%-32% margin, independents who lean Republican say that Apple should unlock the iPhone. By contrast, 55% of Democratic leaners say Apple should not unlock the iPhone, while 34% say that they should." [Pew]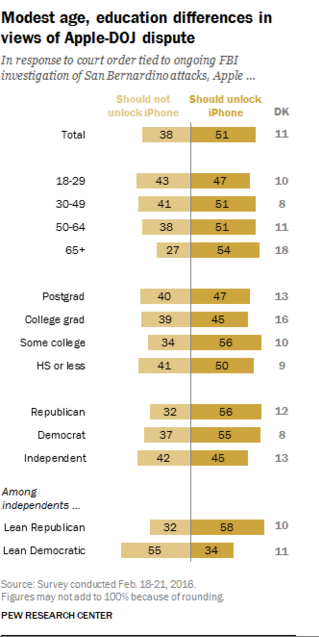 A second poll also finds a majority in favor of unlocking the iPhone - Jon Swartz: "An exclusive USA TODAY poll conducted by SurveyMonkey reveals 51% of 1,093 people polled on Feb. 18-19 support the FBI's request to unlock the iPhone of Syed Riswan Farook, one of the killers in the San Bernardino, Calif., shootings in December….iPhone owners supported the FBI by 49%-46%, but Android users sided with the bureau by 57%-37%, according to Sarah Cho, SurveyMonkey's survey research scientist." [USAToday]
UPDATE - On Monday, HuffPollster reported that the results of the Nevada Democratic caucus entrance poll were being questioned because they showed Sanders beating Clinton among Latinos, 53 percent to 45 percent. We excerpted from a New York Times Upshot piece that argued the entrance poll might be wrong in part because the entrance polls generally don't offer Spanish interviews. Later in the day, HuffPollster confirmed that Edison Research, who conducts the entrance polls, does offer Spanish as an option in states with high proportions of Latinos -- including in Nevada on Saturday.
TUESDAY'S 'OUTLIERS' - Links to the best of news at the intersection of polling, politics and political data:
-Nate Silver think Trump could win Nevada even with low turnout. [538]
-Nate Cohn provides additional reasons to doubt that Bernie Sanders won the hispanic vote in Nevada. [NYT]
-Chris Cillizza tries to explain why Ben Carson is still running for president. [WashPost]  
-Americans see Hillary Clinton as dishonest and Bernie Sanders as a socialist. [Gallup]
-Fifty-six percent of Americans say the Senate should vote on a Supreme Court nominee before President Obama leaves office. [Pew]
-Americans point to North Korea, Russia, Iran and China as the U.S.'s greatest enemies. [Gallup]
Calling all HuffPost superfans!
Sign up for membership to become a founding member and help shape HuffPost's next chapter