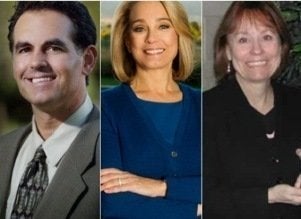 (AP) - Nevada Republicans pick a nominee Tuesday to challenge Senate Majority Leader Harry Reid, setting the stage for an epic showdown with one of the most powerful Democrats on Capitol Hill.
Republicans also must decide whether to nominate troubled Gov. Jim Gibbons for a second term or choose former federal judge Brian Sandoval to oppose Democrat Rory Reid, son of the powerful U.S. senator. Election officials predict about 25 percent of active voters will cast ballots.
The election takes place with the centrist state suffering from the recession and its wake and voters divided over the direction of the nation. The state's unemployment rate hit a record 13.7 percent in April, and Nevada leads the nation in foreclosures and bankruptcies.
Tea party favorite Sharron Angle, 60, has topped recent polls in the Senate race, but businessman Danny Tarkanian, 48, and casino executive Sue Lowden, 58, appear to be within striking distance.
They are among a field of 12 candidates competing for the chance to challenge Reid, 70, who's seeking a fifth trip to Washington at a time when many voters in his home state are unhappy with his leadership.
"I have a lot of people who are after me," he told a crowd at the University of Nevada, Reno, in April.
But a caustic Republican primary that included a flood of negative ads has given Reid an opening. He's now running about even in polls against any of the leading Republicans.
A former legislator known as a conservative renegade in Carson City, Angle has surged with endorsements from the Tea Party Express and the anti-tax Club for Growth in a year when anti-establishment anger is shaping races around the country.
"I am the tea party," she says.
Angle wants to phase out Social Security for younger workers, dissolve the Education Department and repeal the 16th Amendment that established the federal income tax.
With a no-tax, anti-government drumbeat, Gibbons, 65, appealed to a conservative core, but trailed badly in polling and campaign financing to Sandoval, 46, who had the support of the state's GOP power brokers.
The winner will face the well-financed Rory Reid, 47, who is the outgoing chairman of the powerful Clark County Commission in Las Vegas and has only token primary opposition.
Voters also will set general election contests for the state's three seats in Congress, five other statewide offices, lieutenant governor, attorney general, controller, secretary of state and treasurer, as well as deciding primary races for 11 state Senate and 42 Assembly seats.
Calling all HuffPost superfans!
Sign up for membership to become a founding member and help shape HuffPost's next chapter