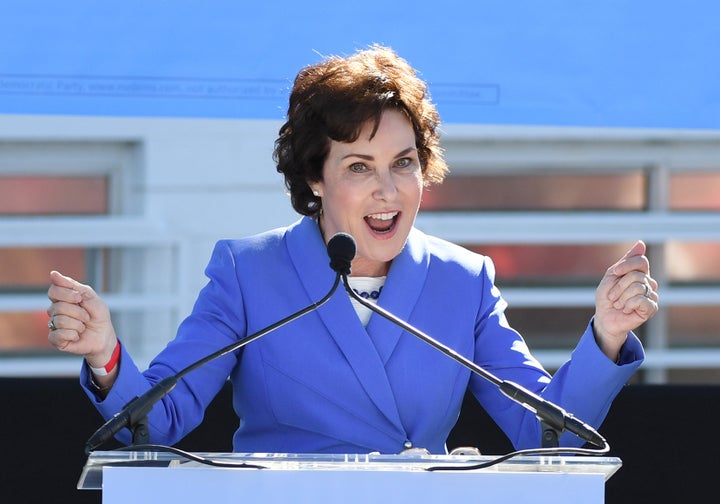 LAS VEGAS ― It seemed like there was every indication Dean Heller was toast this year. He's the only GOP senator up for re-election in a state that Democrat Hillary Clinton won in 2016. He aligned himself with Donald Trump, a figure reviled by many communities here, after once saying he "vehemently" opposed him. He voted to repeal Obamacare, a risky move that opened him up to blistering attacks over health care.
Yet polls are showing Heller in a dead heat with his opponent, Rep. Jacky Rosen (D-Nev.), just weeks out from the midterm election. Democrats say they're optimistic that a blue wave will help them oust Heller, a win they need in order to retake the Senate. But worrying signs about lagging Latino engagement across the country and Trump's rising popularity in Nevada could hand them an unexpected setback in November.
"There's a basic reality that Republicans tend to do better in midterms," said Doug Heye, a former communications director at the Republican National Committee. "[Heller] has done everything right that he could in a difficult environment. ... This race is not going to be decided by thousands and thousands of votes, but by hundreds of votes."
Heller could squeak by to his second term if turnout mirrors low levels seen in past midterm elections. Nevada Latinos cast just 10 percent of the votes in 2014 ― a number Democrats need to beat if they want to send Rosen to Washington. And although Republicans haven't done as well in Nevada recently, it's still a purple state. Clinton won it by just 27,000 votes in the 2016 election, a much smaller margin than in previous presidential contests.
To win re-election, Heller needs to outperform with white voters in rural parts of the state. That's why the White House dispatched Trump to a rally with the senator in the remote northern town of Elko on Saturday. Increasing the rural share of the vote there would help offset more urban areas of the state.
"I think that blue wave is being rapidly shattered," Trump said at the event. "You know, all the Democrats want is power, and they've got this blue wave deal going. Not looking like a blue wave."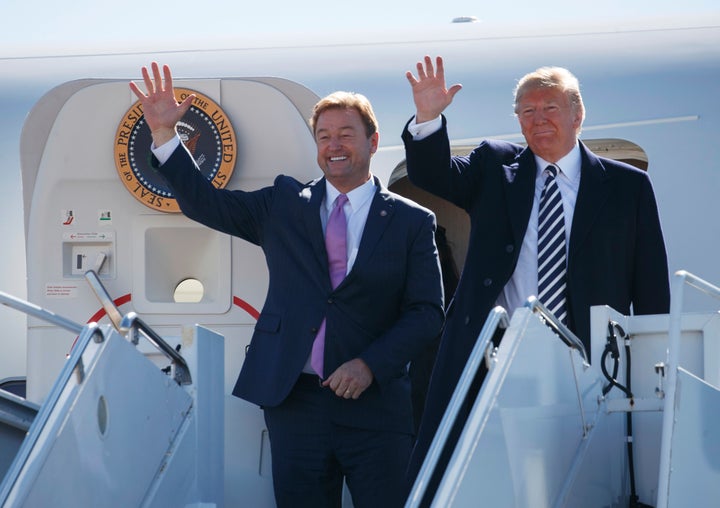 Meanwhile, hundreds of miles to the south, Democrats answered by bringing in their own heavy hitters ― former Vice President Joe Biden showed up on Saturday, and former President Barack Obama is scheduled to make an appearance Monday ― to help galvanize their base as early voting started in the state. Both men are viewed as a liability in pure red states where Trump is overwhelmingly popular, but they could help Democrats close the gap with young and Latino voters in a purple state like Nevada.
"Folks, it's time to get up! Lift our heads up!" Biden thundered at a labor event in downtown Las Vegas on Saturday, urging people to cast their vote for Rosen. "Remember who the hell we are. Take back the Senate and change the world as we know it."
It's a no-holds-barred fight to get out the vote just days away from Nov. 6 ― one with huge implications for this year and beyond.
Will Latinos Show Up?
Democrats may be facing a big problem with Latino voters, who don't seem to be as enthusiastic about voting as they were when then-candidate Trump drove minorities to the polls in 2016 with his anti-immigrant rhetoric.
In several majority-Latino districts across the country, for example, Democrats are currently underperforming Clinton's numbers from two years ago. If these voters fail to show up on Election Day, it could seriously hamper Democratic chances of regaining control of Congress.
"Latinos have been asked to play defense over and over again and over again. Vote against this, vote against that. What we haven't had in a very long time is something to vote for," David Garcia, a Democratic candidate for governor in Arizona, said a recent MSNBC interview.
A similar trend may also be taking place in Nevada, a state whose population is made up of about 28 percent Latinos and growing.
Heller has shown surprising strength with Latino voters. A recent NBC/Wall Street Journal poll shows he has the support of 38 percent of Latino voters in Nevada ― a significant amount for a Republican. His campaign has directed outreach groups to engage Latino and Asian-American voters in Nevada, especially those who are in the business community, in hopes of siphoning away votes from Democrats.
"We are firmly committed to earning every vote, and that includes Hispanics and every other group in Nevada," said Heller campaign spokesman Keith Shipper.
In another concerning sign for Democrats, the Cook Political Report recently downgraded an open House seat in the Las Vegas area that is 54 percent nonwhite from "Likely Democratic" to "Lean Democratic."
It's a sharp contrast to the 2016 election, when Latino voters across the country and in Nevada stood in line for hours to cast their ballots against Trump. The uptick in Latino participation in that election helped Clinton carry the state and paved the way for Democrat Catherine Cortez Masto to become the first Latina senator in U.S. history.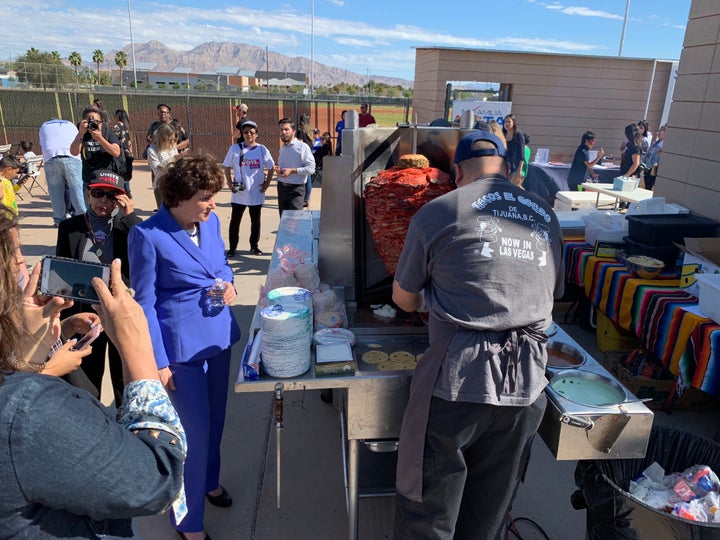 Rosen is not a member of the Latino community and doesn't speak Spanish. But she has made a huge play for minority communities, including Latinos.
She has flooded the state with Spanish-language TV ads focusing on key issues like health care, education and immigration. She also supports passing a clean Dream Act to protect young immigrants brought to the U.S. as children.
"Everybody's fired up, they know what's at stake. I feel really good about it," Rosen told HuffPost after greeting supporters at an early vote kick-off party in East Las Vegas on Saturday that featured a mariachi band and taco stands.
"This race is not going to be decided by thousands and thousands of votes, but by hundreds of votes."
Yet the first-term congresswoman who once worked as a computer programmer isn't as well-known as other Democrats who succeeded in winning statewide here.
Cortez Masto, for example, had history on her side, and former Sen. Harry Reid (D-Nev.) played kingmaker with a prominent post in the Senate. Republican super PACs, meanwhile, have spent millions of dollars on television ads in efforts to define Rosen as an extreme liberal who supports sanctuary cities and hasn't done enough to stop illegal immigration or gangs like MS-13. Trump even gave her a derisive nickname: "Wacky Jacky."
Still, there's evidence of strong interest in Rosen's bid for Senate. Her campaign announced this week that it had out-raised Heller by a 3-to-1 margin, hauling in $7.1 million in contributions since August. And in even more eye-popping news, she raised an additional $5 million in the period from Oct. 1 through Oct. 17, her campaign said Friday.
"There's good energy. Fundraising been going extremely well for her, if that's any indicator of the intensity," said Teresa Benitez-Thompson, a Democrat and the majority floor leader of the Nevada State Assembly.
The 'Reid Machine' Revs Up
In addition to bringing in big names like Obama and Biden, Democrats are relying on the fabled "Reid machine," named after the former Senate majority leader, to help turn the tide in Nevada. It's an institutional advantage Republicans lack, and it's kicking into high gear this weekend as thousands of state Democratic Party officials and volunteers begin making calls, knocking on doors and registering new voters.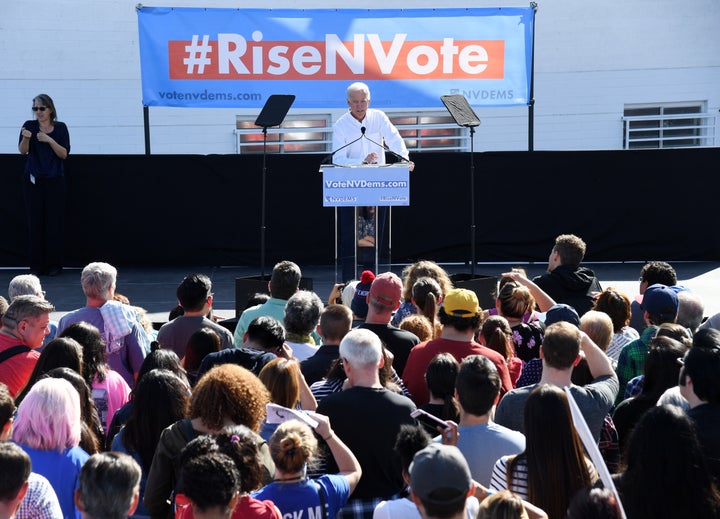 One of the organizations playing a key part in the effort is the powerful Culinary Workers Union, which represents 57,000 workers at the majority of casinos and hotels on the Las Vegas strip. Its headquarters in the state is a major stop for Democratic candidates up and down the ticket. Biden appeared with Rosen and other Democratic candidates a rally there Saturday, where he urged people to vote.
"My name is Joe Biden. I work for Harry Reid!" he yelled, kicking off a rally of about 500 supporters and union members by invoking the name of the de facto boss of the Nevada Democratic Party.
But the Reid machine is missing its namesake this year. The retired 78-year-old senator underwent surgery for pancreatic cancer in May, and he has largely stayed off the radar while recovering. The November election will test whether the vaunted operation can still deliver for Democrats as it has before.
In-person early voting in Nevada runs through Nov. 2, but we'll probably get a good idea of where the electorate stands by the time votes start coming in on Monday. A significant number of Nevadans cast their ballots prior to Election Day thanks to state laws that have lowered barriers to vote, especially when compared to that of other states.
"People can vote this voting day anywhere, not just in their precinct," Benitez-Thompson said. "It's going to be easier to vote in the state of Nevada this go-around than ever before."
Popular in the Community