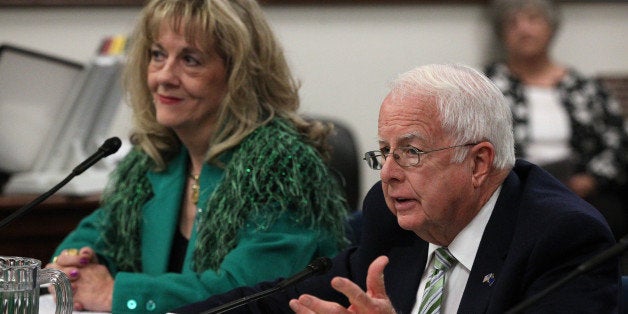 WASHINGTON -- Nevada conservatives are disheartened that another attempt to pass a voter identification measure out of the legislature failed this session, even though the GOP has full control of the state government for the first time since 1929.
Many expected Nevada to join the list of states that require people to show a government-issued ID in order to vote. Texas, where the GOP also is in control, passed a voter ID law in 2011, but is currently bogged down in litigation over its law's intent and impact.
Republican legislators had tried to pass a Nevada voter ID bill in previous sessions, but had more muscle on their side this time, with majorities in both chambers of the state legislature. Republican Gov. Brian Sandoval had previously said he would support a voter ID law, though he refused this year to take a stance before any proposal reached his desk. But, as the session closed June 1, bills in the Senate and Assembly hadn't gotten out of committee, leaving Democrats feeling gleeful and conservatives glum.
The repeated defeat of voter ID bills in Nevada comes in contrast to states like North Carolina. A large package of voting rights restrictions, including a strict photo ID bill, was passed swiftly in that state in 2013 after Republicans gained control of both the governorship and legislature for the first time in more than 100 years. A challenge to that law will be heard in court next month.
Carolyn Howell, a former lobbyist with the conservative Nevada Legislative Affairs Committee, suggested Sandoval had suppressed the voter ID efforts in this session.
"There were so many games being played in the background in terms of bills the governor didn't want to sign," she told The Huffington Post. "The disappointment and the frustration in this state is so bad right now because of the performance of the Republicans that we sent into that building in the last election. It's just heartbreaking."
Sandoval's office did not respond to a request for comment.
Republicans argued enacting a voter ID law would protect against voter fraud, while Democrats said such laws waste tax dollars and disproportionately impact racial minorities, seniors, low-income and younger voters and those with disabilities, who are less likely to have acceptable forms of ID. Twenty-seven percent of Nevadans are Hispanic or Latino and nearly 9 percent are African-American or black, according to the U.S. Census.
One Republican assemblywoman, Michele Fiore, fought back against these claims about blocking minorities from voting. "We're in 2015 and we have a black president, in case anyone didn't notice," she said in a hearing.
Democrats pointed to in-fighting between Assembly and Senate Republicans as a reason for the voter ID dysfunction. Legislative staffers also said Democrats leveraged their support for a controversial tax vote to ensure that nothing adversely affecting voting rights would pass. In the final days of the session, the legislature passed a $1.1 billion package of new and extended taxes to fund a nearly 16 percent increase for public education. Democrats had forced various concessions from Republicans in return for their support for the tax measures, which Sandoval backed.
"Senate and Assembly Democrats represent diverse districts," Senate Minority Leader Aaron Ford (D) said. "That's why we worked together to defeat election bills that would've had an adverse affect on access to the polls and voting rights, particularly for those Nevadans in low-income areas and in minority communities."
But Sen. James Settelmeyer (R) said it wasn't an issue of in-fighting within his party as much as the challenge of convincing legislators to support a bill that would require public funds to distribute free IDs.
"They didn't think there wasn't a problem," he said. "It just wasn't a significant enough problem for the funds."
"People don't want to have to spend money on it. They felt like the incidence [of voter fraud] didn't warrant spending the money," Settelmeyer added.
Assembly Speaker John Hambrick (R) said any piece of legislation with a fiscal note attached has a "tougher road" in the legislature than others, and that there was "no ulterior motive other than time." A slew of bills died on the Assembly floor as budget issues competed with other bills.
Republican Assemblyman Lynn Stewart, who sponsored one of the ID bills in the lower chamber and has tried four times to pass this type of legislation, agreed that the failure to pass an ID law was a matter of the party having too much on its plate.
"It got kind of put off to the side and at the last minute it just wasn't time. There were too many things that got in the way," he said. "It was a priority but there were negotiations with Democrats on other things. There were so many things going on in the last two days and trying to get the appropriations bill through."
Conservatives outside of the legislature, however, say Republicans could have passed a voter ID law if they really had wanted to. Janine Hansen, who serves as the president of the Nevada Families Eagle Forum, told HuffPost the disconnect between Republicans and conservative voters has everything to do with Sandoval's priorities.
"The question is who wanted voter ID -- it certainly wasn't the [Republican In Name Only] leadership, or it would have happened," she said. "What the governor wanted, passed, including the largest tax increase in Nevada's history."
"It was incredible that that many Republicans were elected [in 2014] -- but since they betrayed their constituency, the Republican base is completely disillusioned," Hansen added.
Before You Go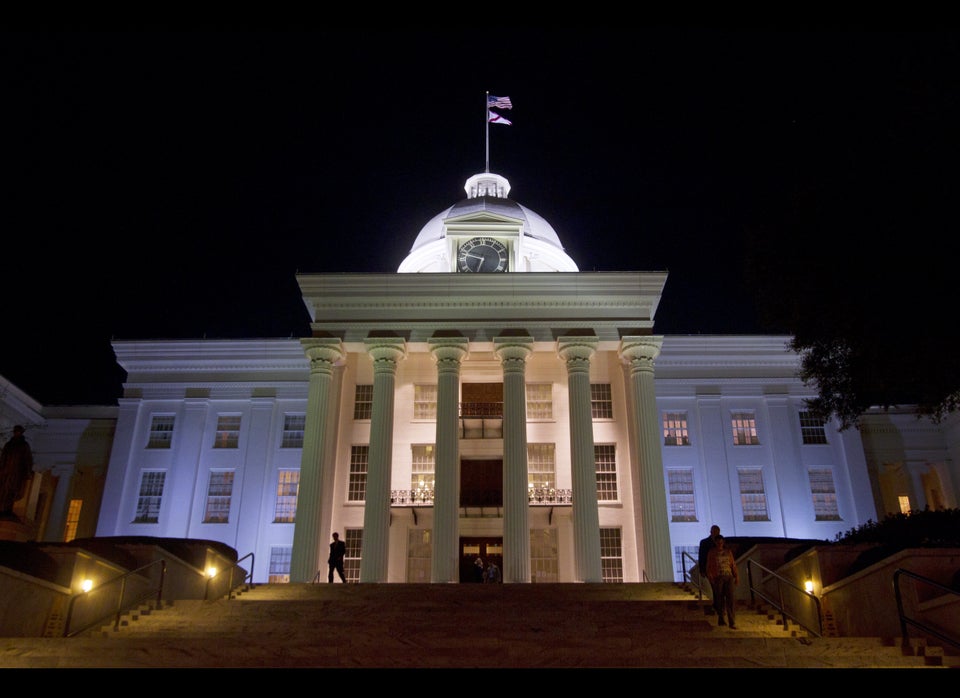 U.S. State Capitol Buildings
Popular in the Community