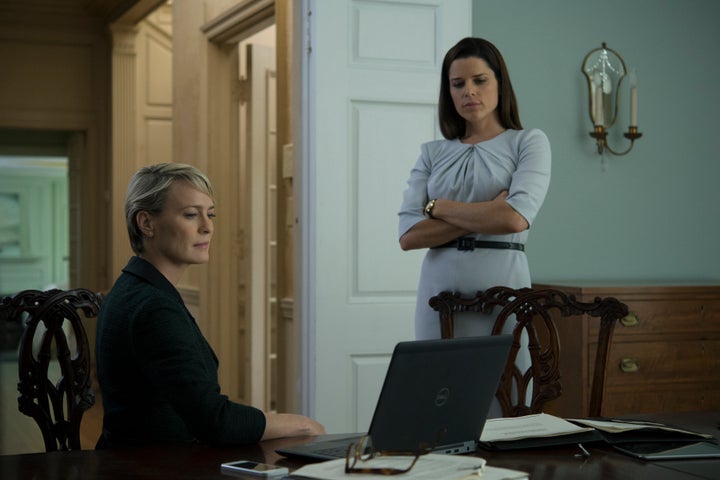 In an industry where women over 40 are often all but invisible, there's a small treasure trove of female characters over 40 in an unlikely place: the twisted political underworld of "House of Cards."
Seasoned actresses including Meryl Streep, Carrie Fisher, Zoe Saldana and Catherine Zeta-Jones have spoken out about the dearth of wide-ranging parts for older women. In the words of Streep, who was once offered three witch roles in one year, "once women passed childbearing age, they [can] only be seen as grotesque on some level."
Yet on Netflix's "House of Cards," strong older women are staples. Frank Underwood (Kevin Spacey) is equally matched by his now-estranged wife, Claire (Robin Wright), and he finds other formidable foes in former Chief of Staff Linda Vasquez (Sakina Jaffrey), congresswoman Jackie Sharp (Molly Parker) and even politics reporter Janine Skorsky (Constance Zimmer).
To Neve Campbell, who appears in a new role as political strategist Leann Harvey in Season 4, it's "wonderful" to see women playing those characters, rather than women whose roles are defined by the men around them. (Or, you know, witches.)
"They're unapologetically powerful," Campbell told The Huffington Post.
"It's still, unfortunately, rarer in our industry to be offered strong female characters than it is to be offered a 'wife of' or a 'girlfriend of' or some kind of vulnerable victim in some way," she added.
According to Campbell, those powerful characters are a reflection of showrunner Beau Willimon's respect for successful women. Willimon, who worked on political campaigns in the late '90s, spoke to the actress about the role before she'd accepted it, filling her in on Leann's world. It takes "someone fearless" and "committed" to survive in Washington, D.C., Campbell explained, drawing a parallel to the qualities required of women in Hollywood -- particularly women directors.
"When I've worked with female directors in the business -- which doesn't happen that often, but when I do -- they almost have to come across stronger and more brazen than any of the male directors I've ever worked with because they're up against an attitude," she said.
"There are still people out there who would rather be working with a man than with a woman."
"House of Cards" features the occasional woman director. Wright has, so far, directed four episodes of the series and hopes to take on more. Speaking to The New York Times for a 2014 profile, the actor-director recalled the uphill battle she fought to convince her colleagues she was serious about her intention to take the reins behind the cameras. If older women in wide-ranging roles are uncommon on screen, they're positively scarce behind the scenes. A USC Annenberg School for Communications and Journalism study recently revealed that just 3.4 percent of film directors on over 400 popular films were women.
While the entertainment landscape may still be something of a desert for women over 40, "House of Cards" offers a small respite. In Season 4, fans will see Campbell's Leann -- a female version of Frank Underwood's murderous aide Doug Stamper -- join forces with Wright's Claire in order to win a campaign, although Campbell offered no details on whether she'd be back for Season 5.
"House of Cards" Season 4 is now out on Netflix.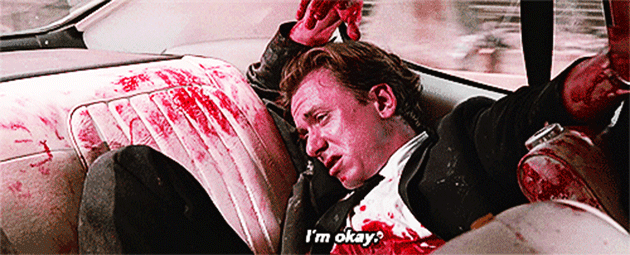 12 Highest-Rated Movies on Netflix
Popular in the Community