Imagine getting the opportunity to hold a private photo session with David Bowie at the height of his stardom. We're talking post "Ziggy Stardust" and "Aladdin Sane," with "Pin Ups" and "Diamond Dogs" still on the horizon. Imagine you had an entire evening to play dress up with the iconic shapeshifter and capture the manifold personas he embodied so swiftly yet completely.
And suppose, over 40 years later, after the iconic artist's death, you return to those photos you took so long ago and notice what seems to be a message. A message that reappears throughout his later works, culminating with the "Lazarus" video off his final album "Blackstar," that perhaps illuminates the artist's feelings about death and immortality.
This is what happened to photographer Steve Schapiro, who spent one fateful night in 1974 photographing Bowie in his Los Angeles studio. "From the moment Bowie arrived, we seemed to hit it off. Incredibly intelligent, calm, and filled with ideas," Schapiro recalled in a statement. "He talked a lot about Aleister Crowley, whose esoteric writings he was heavily into at the time. When David heard that I had photographed Buster Keaton, one of his greatest heroes, we instantly became friends."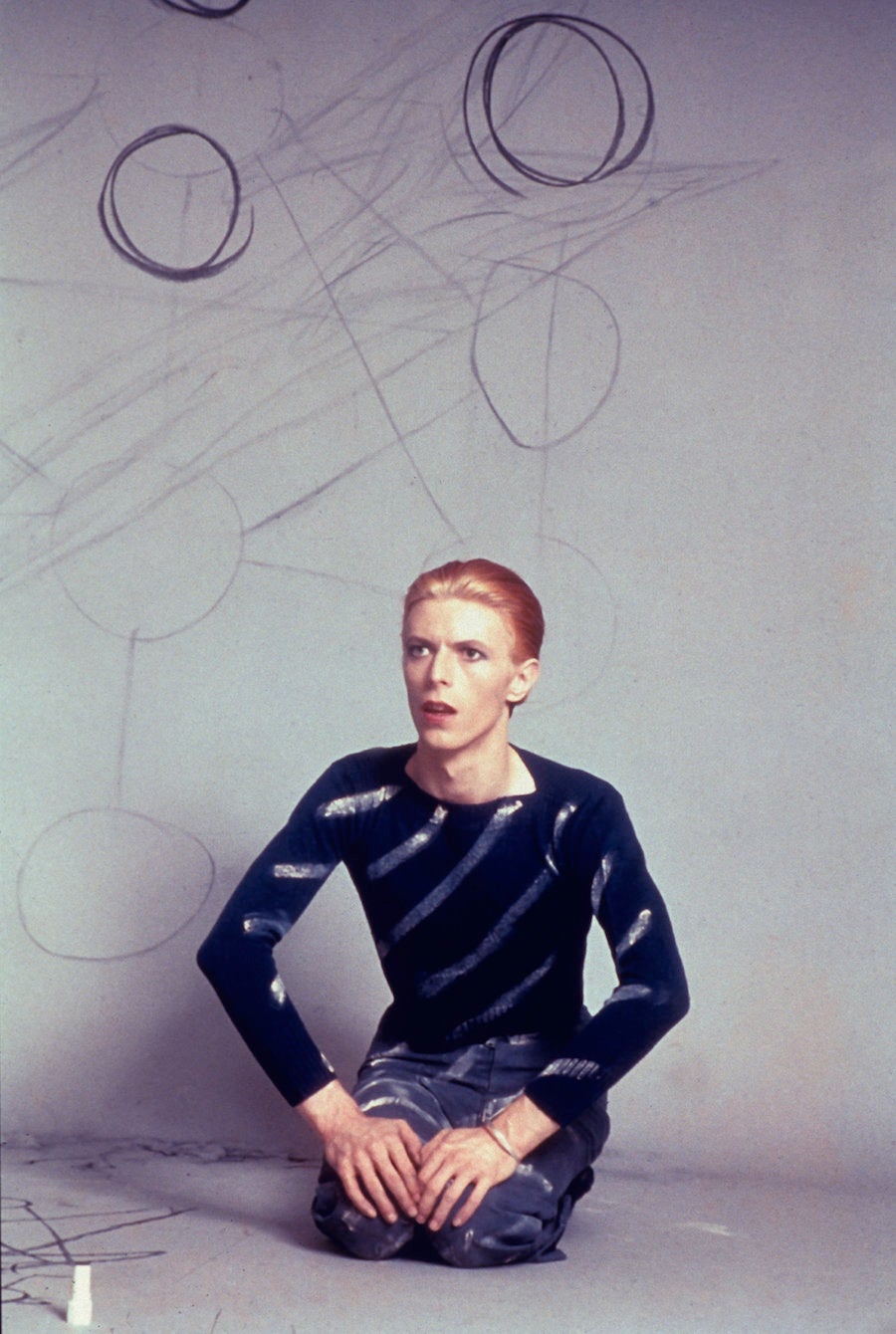 The two collaborated on many striking images, each transforming Bowie into a distinct character, as unique and otherworldly as a mythical creature. Yet a particular ensemble, the one pictured above and featured on Bowie's 1976 album "Station to Station," holds special significance.
In the image, Bowie dons a navy blue striped body suit and, crouched on the floor, doodles diagrams of Kabbalah's Tree of Life, a series of 10 spiritual emanations. Lyrics from the title track "Station to Station" echo the language of Kabbalist symbols and beliefs. "Here are we, one magical movement from Keter to Malkuth," Bowie sings, with Keter (the Crown) and Malkuth (the Kingdom) being the first and last virtues on the Tree of Life.
In his last music video, "Lazarus," from album "Blackstar" -- regarded by many as a cryptic goodbye letter to his fans -- Bowie whips out the exact jumpsuit worn in the 1974 image, visible around the two-minute mark. Just as Bowie doodled obsessively in the '70s photo shoot, in 2016 Bowie scribbles feverishly in a notebook, heightening in intensity until finally he appears to come to a conclusion, finishing his notes and walking away. (In Bowie style: backward.)
As Albin Wantier interprets in his introduction to Schapiro's photography book: "He appears to have found the meaning he has been searching for. The connection between both images, 40 years apart, is stunning ... He has resolved his enigma, and the curtain can fall at last."
A close-up of the writing in Bowie's notebook reveals a trail of symbols. Wantier analyzed these symbols in conjunction with some appearing on a vinyl edition of "Blackstar," all of which resembled the doodles from the 1974 shoot. The "Blackstar" images, Wantier determined after checking with a friend, were part of a chemical formula depicting the various stages of the nuclear fusion, which leads to the formation of a sun. Or perhaps, a blackstar.
"In the 'Lazarus' video, Bowie resolves the enigma of life, which he had been endeavoring to do since 1976," Wantier summarizes. "His life, which was indistinguishable from his work, led him to enact various characters of his own devising; his life was in itself a work of art. Now that he has finished, Bowie can close the book. However, the last chapter does not end with the artist's passing -- that would be too simple."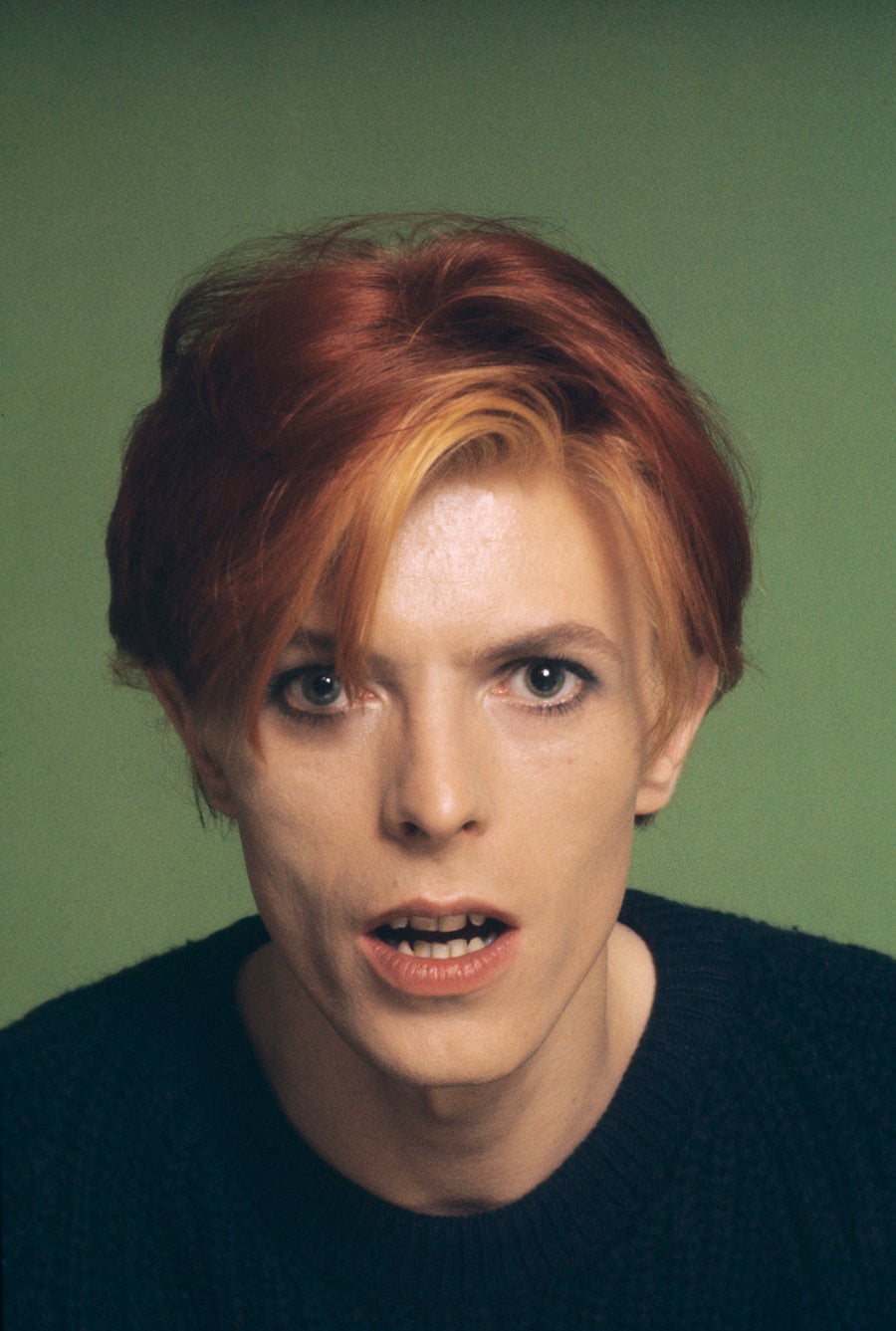 While Bowie's physical body is no longer with us, his creative energy has catalyzed to create a cosmic eruption, felt around the world, that can never be undone. "David Bowie is not the kind to just disappear just like that from our world," Wantier writes. "The chemical symbols that accompany the 'Blackstar' release point where he's going: an artistic nuclear fusion of two elements that creates enough energy to make a sun."
While many acknowledged the poetry in Bowie's final album, his requiem, and its tremendous impact as his final work of art on this earth, few pieced together the fact that the roots of "Blackstar" trace back to 1974, when a photographer and the world's biggest rock star became fast friends and spent a single evening creating, contorting and doodling away. As Bowie's producer Tony Visconti put it: "His death was not different from his life -- a work of Art."
See the image that started it all, as well as the many other never before published images captured that night, in Bowie. A preview of the book is featured below, with all photographs by Steve Schapiro and published by powerHouse Books.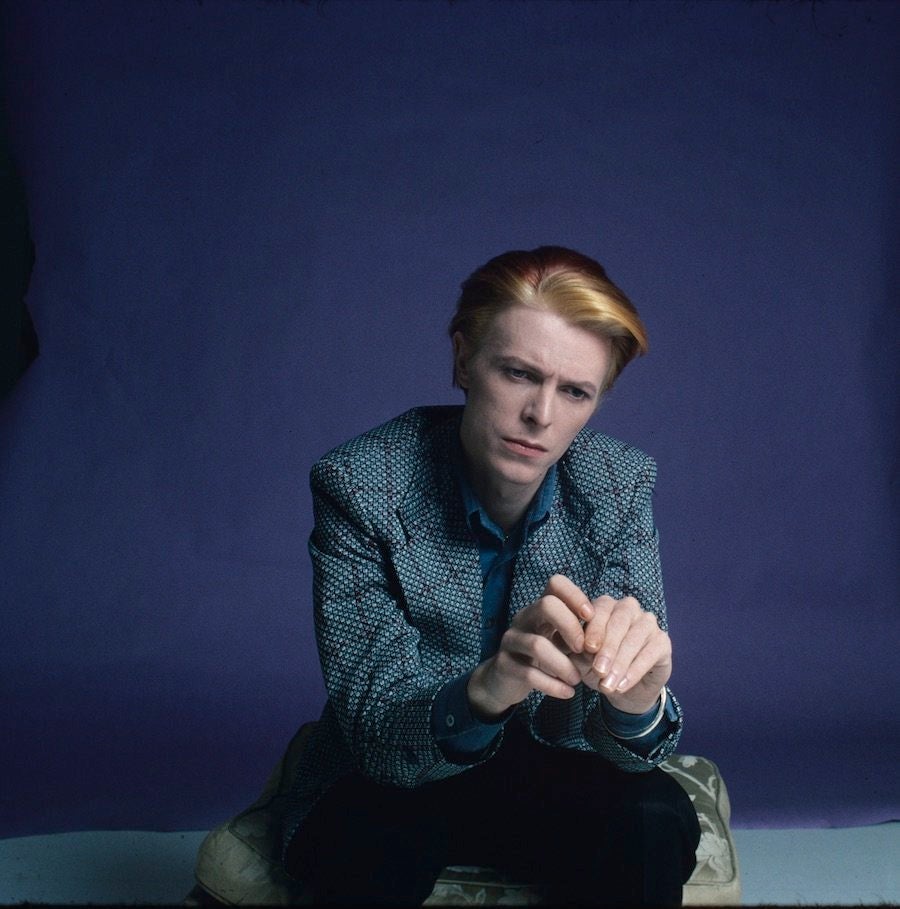 David out of character. One of my favorite photos of David. I particularly like his hands in this shot. Los Angeles 1975. Photographs by Steve Schapiro, from Bowie, published by powerHouse Books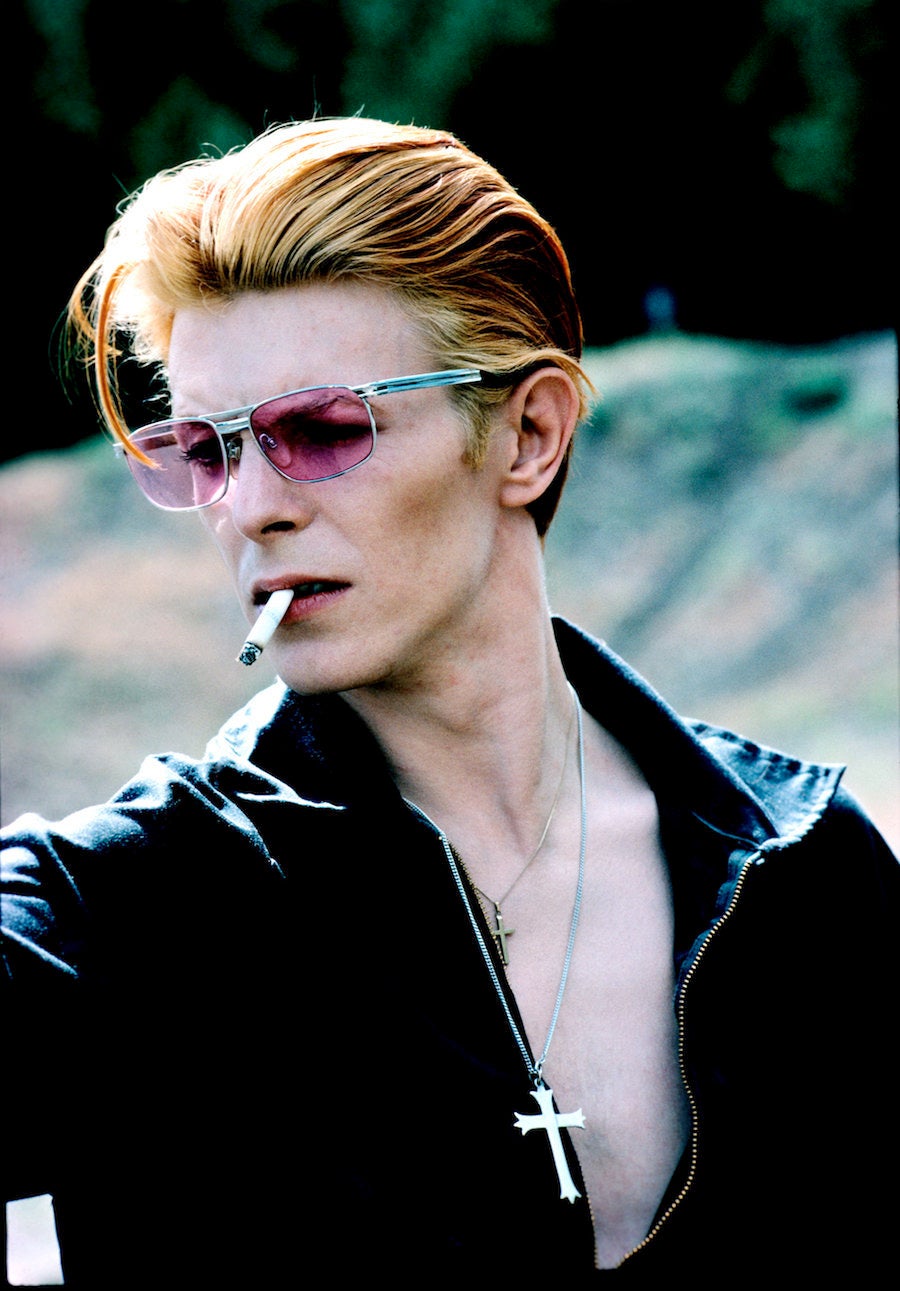 David with cigarette on a break from filming MFE in New Mexico 1975. This became a Rolling Stone cover and a popular image.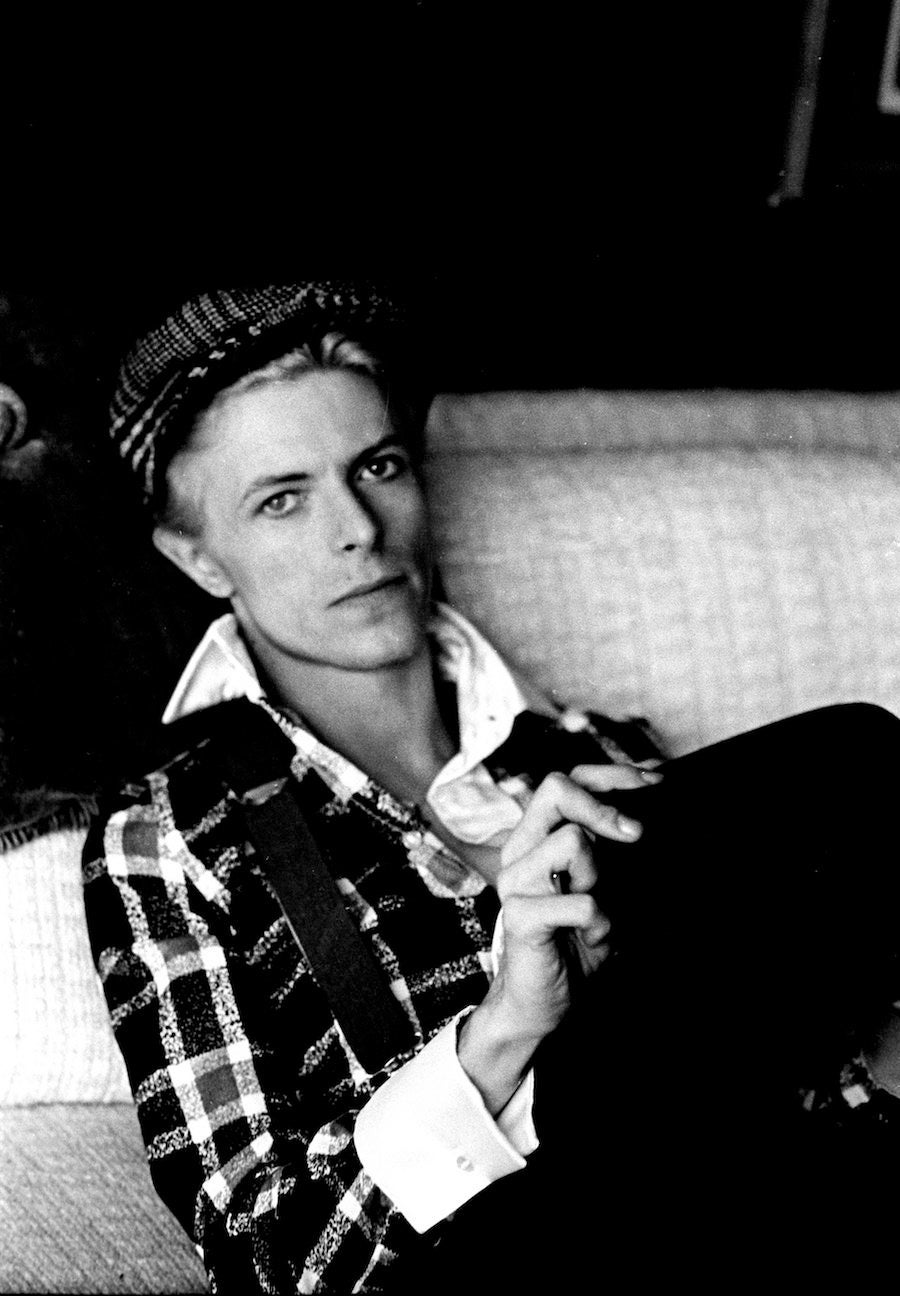 David relaxed at his house in Los Angeles, 1975. I particularly liked his hands in this photo.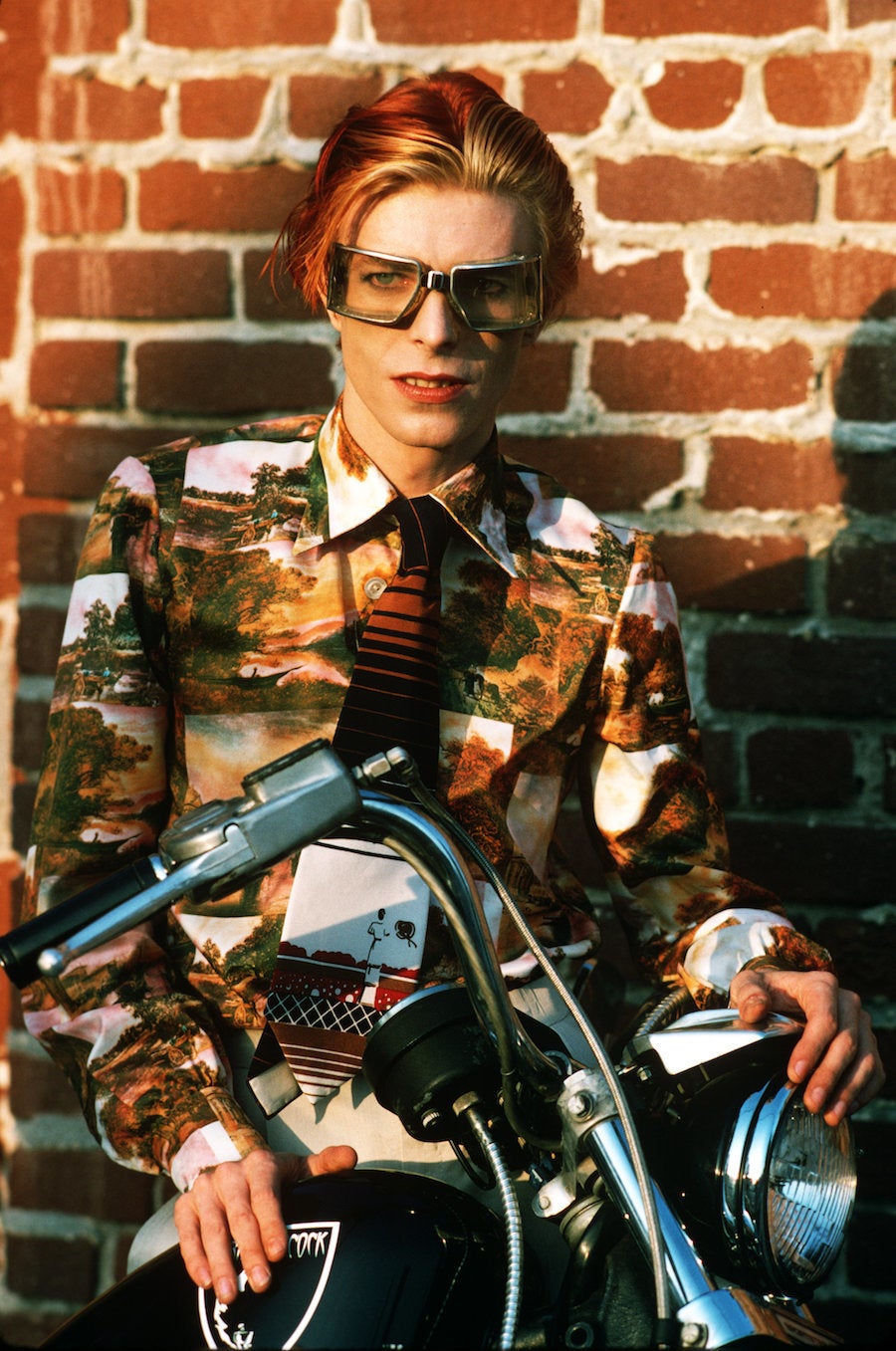 David with goggles and bike. Los Angeles, 1974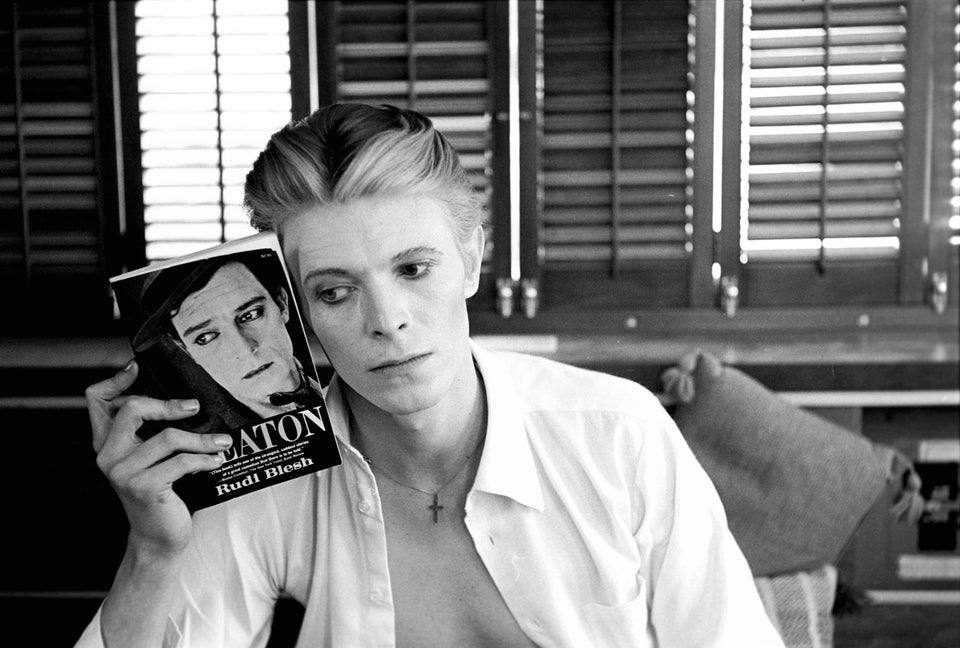 Bowie holding a Buster Keaton book near his face, in his dressing room trailer on The Man Who Fell to Earth: set, New Mexico 1975. Buster Keaton was one of David Bowie's heroes.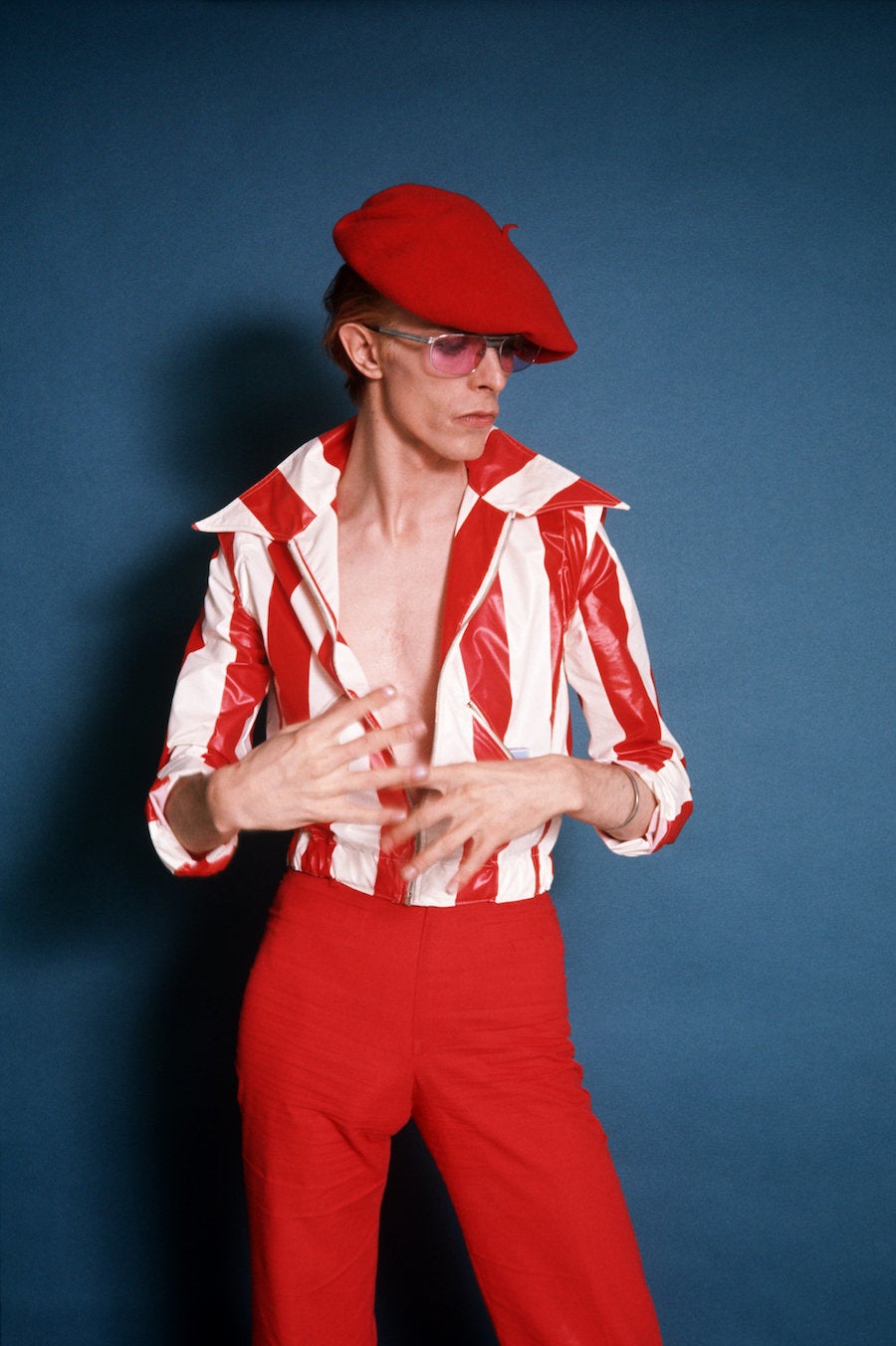 David took me by surprise when he came out in the red and white striped outfit during the 1974 photo shoot. It was different from what we expected he would be wearing, Los Angeles 1974.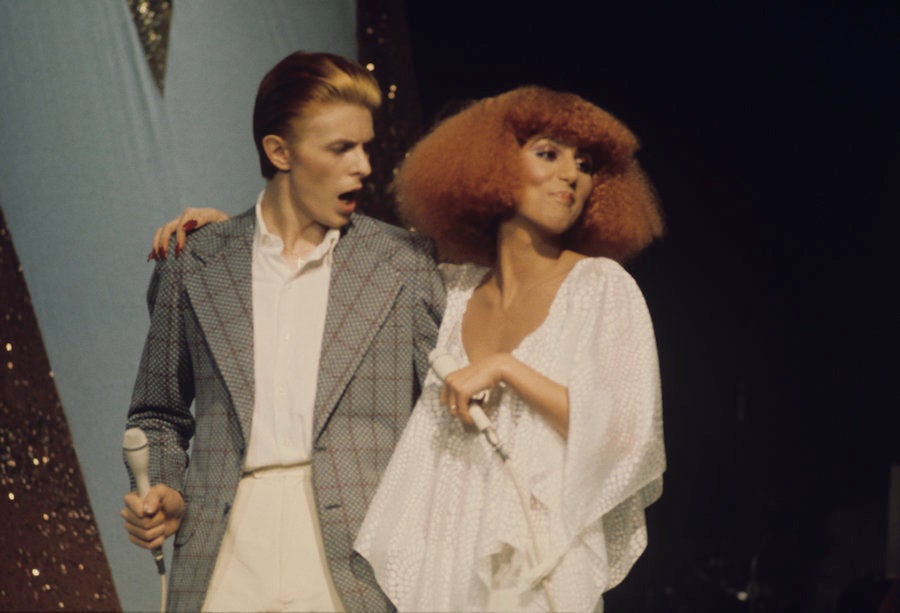 David with Cher on TV show, Los Angeles, 1975.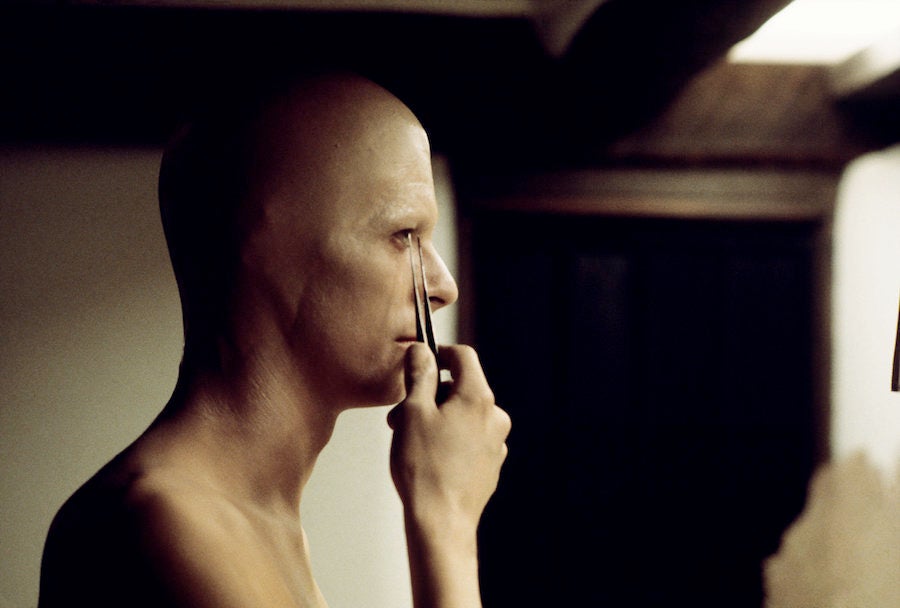 In the makeup trailer for "The Man Who Fell to Earth," Bowie puts in his cat eyes for a scene, New Mexico 1975.
Related
Before You Go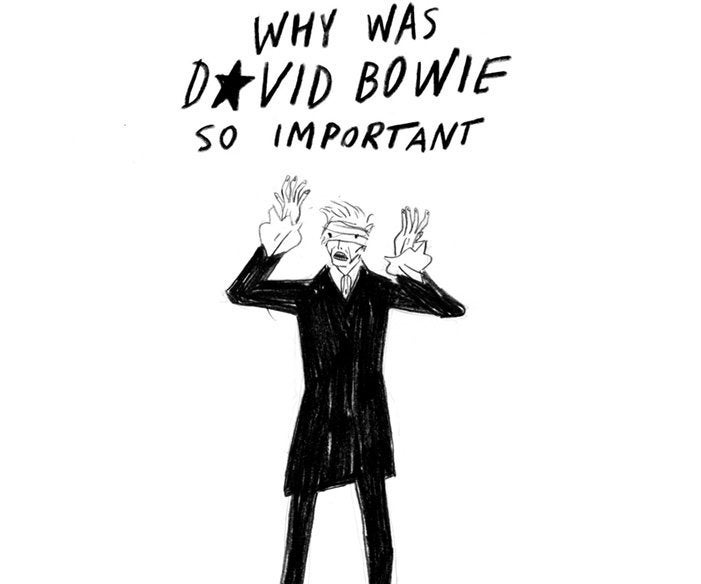 The Influence of David Bowie, Illustrated
Popular in the Community