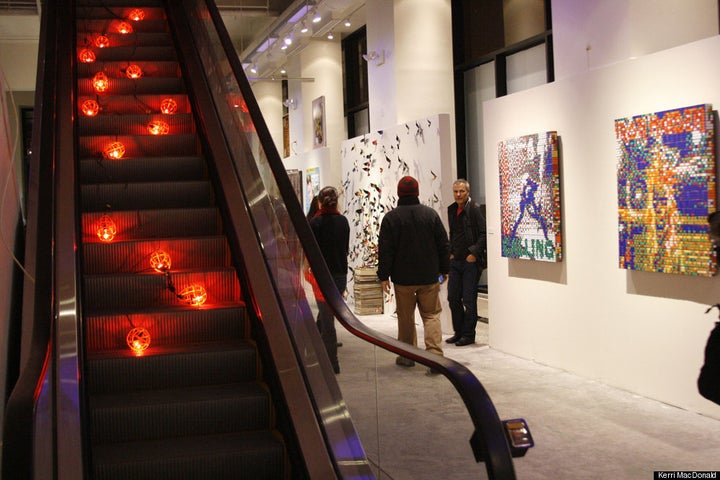 Produced by HuffPost's Eyes & Ears Citizen Journalism Unit
When a would-be customer walked through the revolving doors at Never Records this weekend and asked where to find some equipment, Manon Slone had some explaining to do.
The store, located in the former Tower Records building at the corner of East 4th Street and Broadway, is an illusion. The album bins, posters and albums dotted around the bright, open space are part of Never Can Say Goodbye, an exhibition created by No Longer Empty, a non-profit organization co-founded by Sloane.
The project, which focuses on the interplay between the visual arts and music, is both a celebration of Tower Records and an exploration of its demise.
When the opportunity arose to host rent-free an exhibition in the space, No Longer Empty jumped at the chance.
"It was a place where there seemed to be community and exchanging of ideas," said Slone, who co-founded No Longer Empty last spring, when the vacant storefronts along Madison Ave. caught her eye. A former museum curator with a background in examining the crossroads of art and social issues, Slone was intrigued by the notion of emptiness.
"Finding art in this unexpected way, without the kind of barriers to entry a museum or a gallery has, really changed the process," Slone said.
Never Can Say Goodbye is the sixth exhibition staged by No Longer Empty, which was recently offered space in a movie theater uptown and a building in East Harlem, and plans to stage exhibitions outside of New York. At the heart of the show is Never Records, a multi-artist installation dreamed up by Ted Riederer, one of 12 artists featured in the month-long exhibition.
At the opening Friday night, the space buzzed with nostalgia for a music scene that was once very much a part of the East Village.
"I was born and bred here. It's nice to see the space being resurrected again -- it's been vacant for quite a while," said Gregory Moss, a music producer who used to wander the aisles of Tower Records looking for everything from R&B to "progressive-pop-punk-jazz."
By the entrance, listeners nodded along to the sound of hip-hop's evolution coming from eight, flashing boom boxes installed by artist Ryan Brennan.
Paul Villinski's work, an old-fashioned turntable haloed by albums carved into birds, suggests that music is taking flight. Artist Stephanie Syjuco takes on illegal downloading by showcasing low-resolution covers from albums she downloaded. And Kaz Oshiro created 3-D paintings of orange amplifiers with no backs, emphasizing the emptiness behind the exhibition.
"We are bringing an illusion," No Longer Empty co-founder Asher Remy-Toledo said of the show's opening, which drew an unexpected crowd, making it difficult to see the art itself. "I think it's going to be very sad for people when we close."
Along with musical performances throughout the month, No Longer Empty will host a panel discussion on Jan. 26 exploring the changes in music listening and buying habits in a download-happy industry. Naomi Hersson Ringskog, the group's director of programming and external affairs, said the discussion will touch upon the effects of technology on music consumption as well as the arts.
But just by the nature of its setting, Never Can Say Goodbye is more than the exploration of a disappearing industry. One of the goals of the exhibition, which is free and open to the public, is connecting with the community in the area around Tower Records.
"We always knew that Tower Records was going to be big because it has such a sentimental value to everyone," Hersson Ringskog said.