We freeze up every time our manicurist reaches for a pair of sharp mini clippers and ask, "Do you want to cut your cuticles?" Deep down we know that we really shouldn't, but seeing ragged hangnails along our fingertips forces us to give in to cuticle clipping just for the sake of having a picture-perfect mani. Then, we regret our irrational decision once we notice just a few days later that our cuticles are dry and peeling again.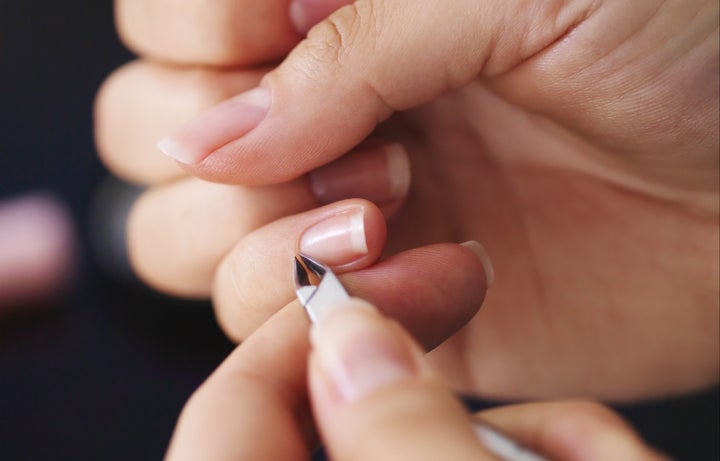 So, what is the purpose of cuticles?
The cuticle is the nail's natural protective seal, according to Dana Stern, a board-certified dermatologist and nail specialist. It protects water, moisture and organisms from entering the nail unit. She explains, "The cuticle overlies the most important part of the nail, the nail matrix. Any trauma to the cuticle area (cutting, biting, picking) can affect the matrix and ultimately will be seen as irregularities in the nail (depressions, ridges, discoloration)."
Celebrity manicurist Deborah Lippmann adds, "With the skin being the largest organ of your body, the cuticles are the nail's last line of defense as a protective barrier, blocking the spread of bacteria from moving into the nail."
When bacteria enters the nail fold through the cuticles, Stern says this scenario can result in a red, tender infection called acute paronychia. The derm notes that these infections need to be drained and cultured by a physician and the patient usually needs an antibiotic.
If moisture enters the nail unit from a damaged barrier, Stern says that the skin behind the cuticle will become boggy, red and swollen and yeast will likely enter. This is known as chronic paronychia, and the nail will eventually grow out abnormally if the cuticle remains compromised.
Cutting your cuticles can lead to the spread of bacteria/infection and cause nail damage. Instead, gently push them back.
To effectively do this, Sterns recommends using a wash cloth to push back after a warm shower or soak. She cautions against cuticle removers because the protective seal is still being compromised, as these products often contain "alkaline materials and work by destroying keratin."
An effective cuticle regimen will help to prevent and treat splits.
"Properly file, buff and push back the cuticles," says Lippmann. "And then moisturize, moisturize, moisturize! Use an oil, a cuticle moisturizer like the Deborah Lippmann The Cure and a hand cream."
On March 25, Stern is launching a Nail Renewal System on QVC, which includes a topical hydrating treatment in the form of a click pen that's packed with coconut, apricot and sunflower oils.
To really whip nails into shape, Lippmann advocates for doing these steps at night. She says, "Immediately lay hot towels over your hands, letting it soak in all the nutrients. And it feels amazing, too!"
Don't forget great nail care health starts from within.
One of Lippmann's best beauty tips is to constantly drink water. "Hydrating is not only great for your skin, but it also benefits your nails and cuticles," she says.
Do you want to be more mindful about eating healthy foods that'll keep your mind and body at their best? Sign up for our newsletter and join our Eat Well, Feel Great challenge to learn how to fuel your body in the healthiest way possible. We'll deliver tips, challenges and advice to your inbox every day.