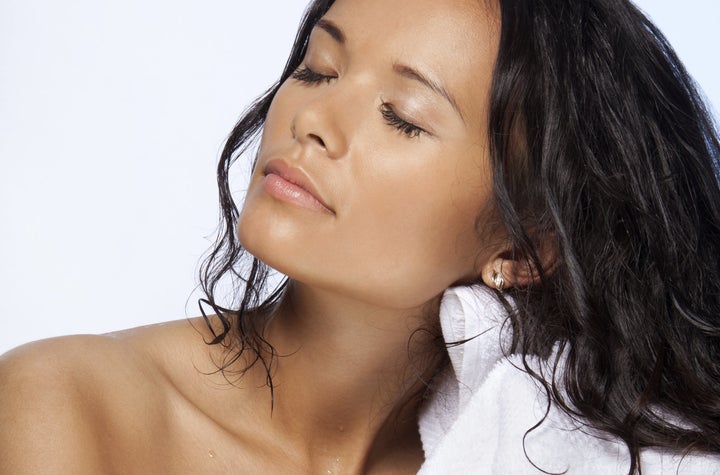 "Lather, rinse, repeat" is the shampooing method we've mostly stuck with all these years. While that technique works, it's what we do next that is secretly wreaking havoc on our hair.
Using a traditional towel to dry our soaking strands is the worst thing ever. The coarse texture and dryness of a cotton or terry cloth towel can cause damage to the hair, according to celebrity hairstylist and author Monae Everett.
The hair shaft can be roughed up during the drying process when you wring out your hair or squeeze it too hard with a towel. "This can worsen split ends and cause small craters along the hair shaft, weakening the hair," says Everett. "Noticeable signs of damage are dry hair and frizz. Frizz is a major indicator of damaged, dry hair in need of moisture."
If you've been making this hair mistake like us, there's no need to panic. Everett believes you can repair this damage by making a few changes to your hair-washing routine.
The professional strongly suggests choosing a shampoo and conditioner that is formulated for your hair. "If your hair is color-treated, use a shampoo and conditioner for color-treated hair. If your hair is flat, use a volumizing shampoo and conditioner," says Everett. And always use a leave-in conditioner when styling to help smooth hair cuticles, and incorporate deep conditioning hair masks into your regimen every three to four shampoos. Try Suave Split End Rescue Shampoo & Conditioner or Matrix Biolage Hydrasource Mask.
Then, switch out your towel for a T-shirt or microfiber towel. These two unconventional items will absorb excess water and reduce frizz. "Blot and squeeze your hair dry instead of roughly drying it by vigorously moving up and down the hair shaft," says Everett. Our editors' picks include the Aquis Microfiber Hair Towel and Breezy Tee Jersey T-Shirt Hair Towel.
And lastly, Everett notes that air drying is always going to be the healthiest way to dry your hair. "Since we seldom have the time, I recommend adding leave-in conditioner and moisturizer to your hair. Then, wrap it up turban style in a T-shirt and let it dry overnight," she explains. "This will help your hair to dry faster and keep the moisture within the hair shaft."
Support HuffPost
A No-B.S. Guide To Life
Related
Popular in the Community